Who Cares About the Red Sox Collapse?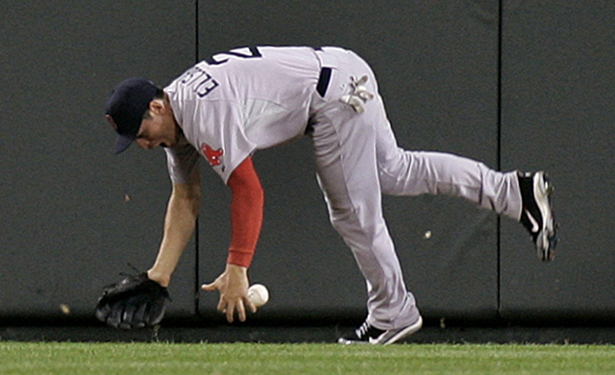 Reuters
Forgive me Red Sox Nation, but I can't get overly worked up by the Old Towne Team's so-called "epic collapse" that has cost them the nine-game lead they held over Tampa Bay on September 2 and dropped them into a dead heat with the Rays for the American League "wild card" playoff spot going into the last day of the regular season, with each team having one game left to play.
And I write as a Fenway alumnus who suffered though the 1967 World Series loss to the Cardinals (redeemed as it was in large part , of course, by the very improbability of the "Impossible Dream" season that brought the Sox from ninth place the year before to their first pennant since 1946), the 1975 defeat by Cincinnati's heavily favored Big Red Machine (again redeemed in part by the epic win in Game Six on Calton Fisk's 12th inning homer long after the MTA had stopped running and we had to walk home) , and the 1986 Bill Buckner debacle (entirely unredeemed) . But if the Sox fall short this year, it will be different.
The Sox and the Rays are, after all, fighting it out for second place. For that is what a "wild card" berth in the playoffs (I , for one, can't stand to say "post-season") in a sport that derived much of its greatest appeal from the six months drama of a do-or-die pennant race in which there would be no second—and half a year's efforts by the players and investment by the fans would hang in the balance as the season came to a abrupt and unforgiving end. The stakes were huge and the exhilaration and the pain equally intense. Under the current setup (and indeed with the prospect of increasing the number of wild card slots in an expanding playoff system in the future) so much of that is gone. Who, after all, would now care if Bobby Thomson's 1951 "shot heard around the world" off Ralph Branca had been about determining home-field advantage, with both Thomson's Giants and the Dodgers both headed into the "post season?"
When the "wild card" was introduced in 1995, Boston fans complained that the new dispensation unfairly allowed the Yankees to make it into the playoffs along with the division winning Red Sox. As the sole prize now attainable, its value has evidently shot up. But whether the Red Sox win in the end or not, and forgive me for saying this, the baseball we grew up with is the loser.
Why we shouldn't pay attention to Boston and Tampa Bay's fight for second place