The Rich, Powerful Legacy of Andy Rooney
The broadcast legend is a great writer who earned the right to say whatever he wants to say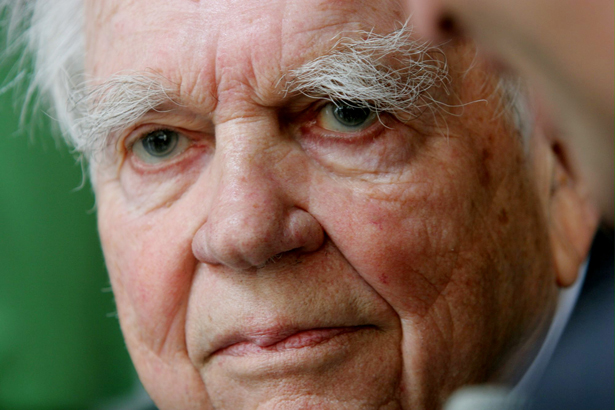 AP Images
In a narrow, low-ceilinged hallway of the old Sheffield Farms dairy plant, in the dense building on West 57th Street which now houses most CBS News personnel, on what is still called "Mahogany Row" because of its executive offices, there once hung an old framed photo that captures the essence of Andy Rooney's genius as a chronicler of human events.
It is a picture, taken in the spring of 1985 at London's Cafe Royale, commemorating the 40th anniversary of V-E Day. Portrayed in it are the surviving members of the "Murrow Boys," the near-mythical group of pioneering electronic journalists: CBS News journalists who changed forever the way news is delivered to its consumers. Here's how authors Stanley Cloud and Lynne Olson wrote up the scene in their classic book, The Murrow Boys:
Statesmanlike Eric Sevareid was present, and Charles Collingwood, grown thick and puffy, and Winston Burdett, frailer than ever, and Dick Hottelet, always professorial, always "on." Even Bill Shirer was there, the oldest of them all at eighty-one, thoroughly bald on top, with a wild fringe of shoulder-length white hair and a wispy goatee. This was his first formal reunion with the other Boys since his break with Murrow in 1947.... The Boys who were at the Cafe Royale that day were joined by three other CBS men who also covered the war but not for CBS. Walter Cronkite, Andy Rooney of 60 Minutes, and producer Ernest Leiser...
In the photo, Rooney is set off apart from the main group of leathered, old men, looking out of place if not out of sorts as he surveys the scene. Even when Rooney was invited to be an insider he was on the outside, observing from a distance, taking it all in from a point of perspective that would subsequently allow him to share his perceptions with his vast audience. It was a vital journalistic skill he developed and honed over decades of work as a writer, first as an accomplished reporter for Stars and Stripes during World War II and then later for decades, for generations, as a writer and commentator for the Tiffany Network.
Even in the past few decades, when the awards and the accolades and the book deals piled up, Rooney still oozed that palpable sense of belonging to no formal party or clique. He had seen war. He had lost friends. And he had no patience for the slings and arrows of broadcast schtick. Such a sense of independence, and a constitutional intolerance for bullshit, are legacies any respectable journalist would be proud to bequeath to his successors. And it is the rich legacy Rooney now leaves to CBS News with the announcement Tuesday that, at the age of 92, he will no longer be a regular commentator on 60 Minutes, the show to which he has memorably contributed since 1978.
A lot of people in recent years, especially a lot of young people who don't know any better, have made a great deal of fun of Rooney for his television style and his choice of topics during his end-of-show commentaries. Those people today don't necessarily need to read the litany of Rooney's professional accomplishments or listen to the praise of his contemporaries, the ones who are left. And they don't need to heed the sincere words of his bosses and colleagues at CBS News, who rightly reminded people Tuesday that Rooney is a wholly unique figure in the history of American journalism, a man who has ably chronicled our world for 70 years. Seventy years.
Instead, those critics, the ones who mock Rooney's delivery, the ones who poke fun of his eyebrows, simply ought to spend a few hours this weekend reading his most important book, My War, a powerful 1995 account of his work covering his generation's greatest conflict. Peter Osnos, my colleague here at The Atlantic and the editor-at-large and founder of Public Affairs, who edited Rooney, told me Tuesday that the writer considers My War one of his favorite books, one in which he revealed the "depth of his character and bravery." It is, indeed, a very good book, one of the rare memoirs of war in which the author is able both to deliver inside detail and an outsider's perspective.
Here then, from the preface of My War, is a reminder that Andy Rooney paid his dues as a young man, more dues than most journalists pay in a lifetime, thus earning forever the right to say whatever the hell he wants to say:
... I can't deny that The War--we call World War II "The War" as though there had never been another--was the ultimate experience for anyone in it. If you weren't killed or seriously wounded, it was an exhilarating time of life. Most of us live our lives at half speed and on schedule. We sleep when we aren't tired, eat when we aren't hungry and go to the movies or watch television to laugh or cry in order to transport ourselves out of our real lives into someone else's as if our lives were not interesting, funny or sad enough to satisfy us.

Life is real at war, concentrated and intense. it is lived at full speed. Most people don't understand how terrible parts of it are because the stories about war are almost all concerned with the drama of survival and victory over great odds. If you read about war, you get more of an impression of winning and of the heroes who lived to be honored than of the losers and the dead who were buried.

War brings up questions to which there are no good answers. One question in my mind, which I hardly dare mention in public, is whether patriotism has, overall, been a force for good or evil in the world. Patriotism is rampant in war and there are some good things about it. Just as self-respect and pride bring out the best in an individual, pride in family, pride in teammates, pride in hometown bring out the best in groups of people. War brings out the kind of pride in country that encourages its citizens in the direction of excellence and it encourages them to be ready to die for it. At no time do people work so well together to achieve the same goal as they do in wartime. Maybe that's enough to make patriotism eligible to be considered a virtue. If only I could get out of my mind the most patriotic people who ever lived, the Nazi Germans.

For three of my four years in the Army, I saw the fighting from close up. I can't forget much of what I saw and I want to write it down. For one thing, writing is a cathartic experience. Once you've put something down on paper, you can dismiss it from your mind. Having told it, I'll be able to forget it.
For all of his achievements in the field of broadcast journalism, for all of the face time he earned on the most important news show in the history of television, Andy Rooney at heart is a great writer. Pointed. Concise. Revealing. And like many good war reporters, usually free of flowery prose. Years ago, when I struck up a friendship with him, I would send him my columns seeking his counsel. He would invariably tell me what I knew in my heart to be true--then and now. "Too many words," Andy Rooney would say to me, over and over again. "Too many words."
I hope Andy Rooney has a long and happy semi-retirement--watching the New York Giants, enjoying his family, and perhaps writing one or two more books to add to a body of work that future historians will scour for a better understanding of the past three quarters of a century on the American scene. And I sure hope he'll be back on 60 Minutes again when he has something else he wants to say.
Update: When I wrote this piece, five weeks ago, I intentionally omitted mention of the rare lower moments of Rooney's career, the inappropriate and unacceptable comments he made, and the brief suspension from CBS News. And I didn't mean to suggest or imply, by writing that Rooney had earned the right to say "whatever the hell he wanted to say," that he deserved to get a pass for saying those things. Like most of us, Andy Rooney paid for the mistakes and poor judgments he made in his life. I think he learned from them. And I think the appreciation and respect he leaves behind, aptly captured in the words of so many brilliant broadcast journalists this morning upon learning of the news of his death, is the legacy for which he ought to be remembered.