The NFL's New Rules Are a Disaster
What were the league owners thinking when they changed the instant replay system and the regulations governing kick-offs?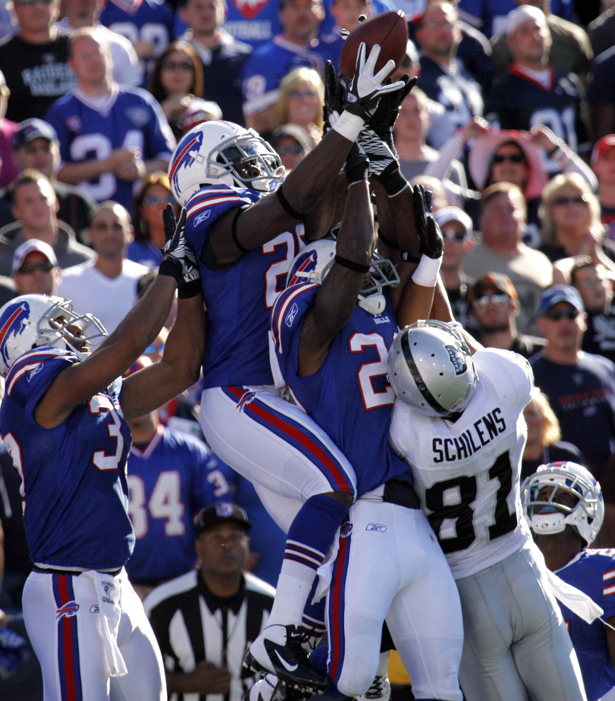 AP Images
At the NFL owners' meetings this spring in New Orleans, no one even knew if there would be an NFL season. But that didn't stop the league from passing what seemed like a few minor rule changes for the 2011 campaign. There were some clarifications issued on what constitutes a legal catch—which didn't seem to clarify much. They gave notice that fines would be going up for cheap-shot repeat offenders, plus a few changes to the rules governing kickoffs, and a little tweak to the NFL's instant replay system. No big whoop. The games did start on schedule, as almost everyone knows, and it barely took a fortnight for a few of those minor changes to look like major problems. Only two games in, and it's already become sore-thumb obvious that some of the league's new rules are a mitigated disaster.
First, let's look at the unmitigated parts: the new regulations governing kickoff returns, and changes to which calls can be reviewed by instant replay.
As part of an effort to reduce injuries, the kickoff line was moved five yards closer to the receiving team, from the 30 to 35-yard line, with kickoff coverage squads prohibited from lining up more than five yards behind the line, to prevent a running start. The NFL anticipated that the changes could increase touchbacks—by far football's least exciting play—by as much as 15 percent. With a still admittedly small sample, according to ESPN's Stats & Information, nearly 50 percent of all kickoffs in the first two weeks have ended in touchbacks, compared with only 21 percent through two weeks last year.
Um ... Why is that a good thing, again? Oh yeah. Safety. Well, touchbacks are awful. Chicago's electrifying kick returner Devin Hester, who doubtless feels his livelihood under attack, might have put it best, telling the Chicago Tribune this week that the new rules are "pointless" and "taking away some of the fun in the NFL."
Some? Time to brush up on your abbreviations, Devin. Anybody who loves football knows the letters "NFL" actually stand for "No Fun Land." This is the bunch, after all, that penalizes its players for "excessive celebration." It's remarkable, really, to consider that an organization that's ostensibly in the entertainment business would punish people for having too much of a good time.
When it comes to sucking joy from football, though, the kickoff rules are second-rate compared to tweaks of the league's policy on instant replay. Those rules now mandate that every scoring play is automatically subject to review by officials in the replay booth. Insane. The touchdown, obviously, is the most exciting part of the game, and this rule inherently makes every touchdown less exciting, because every celebration of a score has now been replaced with a half celebration, half nervous wait for the Replay Official to confirm whether or not a score did in fact occur.
Just as with rules governing the last two minutes of each half, only the officials can initiate the review process. If a coach tries to throw the red flag, he gets a yellow back. That's what happened in the preseason, when Eagles' coach Andy Reid was penalized tried to have a play reviewed and because the officials were already reviewing it.
Just because every scoring play can be reviewed, though, that doesn't mean it will be. That was amply demonstrated in week two. Like when New Orleans led Chicago 23-13 in the fourth quarter. Drew Brees completed a 12-yard pass to Darren Sproles that was called a touchdown on the field. Replays clearly showed he stepped out of bounds. Sproles's catch wasn't reviewed, though, said an NFL spokesman on Tuesday, because of "a miscommunication" between the replay booth and the field. The booth official saw the play, but couldn't signal the field officials to stop play because of a technical glitch.
Contrast that to the bizarre situation in Buffalo that same week. Ten minutes after the Bills' Da'Norris Searcy made a leaping interception to seal the win against the Raiders, officials called Oakland coach Hue Jackson out of the locker room, and told him the play was under review, before explaining to Jackson and the mostly-empty stadium that the whole thing had been a mistake, and the "under review" signal had just gone off by accident.
What is the point of all this?
On this week's Monday Night Football radio broadcast, Kevin Harlan and Boomer Esiason kept noting how Giants' coach Tom Coughlin has a great record of getting calls overturned. Cool. But how is he at, like, coaching pro football? The whole point of using video replay technology to aid officials is—or at least it's supposed to be—getting the play called right, not testing Tom Coughlin's ability to pick out which missed calls to challenge.
This current system was chosen by owners, by the way, over the infinitely more sensible system used in college football. There, it's simply understood that the zebra's eye in the sky is always watching, and any play that really needs reviewing will be. The coach's thought process, and that silly red flag beanie toss, play almost no part. Each head coach can call a timeout and challenge an on-field ruling once per game. It should be zero.
Ah, well. We can give thanks for small favors. The changes on kickoffs may be mystifying, and the new replay rules may be a mess, but the third major rule change, the one almost no one mentions, is at least a saving grace.
Dubbed the Boise State Rule, the regulation mandates that all NFL playing fields stay green. Yes, the rule is named for Boise State because of the school's famed Smurf Turf, and the goal is to ensure that all the league's playing surfaces, even the plastic ones, continue to look like grass.
Thank goodness. Watching the league methodically extract excitement from every touchdown and kickoff is bad enough. Having to watch if the Ravens and Vikings switched their home-fields to all-purple turf would be more than any fan could take.