The Home Run That Made New York Cheer After 9/11
A pitcher and a grieving mother remember the city's first pro sporting event after the attacks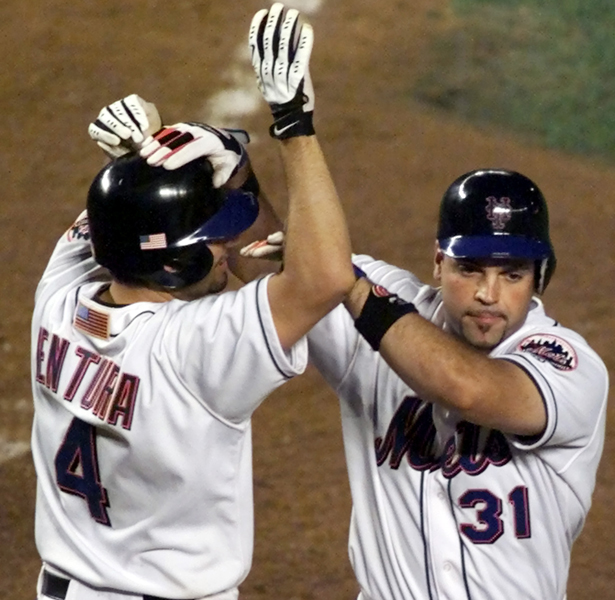 Reuters
Steve Karsay returned home to Queens on September 21, 2001 a torn man. He sat in the Shea Stadium visitors' bullpen in left field, a native New Yorker overcome with sadness. It was the first sporting event in New York after the attacks, and his Atlanta Braves were leading the Mets 2-1 heading into the eighth inning. Karsay, a right-handed pitcher who grew up just miles away from Shea in College Point, knew his emotions were everywhere, and he understood that he had to store them somewhere for the 10 to 15 minutes he was on the mound before getting the ball to closer John Smoltz in the ninth. "You could feel the fans wanting to erupt and wanting to experience some kind of joy after feeling what had happened," he said in a recent interview.
Walking from the left-field bullpen to the Shea mound that night, Karsay was in the midst of what would be his finest season. (74 appearances, 2.35 ERA, 1.14 WHIP, 8.5 strikeouts per nine innings.) By the time he finished his 17-year professional career, Karsay, a former first-round pick out of nearby Christ the King High School, was 32-39 with an ERA of 4.01. A couple months after that September night at Shea, Karsay would cash in on his career year, signing a 4-year, $22.5 million deal with the Yankees, the biggest payday in a career that was riddled by elbow and shoulder surgeries.
The local kid made out well for himself, but this homecoming, only the second time he had ever pitched at the stadium, had him stepping in against the top of the lineup. Mike Piazza was due up third.
"Here we go," he thought.
ON MULBERRY LANE in the West Hempstead neighborhood of Long Island, Susan Ainbinder-Hutchins had a hard time watching the game that Friday night. Her oldest son, Kevin Colbert, a 6-foot-1, 275-pound, family-oriented die-hard Mets and New York Giants fan, had reported on September 11th to the audit unit of Keefe, Bruyette & Woods. Colbert, 25 at the time, was one of 2,606 to enter the World Trade Center that day and perish, one of 67 KBW employees on the 88th and 89th floors of the South Tower that didn't make it.
She loved the Mets and so did Colbert, often watching and attending games together. But she never got to say goodbye to him, as Colbert forgot to take his cell phone with him that morning. Nearly 10 years following his passing, Ainbinder-Hutchins just recently deleted his voicemail greeting from his phone, which she still has. A brick dedicated to Colbert lies at Citi Field, as is a bench in Central Park.
"There is a huge hole in my chest," Ainbinder-Hutchins says, choking up. "There's a freezing cold wind that constantly comes through. It's never going to heal or go away." Entering the bottom of the eighth, Karsay got the first out before walking Edgardo Alfonzo. Up walked Piazza, arguably the greatest hitting catcher the game has ever seen.
Karsay remembers it all so vividly. From the time people came through those turnstiles on that Friday night at Shea, the fans were searching for a reason to explode into momentary happiness, a temporary distraction. Karsay recognized that. He admits he began to think too much about the meaning of the moment.
First pitch fastball down and away for strike one.
"I get back into strike mode as a pitcher," he says. "I wanted to throw another fastball down and away, which I did."
It was meant to be the same 94-mph fastball in the same location. This time, Piazza, the face of the Mets for seven years, was able to extend his arms when needed to the most, lifting the pitch high into the New York night, a laser that "almost knocked out the camera guy," Karsay recalls. He didn't look at the fly ball right away. The joyful New York City serenade from the crowd was enough.
"It's one of those shots that doesn't leave my mind," he says. "Not that it bothers me, because I feel like I threw a good pitch and he hit a good pitch."
In West Hempstead, Ainbinder-Hutchins, wearing her departed son's oversized Piazza jersey, began to cry as the Mets catcher rounded the bases.
"Kevin and I loved him," she says. "That hit had an unbelievable effect on me."
EVERYTHING HAPPENED so quickly. The length of the at-bat was just a minute and 30 seconds, as Piazza swung at the second pitch of the at-bat. All of 23 seconds passed between the time Piazza's bat made contact with the ball and the time he touched home plate, greeting Robin Ventura. And it took six seconds after crossing home plate to be mobbed by teammates in FDNY and NYPD hats.
After recording the third out of the inning, Karsay, still miffed from home-plate umpire Wally Bell's strike zone that helped cause the walk to Alfonzo, was ejected for arguing balls and strikes.
"If there was any game in my career that I had to lose or take the loss, that's the one I would have wanted it to happen," says Karsay, who now helps head up Scottsdale International Aerospace, an aerospace manufacturing company in Scottsdale, Ariz. "I don't think you could portray it any better than how that situation occurred."
Karsay pauses: "Unless you did it off Smoltzy in the bottom of the ninth inning."
Those two minutes of carefree distraction 10 days after the September 11th seem so long ago now. And it's difficult to gauge the role sports played, if any, as a cultural reset button in the years following the attacks.
"I think it was important at the time for there not being sports events and when they started, it was significant," says Gary Fine, a sociology professor specializing in collective memory at Northwestern University. "If you ask people today about when sporting events started again, most people wouldn't know."
For a Long Island mother and a middle reliever from Queens, it's tough to forget.