'The Debt': An Electric but Uneven Spy Story
The film's flashbacks thrill, but the latter-day scenes don't quite measure up
The film's flashbacks thrill, but the latter-day scenes don't quite measure up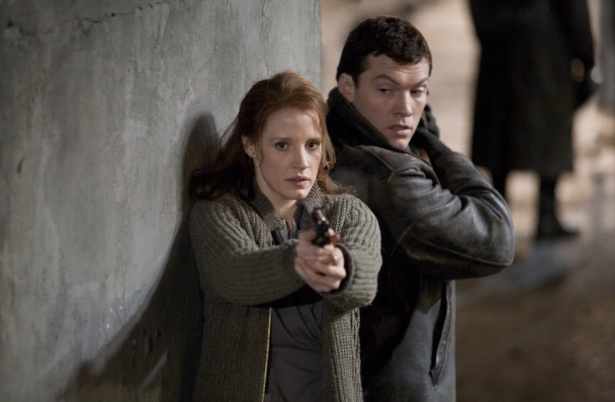 Focus Features
John Madden's espionage thriller The Debt begins in 1997, with a book and a banquet. The subject of both is the heroism of a trio of Israel agents—Rachel (Helen Mirren), Stephan (Tom Wilkinson), and David (Ciaran Hinds)—who decades earlier had tracked down and killed a former Nazi scientist, Dieter Vogel, a.k.a. the Surgeon of Birkenau (Jesper Christensen).
The book in question has been written by Rachel and Stephan's proud daughter, and at the banquet Rachel rises to read its dramatic climax: how, in an apartment in East Berlin on New Year's Day 1965, she struggled with Vogel, who slashed her face brutally—she still bears the scar—before she shot him dead.
From the start, though, there are ominous intimations. The old agents wear their fame heavily, regretfully. Rachel and Stephan are long-divorced and perhaps longer-still estranged. David appears unexpectedly, a ghost from their shared past, and, almost as quickly, is gone again. Whatever took place in that dank German apartment long ago, it's clear that the tale of Rachel's valiant self-defense is, at best, incomplete. Is her secret a shared one? Or Rachel's alone?
Answers are provided in a film within the film, an unspooling of memory-tape: It's 1965 again, and Rachel (now played by Jessica Chastain), Stephan (Martin Csokas), and David (Sam Worthington) make their initial rendezvous in East Berlin—young, energetic, unclouded by remorse. The war criminal Vogel has been located, and it is their mission to bring him back across the Iron Curtain and to justice.
This central sequence is the beating heart of the film: The callow agents, full of fear and ambition and longings they cannot quite name, crammed together in a dilapidated apartment, taking turns at the piano and at ju-jitsu practice. The boil of hormones is palpable, and before long a kiss—and more than a kiss—intended for one man is stolen by the other.
And then there is Vogel, now a gynecologist, whom Rachel visits repeatedly in the guise of a patient—a profoundly unsettling variation on the female spy who offers her body for her country. Vogel's gentle introduction to each session, "This is my hand, and this is the speculum," may at last have displaced the "Is it safe?" of Christian Szell—another Mengele stand-in—as the most discomfiting sentence ever uttered by doctor to patient onscreen.
These excruciating scenes are followed by others only moderately less so, after Vogel is captured and the intimacy reversed, Rachel literally spoon-feeding the bound man as he begs for a quick death. Throw in a set piece of nail-gnawing intensity, as the agents try to spirit Vogel past East German guards and onto a train, and the result is a cinematic novella of le Carrean mood and intensity.
Compared to this taut narrative, the latter-day frame can hardly help but disappoint. We return again to 1997, where loose ends have become very loose indeed, and it is up to Rachel—Stephan having been relegated to wheelchair—to re-tie them. Here, despite the efforts of the talented elder cast, the film deflates, modestly but perceptibly.
The Debt is a remake of the 2007 Israeli film of the same title (Ha-hov in Hebrew), with a script by Matthew Vaughn (X-Men: First Class), his frequent collaborator Jane Goldman, and Peter Straughan (who also worked on the forthcoming adaptation of Tinker, Tailor, Soldier, Spy). Director Madden (Shakespeare in Love) ably evokes the Cold War atmospherics, though neither he nor his screenwriters can quite keep the film on track during some of it sharper narrative swerves.
As the elder Rachel, Mirren is not terribly memorable, though this is perhaps because she has set her own bar so very high. More notable is Chastain, who continues the summer of her coming out (The Tree of Life, The Help) with a performance that neatly marries strength and vulnerability. Worthington, whom Hollywood promoted to leading man long before anyone determined whether or not he could act, offers limited evidence that perhaps he can. And Christensen, who distinguished himself in the small role of "Mr. White" in the last two Bond films, is a mesmerizing monster as Vogel, by turns unctuous and obscene.
The film has its share of flaws: the uneven accents adopted by the cast (Worthington's, in particular, has a tendency to slip Down Under); a concluding twist too tidy for what has preceded it; the oversold ruminations on guilt and memory, duty to country versus duty to truth. But despite its shortcomings, The Debt is a well-crafted thriller with a lithe, electric core. At the very least, it whets the appetite for the upcoming Tinker, Tailor, in which Gary Oldman will try to fill the scuffed yet oversize shoes of George Smiley (and Alec Guinness).