The Day Rap Grew Up: Jay-Z's 'The Blueprint,' 10 Years Later
Released on 9/11, the album showed how hustle wasn't just a young-man's game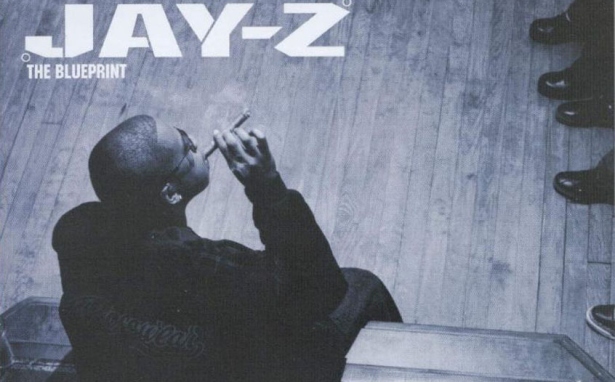 Roc-A-Fella, Def Jam
Last week the New York Times' Michiko Kakutani made waves with an essay in which she declared that, ten years on, "9/11 has not provoked a seismic change in the arts." It's hard to know whether she's right—accusing something, anything, of "not provoking a seismic change in the arts" seems strange—and hard to know how much to care. September 11 and its aftermath certainly gave writers something to write about and singers something to sing about, but the best songs aren't always about what they claim to be about, and art that sets out to respond to a specific event is often handcuffed by literalness. Much of the most memorable art surrounding 9/11 wasn't occasioned by the tragedy but rather coincidentally attended it: the Strokes' "New York City Cops," pulled from Is This It on the eve of release, or Bob Dylan's "High Water (for Charley Patton)," the homage to Patton's 1929 flood blues "High Water Everywhere" that appeared on Dylan's Love and Theft, released on 9/11 itself.
Jay-Z's The Blueprint also came out on September 11, 2001, an incidental bit of trivia that will be obligatorily mentioned for as long as the album is discussed, which will be a very long time indeed. Jay-Z's influence on hip-hop is massive and varied, but his greatest achievement is his longevity: Many rappers before had stuck around, and aged gracefully—KRS-One, LL Cool J, the Beastie Boys—but Jay-Z has been at the top of the genre for nearly all of his 15-year career, the longest sustained reign that rap has ever known. The Blueprint was when the consensus around him solidified, a moment that now seems so preordained that it's easy to forget how it actually happened.
The life and times of Shawn Carter, vol. 1: He'd emerged in 1996 with a masterpiece debut, Reasonable Doubt, a frantic cyclone of storytelling delivered in a nervous, nasal voice and a flow that was unrelenting and slightly awkward, like that of a man who'd found himself trapped in a conversation he wasn't sure he wanted to continue. It was a quirky, arresting style that seemed an acquired taste, which made it all the more surprising when Jay-Z crossed into mainstream stardom with unexpected speed. In My Lifetime, Vol. 1, released in 1997, went platinum, and 1998'sVol. 2… Hard Knock Life, buoyed by its impossibly great titular single, sold 5 million copies.
By the turn of the millennium, Jay-Z had become the most powerful rapper in the world by almost any measure, but musical returns were diminishing. Each new release felt flimsier than the last, thinned by filler and guest appearances, and singles sounded increasingly detached and calculated. October 2000 saw the release The Dynasty: Roc La Familia, a showcase for protégés Beanie Sigel and Memphis Bleek, who appeared on 11 of the album's 16 tracks. It shot to No. 1, but the fact that it was released under Jay-Z's name felt cynical. Jay-Z was starting to seem boring, but he was also just starting to seem bored.
Then, in summer of 2001, a new single dropped. Produced by a young Chicagoan named Kanye West and based around a chopped-and-diced sample of the Jackson 5's "I Want You Back," "Izzo (H.O.V.A)" was an urgent explosion of ideas: nimble, ferocious and deadly serious, a song so good and so sudden that you might still remember the first time you heard it. A new album, The Blueprint, was slated for the fall. Pitched explicitly as a comeback, the title alone raised eyebrows, and there was a feeling in the air that stakes were about to rise.
Jay-Z had (and, really, still has) essentially made a career out of rapping about three things: the drug game, the rap game, and various spoils accumulated from each (money, women, Bentleys, more drugs). He was neither the first nor thousandth person to rap about these things, but he was the first to build such remarkably sustained success out of doing so, and herein lay a problem. When you're on MTV every five minutes and releasing multi-platinum albums on a yearly basis, the suggestion that you're still finding the time to sell crack in the projects out of some insatiable and purely recreational love of the game is, frankly, ridiculously stupid.
By 2001 this paradox was collapsing on Jay-Z: How does a burgeoning mogul and darling of the mainstream—one who would turn 32 years old that year—maintain a persona dependent on poverty and youthful transgression? Or, to put it more simply: how do you grow up when all anyone wants you to do is keep talking about when you were a kid?
The Blueprint solved this by building a daring and dazzling metaphorical bridge between the underground economy of street hustling and the thoroughly above-ground economy of music stardom. In some senses it's an obsessively backward-looking album: "Heart of the City (Ain't No Love)" boasts a Bobby Bland sample and name-checks everyone from the Fat Boys to Richard Pryor while alluding to Jay-Z's younger days and referencing his 1996 classic "Can I Live?" The Blueprint consolidated Jay-Z's hustler past and his musical past while self-consciously positioning him within a grand tradition of black culture.
What's more, it did this in a way that was eloquently and powerfully righteous. "I'm representin' for the seat where Rosa Parks sat," he declares in the album's opening track, the Slick Rick homage "The Ruler's Back," and the audacity smolders: not Rosa Parks, but the seat itself. The first line of the second verse of "Izzo"—"I do this for my culture / to let 'em know / what a n*gga look like / when a n*gga in a Roadster"—is as powerful a defense of conspicuous consumption ever articulated, and the "this" is pointedly ambiguous. Decadence is restyled as subversive resistance, the hustle of crack cocaine as the hustle of the global superstar: The game is the game is the game.
It was a subtle and extraordinary maneuver that reinvigorated Jay-Z and gave both him and hip-hop a path to adulthood. Jay-Z may never escape the enormous shadow of Notorious B.I.G.—a statement that probably applies to literally any rapper alive—but Christopher Wallace sadly never had to confront how to grow up in a music culture in which past indiscretions aren't just things you talk about but the essence of who you are. The Blueprint was a monumentally significant rap album made by an artist in his thirties: No such thing had previously existed.
The Blueprint didn't so much re-invent rap as the possibilities of rap stardom, which for practical purposes might be more significant. Ten years after September 11, 2001, Jay-Z is a towering figure in American culture, a businessman and "business, man," an acclaimed author, a man at the ear of mayors and presidents. He is not yet 42 years old. The Blueprint continues to live up to its name.