September Surprise: How Did Baseball Suddenly Get So Exciting?
The Cardinals and the Rays are surging, while the Red Sox are looking creaky. As MLB heads toward the postseason, a look at the league's tightest races.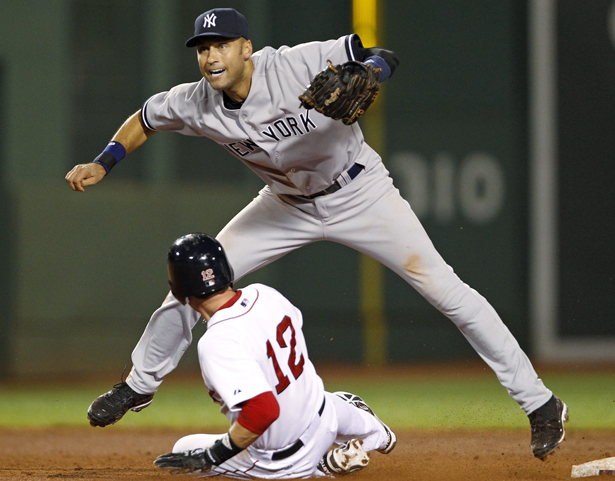 Reuters
Every week, our panel of sports fans discusses a topic of the moment. For today's conversation, Hampton Stevens (writer, ESPN and The Atlantic), Patrick Hruby (writer, ESPN and The Atlantic), Jake Simpson, (writer, The Atlantic), and Emma Carmichael (writer, Deadspin) talk about this year's exciting baseball season.
---
Hey, guys,
Something interesting happened on the way to the Major League Baseball's postseason. Namely, the season itself, and "interesting" wasn't how anyone would have described the 2011 races just a few weeks back. Yes, Detroit is still cruising atop the AL Central, while the Phillies clinched a fifth-straight playoff berth on Wednesday, and their rough beast of a three-armed rotation slouches towards October, waiting to be born. But a few of those races for playoff slots that looked all but won in the triple-digit heat of August? Yeah, they suddenly feel tighter than new Spandex shorts.
Things have gotten good in the NL Central, for instance. The surging Cardinals, who swept the Braves in St. Louis last weekend, are threatening Atlanta's grip on a Wild Card, and have gotten close enough to make division-leading Milwaukee check the rear-view mirror. Similarly, though the Angels have cooled along with their 20-year-old outfielder Mike Trout, the halos still are close enough to let the AL West-leading Rangers know the season's final two weeks will be a battle.
Where the big kids play, in the American League East, all heck has broken loose. Yeah, Tim Wakefield won his 200th game. Finally. But the Red Sox have looked creaky. Meanwhile, the remarkable, roster-slashing Tampa Bay Rays have stormed back into Wild Card contention, and are hovering a few games behind Boston. As it is written in the stars, though, the AL East will most likely come down the the Yankees and Sox, who have three games left against each other, Sept. 23-25 in the Bronx.
How about it, Patrick? What baseball story are you most excited to see play out over the next few weeks? For me, whose Royals have been out of contention since the mid-1990's, it's all equally good. . The only baseball story I'm not for, really, is Moneyball.
–Hampton
Hampton,
I've already seen Moneyball. The film wasn't nearly as entertaining as the Michael Lewis book—which may or may not say something about the contemporary state of Hollywood magic-making, given that the book was less about baseball than the heartwarming world of financial arbitrage.
That said, I still enjoyed the movie. As a fan, mostly. Largely because it featured a bargain-basement team with a legitimate shot at winning. Unlike, say, real life. Oh, sure: a few cheapo clubs find and develop enough young, affordable talent to be competitive. (The Oakland A's and Florida Marlins used to have this market cornered; Tampa Bay still does). But by and large, mo' money means mo' victories, especially now that Moneyball-style statistical analysis no longer provides much of a competitive advantage, given that pretty much every front office uses it. Just look at the opening day payrolls of the 13 teams either leading their division or in Wild Card contention, only Arizona, Tampa Bay and Milwaukee rank outside the top 15 spenders.
So, yeah: remember all that talk about the Pittsburgh Pirates' revival? Me, neither.
What story will I be following the next few weeks? The same story every other baseball fan living in a no-hope home team town follows, year in and year out: the one inside my head. The one about the glorious future. (Release date: TBD). Here in Washington, D.C., that means monitoring Bryce Harper's minor league at-bats and Stephen Strasburg's pitch counts while praying that the next time the Nationals overpay for the likes of Jayson Werth, they'll spend that money on a player who can actually, you know, hit a baseball with some sort of consistency. I can see it now: young talent matures, big-market team can afford to keep it and Washington finally assumes its rightful place in the contending ranks of baseball's big-market haves. And also the New York Mets. Maybe Hollywood can make a movie about that.
Jake, what are you looking forward to?
–Patrick
What I look forward to every year, Patrick. The Yankees in the playoffs.
Full disclosure: I love the Yankees. I was born and raised in New York, I've been going to games since I was five, and Mariano Rivera is my favorite athlete in any sport, bar none. It always amuses me when the Moneyball discussion turns into small- vs. big-market teams (as you said Patrick, "mo' money means mo' victories") because the haves are playing by the same rules as the have nots. If Major League Baseball wants to put in a salary cap, I'm all for it. But until then, I hope the Yankees spend whatever it takes to win, even if their payroll skyrockets like our national debt.
Back to the season at hand. An afterthought in spring training while everyone fawned over the Phillies and Red Sox, the Yankees have the second-best record in baseball and a four-and-a-half-game lead on Boston in the AL East. Curtis Granderson, given up for dead by the Tigers, has turned into the best run producer in baseball and is a legitimate contender for MVP. And Rivera has kept chugging along, earning his 600th career save on Tuesday to pull within one of Trevor Hoffman's record.
As good as the Rangers and Justin Verlander's Tigers are, the most likely ALCS matchup is Yankees-Red Sox, a series diehard Bronx Bomber fans have been lusting after since the 2004 Series-That-Shall-Not-Be-Named. That would be an October to remember.
How about you, Emma? What's whetting your appetite in baseball's home stretch?
–Jake
Jake, let me do you a favor and name that series for you: you're referring to the time the Red Sox came from down three games to the Yankees in the ALCS, won four straight games, and then went on to win the club's first World Series since 1918, correct? OK, I think we're on the same page now. Just wanted to jog your memory a bit.
So, yes, I'll be watching and waiting for some Red Sox magic during baseball's home stretch, while glaring at the Phillies' pitching quartet out of the corner of my eye the entire time. It's been a while since we Sox fans felt that familiar wave of abject dread and hopelessness as October rolls around, but they're 2-8 in their last 10 games, and the classically-despondent Boston fans are already wallowing. It's what we do best. (My brother was at Game 3 of the '04 ALCS, when the Yanks beat us 19-8. He says fan morale was "nil.")
And while I won't say that I ever really miss that feeling, I will admit that every time the Sox slip for a few games or pull off one of those formerly-trademark blunders, I get some kind of irrational nostalgia for the team that was never able to pull it off. The Moneyball effect made the Red Sox a better organization, and like you, Jake, I'm perfectly fine with that—but I also don't quite know how you Yankee fans cope with persistent, decade-long success. Despondency, I think, is healthy for us all.
And because of that, I'll look forward the most to another Boston-New York ALCS, and whatever drama comes along with it. I haven't seen Moneyball yet, but I agree with Patrick—baseball does Hollywood's version of baseball way better than Hollywood.
–Emma