Ryan Gosling Is Not a Movie Star
In Drive, he plays a marble-mouthed weirdo, just like he does in every film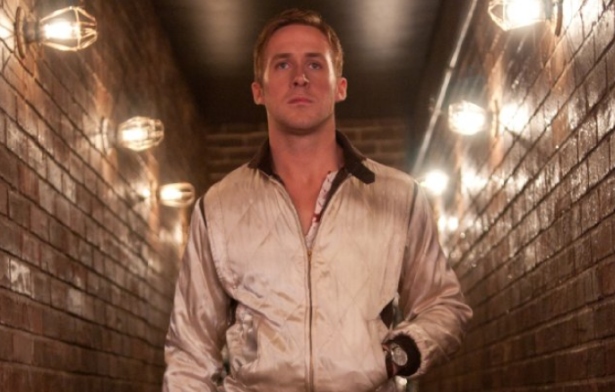 Film District
Ryan Gosling isn't a movie star. Over this past summer, it was easy to get confused on this point. First GQ wondered if he was "the perfect celebrity." Then Esquire put him on its cover. And in the dog days of August, Gosling magically and majestically materialized to break up a fight in an intersection in lower Manhattan. Here, seemingly, was Hollywood's long-awaited blond, hunky savior, custom-built for prime placement on freeway billboards.
If only Gosling were as unaffected and loose in movies as he was in that clip of him stopping two guys from coming to blows. But he's not. He's stiff and he mumbles and generally gives the appearance of being off in his own, less interesting movie. That's why Drive, his spectacular new film that brought in an unspectacular $11 million over the weekend, is perfect. Nobody's better for the job of playing an action hero who unironically wears a white nylon jacket with a scorpion on it than Ryan Gosling: He has always had an air of the middle-school thespian who insists on having a pipe and glue-on facial hair for every role. It's also good that he doesn't have to talk much in Drive, minimizing the deployment of his awful, admittedly fake, tough-guy accent. His look of childlike Canadian wonder helps in scenes where he's, say, stomping in a hit man's head. Most fittingly, as the film progresses, his character's strong-and-silent shtick starts to wobble: Both Gosling and the guy he's playing come off like they're faking their own reticence.
But how did an overly self-aware, marble-mouthed, recovering Mickey-Mouse-club kid end up the most hyped actor of 2011? The journey started nearly a decade ago. To be fair, Hollywood was starved for charismatic-seeming young men back in the early 2000s. Adrien Brody hadn't popped, Leonard DiCaprio was still trying to explain away The Beach, dullard Ben Affleck was a big star, and Matt Damon was being outacted by Jude Law and Philip Seymour Hoffman. So you can see why his prep-school Hannibal Lecter routine in Murder By Numbers in 2002 was seen as a breakout, even if it was in the service of a wheezy Sandra Bullock movie. That he also played a Jewish neo-Nazi in the highly-praised, little-seen The Believer made him seem Very Serious and on the verge Doing Something.
And for the most part, that's where he stayed for the next decade. He got an Oscar nomination as a drug-addicted teacher in 2007 for Half Nelson, but it was the kind of performance a dozen humorless heartthrobs could have delivered. The same goes for his boy-meets-anatomically-correct-doll, boy-meets-girl, boy-learns-to-live-without-anatomically-correct-doll groaner Lars and the Real Girl. He was even worse last year in the unbearable Blue Valentine, a story about a couple coming to terms with their dissolving marriage. It's one of those uniquely American movies that thinks showing life as mundane and hopeless and phony and suffocating makes for a story, or even a reason to exist. This summer's Crazy, Stupid, Love was a mess, with Gosling's put-on, fidgety New Yawkiness making his onscreen romance with Emma Stone seem improbable.
This whole time, has he really on the verge of breaking through, or did he just have a bottleneck of forgettable movies that gave the appearance of momentum? Who knows. His turn as leading man in George Clooney's upcoming campaign thriller The Ides of March is the kind of role meant to mint stars. But watching Gosling try to flirt with Evan Rachel Wood in the film's teaser clip is painful. The job needs a young Robert Redford, but Gosling's doing Paul Giamatti.
Somehow, though, this 30-year-old's career has produced two characters that are guaranteed to hang around forever. As long as 13-year-old girls have sleepovers, they'll be watching him in The Notebook, his 2004 weepy film about how he fell in love with Rachel McAdams and grew up to be James Garner. And as long as boys need something violent to watch on cable at 1 o'clock in the morning, Drive will have an audience. For that, give him respect, if not a place in the stars.
[Some portions of this story came from an earlier Atlantic Wire post]