Robert Duvall Talks About Idolizing Brando and Disagreeing With Scorsese
Riffing with the star about his new film, 'Seven Days in Utopia'
Riffing with the star about his new film, Seven Days in Utopia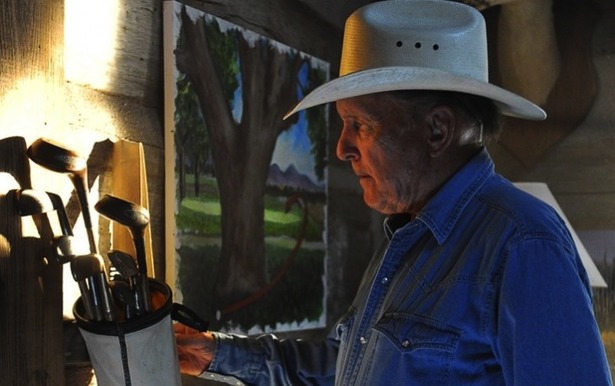 Van Redlin
Chatting with Robert Duvall is just what you'd hope it would be: The 80-year-old star of Apocalypse Now, The Godfather and Tender Mercies name checks "Jimmy Caan" and "Brando," passingly dismisses conventional wisdom, and rambles forthrightly about what's not to like in his latest movie.
That latest movie is Seven Days in Utopia, a golf flick with religious overtones that hits theaters this weekend. In it, Duvall plays ex-pro Johnny Crawford, who takes it upon himself to mentor young golfer Luke Chisolm (Lucas Black) when the kid bottoms out after a disastrous tournament round.
No matter that Duvall's character is the archetypical homespun wizened old guy, or that the movie is a patently ridiculous concoction of philosophical hokum. It's still a great chance to experience an acting legend, in his horse-riding, cowboy hat-wearing, wisdom-dispensing glory.
Interviews with the Academy Award winner tend to be of a candid, scattershot variety, as he refuses to stick to the typical PR script. Here, Duvall offers his thoughts on a variety of subjects.
---
This isn't really a golf movie—golf is a conduit for other things—but why is the sport right for the story?
Lucas grew up in a faith-based community in Alabama, but I said [to him], "If this movie's about tennis you wouldn't be taking it." It's about golf but it's not just about golf, really. A philosopher once said, "Don't be a farmer, be a man on a farm." If you make sure you're a good man first and then a farmer second, I think that's what this film explores. ... [Also] It's the only golf movie I ever knew of where we had a legitimate scratch golfer playing the lead, who could hit the ball.
Black's that good?
He plays in Pro-Ams. He says the best he ever did was 100 people played a Pro-Am [and he] got third place. He's very good. And an excellent actor. Excellent actor. Excellent actor.
Have you played at all?
Way back. I learned how to golf. I believe in hobbies, but it takes too much time. ... Dennis Hopper played. People played golf that you would never think would play golf. It's a middle-class game, but yet when I worked in Scotland, in Glasgow, the cab drivers tell you their handicaps, so it is a workingman's sport too. It started out as that.
You've always been popular in Texas and loved shooting there. What was it like to shoot in Utopia [population 373, according to the movie]?
We went first to Fredericksburg [Texas], which is probably the cleanest city in America. It's a German settlement that was actually pro-Union during the Civil War. Then for the last two weeks we went to Utopia, which if it's not the best location I've ever worked in, [it's] one of my favorites. ... I read that book at the time, Empire of the Summer Moon, on the Comanches. Now there's a script coming from that that my friend hopefully will direct, Scott Cooper, who did Crazy Heart. She needs a little work but that should be pretty interesting. I've got to watch it in its entirety, but what I saw of The Searchers, I don't agree with it. I think it was a bit melodramatic. I disagree with [Martin] Scorsese and all those people. I have to watch it again. This will be that subject, maybe treated in a more serious way.
What doesn't work for you about The Searchers?
I gotta watch it [again], because what I saw was ... a bit melodramatic. And you have Italians and Armenians playing Indians. You've got to get Indians to play Indians. There are some good Indian actors. I just feel maybe it was a good Hollywood movie. And somebody once said to me, "If you criticize John Ford, it's like attacking motherhood in Hollywood."
What do you think has made The Searchers the highly regarded classic it is?
Horton Foote once said, "A lot of people in New York, not all, don't know what goes on beyond the South Jersey shore." So the perceptions are such that they don't really know what's there.
You could say the same for L.A. too.
Absolutely. Or any city. Any city in America.
Because New York and L.A. are the centers of entertainment in America, do you find it's hard to get a small Southern movie like Seven Days in Utopia made?
Could be. Because when I did The Apostle, I could never get it made. Had I done it under Hollywood's jurisdiction I would be paid big money and done something inferior, because they tend to patronize portions of the interior of America. ... I did the film that I wanted to do. Hollywood and [New York] there's a lot of expertise both places, but [what] they call the flyover zone, the interior of America, there's a lot there, really. And I think it's hard to get something like this done, but [David L.] Cook, who wrote the novel, has access to money down there.
As Johnny guides Luke toward happiness and self-fulfillment, can you talk about some of the mentors who impacted you?
Brando. He was our godfather coming up. When he came up there were good actors around, but he was kinda [different]. Now, I'm not saying there's another Brando, but there are a lot more good young actors than there were. Black guys get a chance. Spanish guys. ... [Brando] was like a mentor to us. Wherever he is now, he's still trying to remember a joke Jimmy Caan told 30 years ago during Godfather. He loved Jimmy Caan. Jimmy Caan's a funny guy. Jimmy Caan and Bill Murray are probably the two funniest guys I ever worked with. ... He's one of the people I keep in touch with. I don't have too many actor friends but I keep in touch with Jimmy.
Do you think some people might view this movie as just too upbeat and "spiritual," and not cynical enough?
I can see that. Especially with the way it was at the beginning. I was like that. I said if you want me to take this movie, it's too white-bread. Give me some obstacles. ... Make a drama. Give me some faults. So they did, I think, reluctantly so. [My character] had a drinking problem. I had been divorced. ... There's going to be people out there who don't take to this obviously. When I see a movie, usually I say that's the kind of movie I want to make. When I see this, I like it, but it's not as spiritual to me as a movie we did two years ago called Get Low, with Sissy Spacek and Bill Murray. That was to me more spiritual, even though they weren't going for it. Here, you're going for it, but by giving more structure to that or some contradictory forms of drama, faults, then it makes it better. It lessens that white-bread concept, but still there are people who won't like it, and I can understand it. I won't be surprised. I won't be surprised.