I went a little berserk on the twitter last night. I watched a few games back to back on NFL Rewind, and just started tweeting. I think it beats my marathon Basketball Wives tweeting sessions. Anyway, a few things:
1.) I got to see Cam Newton's 422-yard performance against the Cardinals. It should be said that the Cardinals didn't look very good on defense. But it should also be said, that they really seemed to be coming after Newton. I thought he handled the rush about as well as I've ever seen a rookie QB in his debut game. Check out Chris Brown's
mock-up
of Newton's first NFL touchdown--a 77-yard bomb.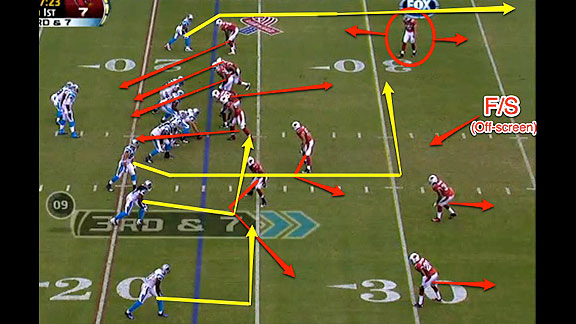 2.) I know the notion of playing under pressure has been basically debunked. But watching Tony Romo's performance, and comparing it to his numbers, will make you suspicious. All interceptions and fumbles are killers, but some are just genocidal. I have no idea why Romo was running with the ball like a loaf of bread near the goal line, or what made him say, "Hey my number one receiver is hurt, I think this is a good time to test the best cornerback in the league."
With that said, I suspect the desire to take chances cuts both ways. I'm sure Romo could play smarter at the end of football games. But I wounder if the same urge to try for the touchdown, isn't the same urge that makes him a good quarterback. That touchdown to Miles Austin, really could have been picked off.
Finally, I'd love to see a statistical breakdown of QBs in the fourth quarter. The vague sense that Romo isn't a "clutch players" needs to be measured against some math.
3.) I got to chatting last night on the twitter last night with a dude who can't watch the games on Sunday because his RPG group plays at the same time. This was shocking. I really thought I was the only person in the world who generally believed "Against The Giants" to be a really cool double entendre.
It got me to wondering why nerds tend toward baseball, instead of football. I don't know if the brawny, muscle-headed rep of the game scares away geeks, but football always struck me as a game for intellectuals--chess with concussions as someone said on twitter, or RTS with actual people.
I was nerd almost as a matter of biology. But given where I grew up, I never thought of myself as such until much later. I wasn't stuffed into my locker (that was rather dangerous in 1989) and was generally pretty well liked. I never really felt socially banished. So I lack the standard nerd-narrative of pariah status.
You just had to love Ronnie Lott in West Baltimore. There wasn't much choice. The way we played the game, was the way we wanted to live You had to know what it meant for Doug Williams to ether John Elway. It was like hip-hop--a hood lingua franca.
4.) Here are 
some thoughts
 from Detroit on the NFL's worst owner:
Well, the Fontes/Ross era combined for six playoff appearances in nine seasons; the Lions made the playoffs eight times in 58 seasons prior to Fontes' arrival (well, Barry's arrival). The Lions went 9-7 in 2000, missing the playoffs thanks to Paul Edinger's game-winning FG in week 17. 




As a result, Ford hired a broadcaster with no previous front office experience, watched him tear down a veteran team and replace it with a 2-14 version ... despite four consecutive seasons during which the Lions never approached that 9-7 mark, Ford rewarded Millen with a contract extension. At that point, Millen had led the Lions to a 16-48 record, tied for the 12th-worst four-season stretch since the advent of the 16-game schedule in 1978, and yet Ford made him reportedly the second-highest-paid general manager in the league. (I didn't even know that before. RAEG.) 




At the end of his tenure, the Lions were 31-97 over that eight-season stretch (giving Millen the blame for all of 2008), ninth-worst in NFL history. The two franchises who managed worse streaks were the Cardinals, various periods from 1936 to 1945, and the Eagles, various periods from 1933 to 1943. (They each had four streaks that overlapped.) In essence, Millen took an average team and made it a WWII-era bottom-feeder. And the event that led to all this was arguably B. Sanders choosing to quit rather than to put up with another year of the lunacy that is football in Detroit. 




That event is probably on par with a hypothetical ousting of Parcells, especially given what Parcells managed in Miami and what Barry contributed to in Detroit. (Five of the Lions' 10 modern playoff appearances came during Barry's career.) Ford has owned the team for 51 years. In the 50 seasons under his watch, the Lions have won 10 games or more 5 times. They've won exactly 1 playoff game. Snyder matched that total in his first year as owner (they beat the Lions, in fact, in 1999), and his Redskins have won 10 games twice in 11 seasons. 




 I can certainly understand the frustration that Redskins fans must feel, watching a storied franchise slowly being driven into the ditch by Voldemort, but trust me, Snyder has a long, long way to go to be the worst in the league. The fact that he's openly dumb just makes his stupidity more obvious; Ford's ability to hide in the shadows doesn't make his any less important. (We could throw in Mike Brown and Bill Bidwill for good measure; I'm not entirely convinced that Bidwill even realizes his Cardinals nearly won the Super Bowl once. If Snyder wants to lead the NFL in incompetence, he'd better be prepared for a long battle ... there are masters at work before him.)
I'd insert some word about Jerry Jones here, but I don't think I'm qualified anymore. More on that later.
5.) Another endorsement for NFL Rewind which is offering a free trial through September 19. The game really looks spectacular. Watching Newton yesterday got me thinking a lot about story-telling. I knew he lost the game, and yet on that final drive my blood was still up. It was as though I expected him to defy space-time. 
It's very similar to story-telling in that way. How can we know that D'Angelo is a dead man and root for him anyway? Know what happens at the end is good. Knowing how it happened is so much better.
6.) I bought a glass bodum tea pot. I make mint tea every morning and every night. I think I'm in love.