Quote of the Day: Jack White's Insane Clown Posse Obsession, Revealed
When Mozart, the White Stripes, and Juggalos collide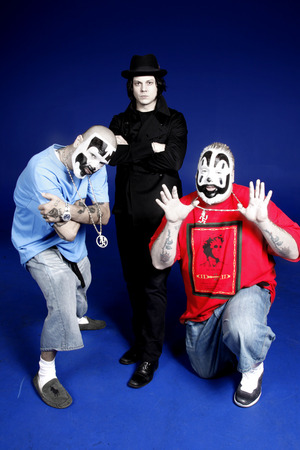 Minds have been melting since Wednesday's
surprise release
of a collaborative single between garage-rocking critical darling Jack White and rap-metal cult stars/critical punching bags Insane Clown Posse.
It gets weirder: The track is basically Insane Clown Posse's Violent J and Shaggy 2 Dope rapping over Mozart's "Leck Mich Im Arsch" performed by a rock band. And they rap that Mozart is "respected because he knows art" and that, of course, the composer needs his ass licked.
How did this happen? Violent J spoke with the Village Voice and tried to clear everything up. One tidbit is that Jack White is apparently fixated on Insane Clown Posse:
I asked [Jack White] before we went out there, "Why us?" He said, of course, he grew up from Detroit and he's always been fascinated by us. He said he always finds himself looking at our Web site. And some of it he thinks is genius, and some of it he just doesn't understand at all. But he was always drawn back to our Web site and always ends up looking at us every couple of months or whatever.
It's interesting that Violent J is aware of that the collaboration's getting attention because of its sublime vs. ridiculous factor; Jack White, J appears to realize, is trolling the blogosphere with the song. At one point, the Voice's Camille Dodero suggests that ICP's level of mainstream respect has been changing in the past few years, in a good way. To which J replies:
But has it? Is it changing? If it was really changing, what would be the big deal about this? What would be the exciting news? People are tripping out because the respected meets the non-respected in every way. That's what the whole news about this is. You know what I'm saying? Two respected artists working together--it wouldn't even be a big deal. But people are nuts, because it's like, "WHUUUT?!?"

Even though things are going our way--and we're getting a lot of positive press, no doubt about it--but I don't think it would be much of a story if we were honestly respected as good musicians.
Read the full interview here and listen to the track below. For anyone wondering, no, this will not be a Track of the Day for us.