Post-Industrial, Assembly-Line Art
Facing larger demand for original pieces, artists don't always paint the work they sign. Instead, like in Renaissance times, teams of apprentices are picking up the brushes.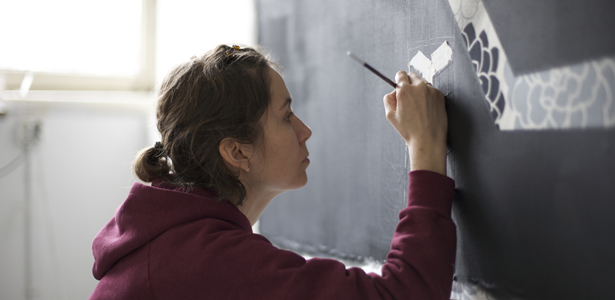 The Wall Street Journal reported earlier this summer on...
a phenomenon that's rarely discussed in the art world: The new work on a gallery wall wasn't necessarily painted by the artist who signed it. Some well-known artists, such as Damien Hirst and Jeff Koons, openly employ small armies of assistants to do their paintings and sculptures. Others hire help more quietly.

Art-market insiders say soaring prices and demand for contemporary art is spurring the use of apprentices by more artists. The art world is divided on the practice: While some collectors and dealers put a premium on paintings and sculptures executed by an artist's own hand, others say that assistants are a necessity in the contemporary market.

"An artist has a choice to make," says Mark Moore, owner of Mark Moore Gallery in Santa Monica, Calif. "They either hire assistants or they risk not being able to meet their obligations to their dealers. Then the art market, which is fickle and sensitive, gets the impression that the artist has disappeared from the art world."

Mr. Koons says he has 150 people on his payroll and that he himself never wields a paintbrush. "If I had to be doing this myself, I wouldn't even be able to finish one painting a year," he says. Every year his studio averages 10 paintings and 10 sculptures. In the last four years, six of his works offered at auction have sold for prices between $11 million and $25 million each.
The Boston Globe has just noted a more theoretical defense of the decoupling of art from craft skill. And even the most casual visitor to a major art museum will find that the labels reflect questions of which works and parts were painted by the Old Masters, and which by their assistants. But the rules have changed since Rembrandt's day. As the New York Times reported earlier this year, about Koons as well as about less controversial works by Mark Rothko and others:
These instantly recognizable images spell "wall power," a well-worn art-world phrase that describes an artwork that telegraphs its owner's wealth. Often these trophy purchases are flaunted in the entrance of a McMansion or over a living-room fireplace or in an office-building lobby. Sometimes, however, prized art will disappear into private collections where their superrich owners show them off to only their superrich friends.

Buyers today are a far broader group than they were a decade ago. As pockets of new money continue to be made in Asia, Russia and the Middle East, buyers from these places are becoming major players in the auction arena. And their tastes tend toward the unsubtle.

"In order to appeal to today's global marketplace you have to have iconic art that translates in every culture," said Tobias Meyer, who runs Sotheby's contemporary art worldwide.

Or as Brett Gorvy, Mr. Meyer's counterpart at Christie's, explains, "It's got to be something with high impact, a wham-bang painting with everything in front of you."
This model seems to be a revival of the Old Masters' workshops, but it does not offer the same path to independent creative identity. Giotto began as Cimabue's assistant, Giulio Romano as Raphael's, Leonardo da Vinci as Verrocchio's. Jeff Koons' assistants seem happy enough, and cite their boss's close and expert supervision of their work. It's not clear what future there is in being a master dot applier, but who knows, maybe the gig helps assistants make their own art on the side. Didn't James Rosenquist develop his technique while a billboard painter?

The decline of urban manufacturing since Andy Warhol's heyday has meshed well with the rise of the new workshops. Today's monumental, digitally-processed photographs are scaled for lofts (one product of deindustrialization) at a minimum.
Is all this just the legacy of Warhol's Factory? Perhaps today's assembly line descends instead from the workshops of a hundred years ago, in which masters established designs for teams of skilled artisans to adorn the homes of the day's oligarchs. In the scale, division of labor, craftsmanship, and attention to detail, today's "wall power" art echoes not traditional studio artists but the stained-glass screens and windows of Louis Comfort Tiffany -- who began as a painter, then created masters for others' execution -- that adorned so many prestigious homes. Prized again by museums and collectors today, they have not always fared well in the "fickle and sensitive" market to which Mr. Moore refers. Removed by President Theodore Roosevelt, the White House's Tiffany Screen, according to information received by the Antiques Roadshow site, "is believed to have ended its days at the Belvedere Hotel in Chesapeake Beach, Maryland, which burned down in 1923."

Image: dphiffer/Flickr.