NCAA Football's Opening Saturday: The Single Best Sports Day of the Year
More exciting than the Super Bowl or the first day of March Madness, this weekend's college gridiron extravaganza is peerless
More exciting than the Super Bowl or the first day of March Madness, this weekend's college gridiron extravaganza is peerless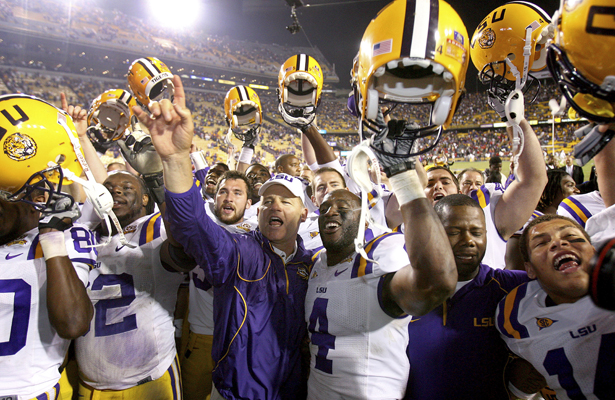 Reuters
I wrote a post last year making the case that college's first Saturday is the best single sports day of the year, because it's summer and Monday's a holiday and, for the first time in seven months, there's a chance of seeing something unique, stupid, or wondrous happen on a football field in America. Dozens and dozens of chances. For example, on Thursday night, Syracuse erased a 15-point fourth-quarter deficit to beat Wake Forest 36-29 in overtime. I watched this unfold in a tiny window in the upper righthand corner of my laptop and was transfixed. Neither team is expected to be particularly good this year (Sports Illustrated's season preview had Syracuse placing 6th in the 9-team Big East and picked Wake to finish dead last in the ACC), but that's part of the first weekend's charm.
Here's how I described the glory of the weekend:
Unlike baseball's opening day—long-since mythologized out of porportion (and handed over, briefly, to the Japanese)—and the NFL's protracted opening weekend (who benefits from that second Monday Night Football game that starts at 11?), there's no buzz associated with the start of the D-I football season. Conference play—which the BCS values like gold buillion—is still a month away. What could go wrong against a team you're favored to beat by 27 points? Usually, nothing. That's the way things are. But once in a while, you get what happened on the first football Saturday of 2007, when Appalachian State went to Ann Arbor and beat Michigan. That game became a cultural event—not quite the United States over the USSR in 1980, but more memorable than two of the four New England Patriots Super Bowl appearances. Tiny upsets like that happen every year on opening weekend, maybe not at the same pitch, but with similar implications. Last year, FCS William & Mary went in to Charlottesville and beat UVa. 26-14. The same weekend, BYU defeated Oklahoma and Colorado State beat Colorado.

The point is, it's difficult to predict what the good games will be this weekend. (Note: the definition of a "good" game—at least in college—as one that is competently played and highly contested. This is not to be confused with an "exciting" game, which is highly contested but not competently played. Good games can be exciting. Exciting games cannot be good. Al Groh's teams at Virginia were neither exciting nor good.) And that's OK. It's the one day of wall-to-wall sports that requires no effort on the part of the viewer.
This year, the "best" two games, if you go by the chalk, will be No. 3 Oregon at No. 4 LSU, and No. 5 Boise State at No. 19 Georgia. I'm more interested in watching Virginia go to pieces against William & Mary (inevitable) and seeing whether Clemson will sleepwalk their way to a loss at home to Troy (also probably inevitable). USC's playing Minnesota in L.A.. It's the kind of game Gopher fans have been talking themselves into thinking they have a shot at winning since Glen Mason was fired in 2007, and Goldie's Blue Period began in earnest (15-30 overall and 6-21 in the Big 10). This year they might be right....Also: BYU's at Ole Miss and Northwestern has Boston College. Those are brand names you can rely on in a pinch.
Read the full story here.