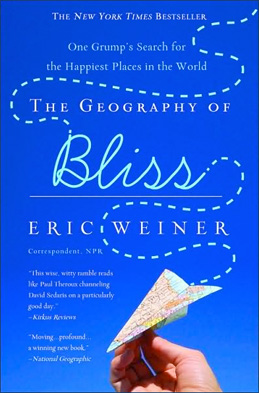 The French call it la chasse au bonheur. Americans have it inscribed into their constitution. The hunt for happiness seems to be a global, fundamentally human pursuit -- but what exactly is its actual prey and does that prey have a natural habitat? That's exactly what Eric Weiner explores in The Geography of Bliss: One Grump's Search for the Happiest Places in the World -- a fascinating tale of psychology, geopolitics, science, travel, and humor, flagged by reader Zelda in a comment on our omnibus of 7 essential books on happiness. From the relationship between democracy and happiness to the role of religion, temperature, and failure in happiness, the book offers a provocative perspective on what happiness is -- and isn't -- and where we might find it.
Weiner came of age as an NPR correspondent, reporting from some of the gloomiest, unhappiest places on Earth. So he decided to seek out their opposite and spent a year traveling the globe, hunting down the world's unheralded happy places, where one or more of the ingredients we consider essential to well-being -- pleasure, money, spirituality, family, chocolate -- flow unabated. The itch for his quest came from a what-if we're all familiar with:
What if you lived in a country that was fabulously wealthy and no one paid taxes? What if you lived in a country where failure is an option? What if you lived in a country so democratic that you voted seven times a year? What if you lived in a country where excessive thinking is discouraged? Would you be happy then?