Is the Death of Borders Really Good for Independent Bookstores?
Some thought the superstore's collapse would bring better tidings for smaller shops. But what's really happened since the chain filed for bankruptcy?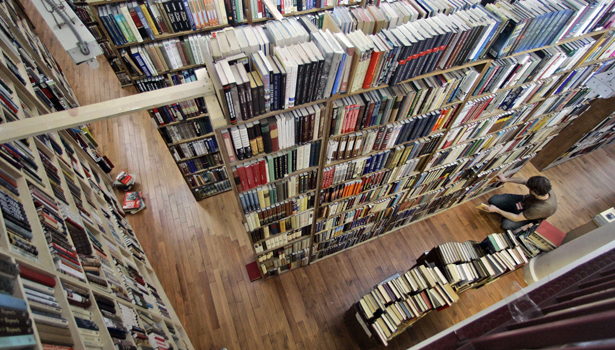 AP Images
There was a time when the independent bookstore seemed fated to die: In the early 1990s, chains like Borders and Barnes & Noble began their impressive rollout, and their guiding principle of bigger-is-better drove many independently owned shops out of business. But now, about two decades later, Borders is the one bowing out in dramatic fashion. After suffering from declining sales and missed payments, the 40-year-old chain filed for bankruptcy in February and has proceeded to liquidate its stores. Articles with headlines like "Borders shutdown shifts independent booksellers into the spotlight" and "Borders' demise could pave way for expansion of independent bookstores," claim that the superstore's collapse will bring better tidings for the independent.
Given the fraught history of chains vs. independents, such a prediction is understandable—but is it accurate? Mark LaFramboise is a book buyer at Politics & Prose, an independent shop in Washington, D.C., and he says that the shuttering of the closest Borders earlier this year, during the chain's first wave of closings, has had no discernible effect on business. "Does this herald a renaissance of the independent bookstore?" LaFramboise says of Borders' closing. "Probably not. Put me down in the 'I hope so' category. But stop short of the 'I think so' category." Scott Abel, the general manager of Kramerbooks & Afterwords Cafe in D.C., says his store has not witnessed radical windfall either, though he has certainly spoken with a few customers who mentioned that they used to shop at Borders.
New customers may not have simply fallen on their laps as a direct result of Borders' expiration. But many independents near a closed, or soon-to-be-closed, location are making the effort to attract the chain's former customers, according to Oren Teicher, CEO of the American Booksellers Association, a nonprofit trade group that represents about 1,600 independent shops across the country. Independents have flexed their entrepreneurial muscles in a variety of ways: honoring Borders gift cards, extending special discounts, offering space for book clubs that formerly met at Borders, and even running newspaper advertisements in the wake of Borders' closing to remind book buyers of other existing options. "There is the beginning of at least a little evidence in some markets of the country where there was a Borders close by, that the nearby store has picked up on that business," Teicher says. "This is the time to be as aggressive and out-front as one can."
This is admittedly not the exciting story of the hip, humble, hole-in-the-wall independent bookstore booming with business after the downfall of its monolithic, hyper-corporate, faceless counterpart. There's a problem with this narrative: it can be tempting to see the two types of businesses as straightforward antagonists, but in the quickly changing landscape of book-selling, perhaps the superstore and the independent are not enemies but acquaintances that begrudgingly empathize with each other. Teicher says that brick-and-mortar stores—whether they are chains or independents—have come to recognize that they have more in common than they did a decade ago, including a shared rival in the form of online bookselling. Both superstores and independents would argue that currently, "the far bigger competition doesn't come from each other, but from online sellers."
BookStats, a recent survey conducted by the Association of American Publishers and the Book Industry Study Group, is underpinned by the recognition that the publishing industry, once a fairly focused entity, has transformed and differentiated significantly over the past decade. According to the survey, online retail "clearly" gained market share lost by other distribution channels between 2008 and 2010—a growth attributed to changing purchasing habits and the increasing popularity of e-books. Publishers reported a 55.2-percent increase in net sales revenue coming from online retail, resulting in$2.82 billion in 2010. As comparison, publishers' 2010 revenue from independent retailers was $642 million and $3.06 billion from brick-and-mortar retail chains.
As LaFramboise says, opening an independent bookstore has not suddenly become a "really viable idea" simply because Borders is no longer the same market force: "The same conditions that caused Borders to go under still exist for anybody who's opening a brand new brick-and-mortar store." Many have noted that Borders, which began as a used-book store in Ann Arbor, Mich. in 1971, failed to adapt quickly to the changing retail environment, unlike its close cousin Barnes & Noble. Amazon introduced the Kindle in 2007, and Barnes & Noble followed suit two years later with the unveiling of its own e-reader, the Nook; meanwhile, Border offered a wide selection of devices that never managed to parallel the popularity of the Nook or Kindle. Moreover, Borders linked its online store to Amazon in 2001 and did not start its own e-commerce site until 2008.
As online venues continue to take hold of the book market, independent shops may have to work harder to differentiate themselves as physical spaces for browsing books. Independent bookstores, many of their owners say, create an experience that can't be mimicked online by providing author readings, knowledgeable staff that can make personalized recommendations, and a hand-picked inventory that caters specifically to the clientele. Abel, from Kramerbooks, echoes the inimitability of the bookstore experience, a space void of distractions and conducive to the primary task of pursuing interests and discovering new ones. "There's a downside to the phrase 'browsing on the interwebs,'" Abel says. "You don't find things you don't look for. In the bookstore, you're freer to explore the space."
While it's questionable that Borders' end will yield dramatic benefits for independent shops, Abel views it as a symbolic affirmation of good bookstore values. He says that the depersonalized atmosphere of superstores like Borders and Barnes & Noble helped to foster an attitude of disrespect: if customers feel no intimate connection with a store, they are more likely to, say, copy lines out of a travel guide or treat books with a flippant disregard for the person who may chance upon the items next. "We can do without those behaviors. We could get back to a bookstore where people don't answer their phones, back to a bookstore where people value the books," Abel says, noting that even Costco, the monumental warehouse chain, sells books. "We were putting books in a space that shouldn't be selling books. It's not a pair of jeans at 40 percent off. It's a cultural artifact. It's knowledge."