Is It Really the Year of the Quarterback?
Tom Brady, Cam Newton, and other QBs have had stunning seasons so far. Will it last?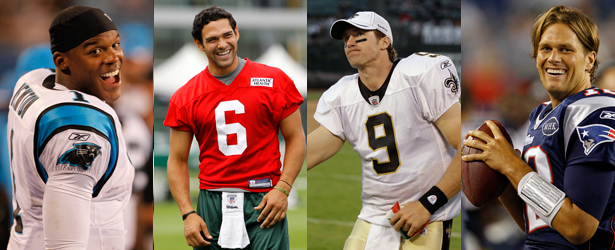 Reuters, AP Images
Every week, our panel of sports fans discusses a topic of the moment. For today's conversation, Emma Carmichael (writer, Deadspin), Jake Simpson, (writer, The Atlantic), Patrick Hruby (writer, ESPN and The Atlantic), and Hampton Stevens (writer, ESPN and The Atlantic) talk about this football season's stunning offensive accomplishments.
---
Hey guys,
You may have heard by now that it is The Year Of The Quarterback (TYOTQ). The Worldwide Leader has branded it so, and they even came up with a friendly abbreviation (YQB) and self-produced statistic (the Total QB Rating, or QBR). The QBR will help us track the YQB, you see.
I'm not yet convinced that the QBR will revolutionize the way we quantify football skills, but I will say that the first two weeks of the young season have been almost endlessly entertaining because of superb quarterback performances. In Week One, we saw two passing records broken : Cam Newton threw for 422 yards in his first pro game, the best debut for a rookie QB in NFL history, and then Tom Brady became the first QB to throw for more than 500 yards in a season opener. Aaron Rodgers, Drew Brees, and Matthew Stafford have all had pretty stellar debuts, as well. (There's also, though, the traumatic prospect of a season without Michael Vick and Peyton Manning--but I'll stick to the optimistic stuff for now.)
TYOTQ has just been really fun to watch—although I should admit that I say that as a non-Fantasy player who doesn't get enraged every time Rodgers loses three yards on a drop-back. Casual fans of the game love to see quarterbacks thrive. There's no obvious joy in watching five-yard rushing plays as a team slowly marches up the field. We want to see our QBs go long, and they have been (and sometimes, they just get kinda lucky). It almost makes us forget that we're watching and celebrating a deadly game!
I think TYOTQ has lived up to the (branded) expectations, but that's in part because I'm an unabashed Patriots fan, and so far Brady can do no wrong. What about you, Jake?
–Emma
Emma, if you're asking me if I'm a Brady fan, I can only respond with two words: Helmet Catch.
I kid, I kid. But I do think that the Patriots' historically good passing attack is in large part responsible for the growing half-truth that is TYOTQ. Brady and Bill Belichick have spearheaded an offensive attack that for the last five years has rivaledAir Coryell and The Greatest Show On Turf as the best passing offense in NFL history. Forget the Pats' record 589 points in 2007 or Brady's absurd 36-touchdown, four-interception 2010 season—how many teams could pull off an offense that features two tight ends, a slot receiver and a deep threat that has changed multiple times in the last decade?
As for the rest of the league, I have to hold my nose and agree with resident ESPN blowhard Gregg Easterbrook. Easterbrook argued in a recent column that the passing explosion can be partially explained by the training camp-eating lockout because defenses have not had enough time on the field together to gell. There have been a disproportionate amount of big passing plays so far this season, and where there's a long completion, there's usually a breakdown in coverage. The more time defensive secondaries have to practice together, the fewer missed assignments there will be, and a drop in passing yards should follow.
That said, the current crop of elite quarterbacks (Brady, Rodgers, Brees, Vick) is as good a group as we've seen since the mid-90s (Favre, Elway, Aikman, Young, Kelly). As long as those gunslingers stay healthy, 400-yard games will remain a regular occurence.
–Jake
First of all, let's clear something up: from getting girls to appearing on magazine covers to winning MVP trophies to getting girls to scoring enormous (if puffed up by self-interested agents and should-know-better reporters) megabucks contracts to getting girls to scoring omnipresent televised endorsements to landing high-profile post-football gigs (even if you were a decidedly average professional player) to reigning supreme o'er high school social pecking orders all across this fair land—also, did I mention getting girls? —it's always the Year of the Quarterback in the United States of Football-Lovin' America.
So yeah, maybe the additional QB branding and hoopla strikes me as mildly redundant. Like a new supermarket magazine devoted solely to the Kardashians.
That said, I don't think the early uptick in NFL passing numbers is all that surprising. It's part of a long-term trend, a trickle-up tactic from high school and (especially) college football. Twenty years ago, people snickered when the Detroit Lions ran a four-wideout, pass-happy, "run-and-shoot" offense, an attack borrowed from campus ball—possibly because the Lions had All-World halfback Barry Sanders on their roster; probably because guys like Andre Ware and Erik Kramer were playing quarterback for Detroit. The Houston Oilers ran a much better version of the same system behind Hall of Fame quarterback Warren Moon; the team's playoff failures, including an epic 41-38 come-from-behind loss at Buffalo, were seen as proof that a throw-first, throw-often, unmanly-man style could never control the clock and maintain a lead when it mattered most.
Of course, that was then.
Building on offensive concepts first introduced in 1920s Texas high school football—there is absolutely nothing new under the pigskin sun, except bigger, faster players and better, more undetectable performance-enhancing drugs—college teams over the last decade have largely shifted to spread formations and pass-heavy playbooks. The pros—like the almost-perfect, nearly-unstoppable 2007 New England Patriots—have followed suit. The actual flavors that fans see on the field are varied—the Pistol is not exactly the same as the Shotgun Spread—but the basic animating principle is the same: contrary to the old Woody Hayes saw that only three things can happen when you pass, and two of them are bad, it's actually easier to complete a five-yard pass than a five-yard run, because as Bill Walsh preached, offensive players always have the advantage of knowing where they're going when the ball is snapped, particularly in an era where rules changes allow once-chucked pass-catchers to run unmolested through secondaries.
Here's the thing: I'm actually surprised the QB-centered pro passing explosion hasn't happened sooner. Maybe that speaks to the inherent conservativeness of pro football coaching, the pressing desire to first and foremost do nothing that would stand out as abnormal and get yourself fired (or worse, ridiculed by people like me, people who can hardly tell a curl route from a drag). After all, there's one football arena where pass-happy attacks have been commonplace from the beginning, where play-callers only want to win and don't care about it looks.
I'm speaking, of course, about Madden NFL—where it's also always the Year of the Quarterback, no matter who appears on the game's cover.
Hampton, are you happy with the NFL's new aerial world order? Or does the disappointed heart of a football traditionalist beat slowly and sadly below your hipster headwear?
–Patrick
Wait. Did we miss the Year of the Punter? And when was the Year of the Nose Guard, anyway?
Of course every year is a Year of the Quarterback. Duh. The signal-caller, a field general, call-him-what-you-will, the QB is an all-American original, a cultural icon like "rock star" that can never go out of style. But we have our doubts, Patrick, about this particular year. I—along with my hipster headwear and conservative heart—am not entirely convinced that we are seeing tomorrow's football today.
There's no doubt that offenses went crazy in the first two weeks. Teams threw for a a record 15,771 yards, scored 172 touchdowns, and 1,502 overall points. My Chiefs, responsible for only a mere ten of said points, haven't really been part of the show, but it's still been fun watch the fireworks from afar. Kind of.
Numbers don't begin to tell the story of how scary accurate Tom Brady has been. Emma's boyfriend is on a pace to break Dan Marino's single-season record of 5,084 passing yards. Easily. Then again, so is Drew Brees. Cam Newton, meanwhile, is on a pace to win Rookie the Year, the MVP award, and has already been slated for an Oscar and Nobel Peace Prize.
But being "on a pace" to do something isn't the same as actually doing it. Ask Tiger Woods. Yes, some of the high-flying numbers result from the league's longstanding plot to make the real, live NFL more Madden-esque. For years, rules changes have favored offenses—like calling interference on cornerbacks that are rude enough to try and catch the all. Or the so-called "Brady Rule," among myriad other rules to protect Emma's guy and every other quarterbaby from having his hair mussed.
But while this has been the Fortnight of the Quarterback, it's hard to see these kind of pyrotechnics lasting for 14 more weeks. (Besides, the acronym "FOTQ" just doesn't sound right.) As the great Stewart Smalley might say, "anomaly" isn't just what you hear in church on Sundays.
Defenses will adjust and improve. Like Easterbrook said, we're likely to see fewer flat-out blown coverages. We should also see fewer points as teams that play a zone-blitz defense get more time together. That complicated scheme takes precise timing between the lineman who drops into coverage, and the linebackers and defensive backs who then rush the quarterback—more than a post-pattern.
Also? Players will get hurt. They just will. And another also? It's going to get colder. And there might be wind. Or blizzards. They make passing hard, so let's all just calm down about epoch-shattering changes at least until September ends and try to enjoy the show while it lasts.
Well, at least all you other fans can enjoy them. This particular Year of the Quarterback may be only two weeks old, but in KC, Indianapolis, maybe Philadelphia, and who knows where next, it already can't end soon enough.
–Hampton