Is Bob Dylan a Plagiarist, or the New Paul Revere?
The question of what it means to copy something isn't new
The question of what it means to copy something isn't new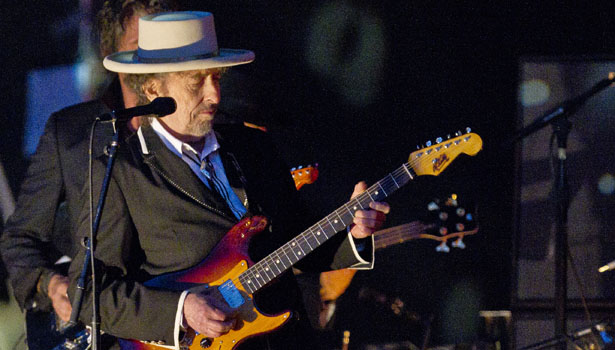 AP Images
It's one thing for literary and media theorists to expound on the ambiguities of copying and originality in the age of the Web, or for bloggers to repeat venerable quotes like Oscar Wilde's supposed "Talents imitate, geniuses steal." It's another for an icon of popular culture to be accused of stealing other people's work, which is what has happened to Bob Dylan on the occasion of an exhibition of his paintings.
This is only the most recent in a long history of controversies, beginning in our own time with the astonishing spread of Alberto Korda's photograph of Che Guevara, and continuing with street artist Shepard Fairey's poster of Barack Obama. (Does anybody remember Hope?)
But the issue actually is much older, and ethically as well as aethetically troubling. F.W. Murnau's classic film Nosferatu was closely based on Bram Stoker's bestseller Dracula, and Stoker's widow persuaded a court to have all prints destroyed as part of a judgment against Murnau for copyright infringement. Murnau's company had to declare bankruptcy. Yet a few survived, and today Murnau and his film are more honored in arts circles than the "plagiarized" author and novel.
Probably the most direct precedent of questionable copying is even older. Paul Revere's engraving of the Boston Massacre, which was based on a drawing left with him by his friend and colleague, the artist Henry Pelham, who was planning to have it published. Revere scooped his friend, who called the act "most dishonorable" after Revere's version became a blockbuster. The reality was more complex, since it was common for engravers to base their work on artists' renderings; they were not necessarily trained in drawing. The historian David Hackett Fischer has also observed that 18th century ideas about sharing and copying were intentionally loose, and that Revere himself believed in a collective idea of "publick liberty." Art historians and scholars of the Revolutionary age have further pointed out that Revere's crucial modifications of the image and inscriptions in it turned it from indignant reportage to inflammatory call to arms.
The Revere case also suggests the legal outcome of the present case. If the WNYC site is correct, there is no copyright claim outstanding regarding any of Mr. Dylan's images:
Of the 18 canvasses presented at the gallery, six appear on a Flickr photostream created by a user with the handle Okinawa Soba, who uploads galleries of old photographs from Japan and China.

In a recent post, Okinawa Soba wrote that despite the Gagosian's claim that the paintings were inspired by Bob Dylan's travels, "[I] can assure you that at least a good handful are actually 'visual paint-overs' of old photos sitting in a box right here in my house ... And quite a few others were copy-painted directly from images still under copyright, with absolutely no credit given to the photographers whose photographs he copied."

On his Flickr page, Okinawa Soba stated the photos on his stream are all public domain. He did not specify which of the other Dylan paintings were made from photographs still under copyright.

Another three of the paintings on display at the Gagosian appear to be painted from photos in the archival collections of Magnum Photos.

According to an executive at Magnum, those photographs were licensed for use by Dylan, though he would not say when or for how much, making it unclear whether they were cleared for use from the start, or after accusations of plagiarism began to surface.

In a statement, the Gagosian Gallery defended Dylan and its description of the exhibit, saying, "While the composition of some of Bob Dylan's paintings is based on a variety of sources, including archival, historic images, the paintings' vibrancy and freshness come from the colors and textures found in everyday scenes he observed during his travels."
All this is consistent with the Revere-Pelham dispute. The two seem to have settled amicably, probably with a share of profits. And since for better or worse, "intellectual property" has replaced Paul Revere's "publick liberty," superstars with multimillion-dollar income from copyrights are not likely to want to turn back the clock.