How to Pay College Athletes: A Three-Part Plan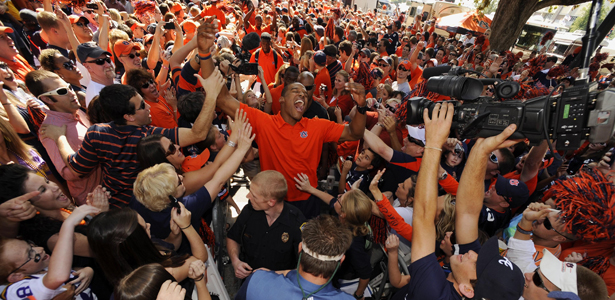 AP Images
In "The Shame of College Sports," Taylor Branch argues that college athletes should be paid. Agree or disagree.
The debate should not be focused on if college athletes should be paid, but how they should be paid.
College athletes should be paid in the following ways:
1.) Scholarships that equal the cost of attendance. The NCAA currently caps scholarships below the price tag of every school leaving the average "full" scholarship player at an FBS school with a scholarship shortfall of $3222 per year and living below the federal poverty line.
2.) Put a portion of new revenues into an educational lockbox, a trust fund that athletes can access in their pursuit of or upon achieving their degree. Players violating NCAA rules could lose this money. Graduation rates go up, violations go down.
3.) Grant college athletes access to the commercial free market by adopting the Olympic amateur model by which amateur players can receive money for autograph signings, endorsements, etc. A portion of these funds can be put in the educational lockbox described above. In this model, most "scandals" of the last 12 months wouldn't have been NCAA violations at all. Yes, some schools in endorsement-rich geographic locations may gain some advantage in recruiting, but competitive equity doesn't currently exist. SEC Commissioner Mike Slive says competitive equity is an "illusion."