An interview with Linda Carroll and David Rosner, authors of a book on the brain injury epidemic
Once considered nothing more than boo-boos to spittle-spewing coaches everywhere, concussions are finally being acknowledged for what they are: contact sports' nastiest byproducts. The long-term effects of head injuries, particularly in retired football players , are proving to be absolutely terrifying.
Linda Carroll and David Rosner, co-authors of The Concussion Crisis: Anatomy of a Silent Epidemic, are well versed in the subject. The recently-released book includes eye-opening stories of athletes, soldiers and everyday men and women who have struggled with concussions.
The authors have written about health, sports and science for a variety of publications, including MSNBC and Newsday. In this Q & A—conducted via email—the authors discuss concussions and their impact on sports, especially football.
Note: In her email, Carroll said she and Rosner "attacked all of [the questions] (with the obvious exception of the last) together."
---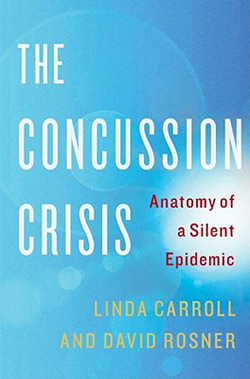 Simon & Schuster
In the early 1900s, college football players were literally dying on the field. Theodore Roosevelt had to step and demand rule changes that would make the game safer. In 2011, do we need a similar reformer? And if so, who would you like to see fill that role?