The guitarist for acclaimed Canadian indie rock band Sloan shares how R.E.M., who broke up last week, influenced him and a generation of musicians
Sloan at left; R.E.M. at right
I first met R.E.M. guitarist Peter Buck in the spring of 2005, when my band Sloan was playing a handful of dates on the West Coast of the United States. The group that was opening for us was The Minus 5, a side project for Peter and Young Fresh Fellows' Scott McCaughey. I'd never met Peter before the tour, but had hoped to relay to him how much the early years of R.E.M. meant to me: how they changed my musical life, how they carved a band structure and business model that would influence our own group, and how via interviews he introduced me to a world of great music that was in the shadow of Billboard's Top 100.
Yet before I could say any of this to him, Peter remarked to me, "Hey, thanks so much for letting us open these shows for you guys and having us come along on this run."
OK, hold on. Peter Buck was thanking us for coming on this tour? It was a total mind bender. I tried to play it cool, but my inner 15-year-old self was freaking out.
Twenty-one years prior, I heard "So. Central Rain" for the first time at a record store, and I became an instant R.E.M. fan. Within the first 10 seconds of the opening guitar phrase, I was hooked. Everything about them appealed to me: the guitar sounds, the briefly decipherable moments of melancholy lyrics, Michael Stipe's voice, the band's energy, their look. R.E.M. immediately became "my" band. I didn't realize it at the time, but it was a pivotal point for me, a moment that would play a part in my future as a career musician.
I heard their second LP, Reckoning, first, and immediately went back to both 1983's Murmur and 1982's Chronic Town EP, which I would eventually track down after a 12-hour drive for family trip to Boston (such were the dark ages of pre-internet in Halifax, Nova Scotia). I'm sure they were just being themselves and not calculating, but their music was such an original mix of '60's pop aesthetics and New York art rock/new wave filtered through a hazy gauze of murky southern influence. Mitch Easter's production on the early recordings occasionally accentuated their more idiosyncratic tendencies, but never in a way that alienated a broader audience. They were the most charismatic and most appealing band that the early 1980s U.S. underground musical renaissance had to offer.
Here was the first band that made me think, "Y'know, maybe, I could do this!" Like millions of kids in the late 1970s, I loved popular music, particularly the sounds of KISS, ABBA, The Bee Gees, as well other larger-than-life rockers with an eye for spectacle. Even later, when I delved into The Beatles, David Bowie, and The Who, bands still seemed like they were from another world. I could be a fan but couldn't imagine actually being like them on the stage of an arena. I mean, how do you get there?
R.E.M. represented the possibility. They came from a small town and were made up of an art student, a record-store clerk, and two buddies who jammed together in high school. I could relate to them. I read the stories of Peter Buck buying a guitar, quickly learning a handful of rudimentary chords, and then hammering some original songs together for a party that turned out to be R.E.M.'s first show. You didn't have to be a virtuoso like Jimmy Page or Brian May to get on stage and play original music. It was a revelation to me.
True, much of punk and American hardcore that preceded R.E.M. came from a similar, homespun, D.I.Y. attitude. I liked some of it, but I never pictured myself in such an aggressive musical context. I gravitated more towards pop and melody in rock 'n' roll, and R.E.M. was the first band I came across that was playing the kind of music that connected with me and maintained this D.I.Y. sensibility.
In R.E.M., each member was key. No one was dispensable. Stipe was the enigmatic and original lead vocalist. Mike Mills provided the choir-boy counter-point backing vocals and highly musical, and often unusual, melodic bass runs. Bill Berry, not content to be "just" the drummer, wrote some of the band's biggest hits. And Peter Buck… I basically wanted to be Peter Buck. The perfect combination of Pete Townshend's hyper energy and Keith Richards laser cool, with a guitar style that somehow linked the '60's Rickenbacker legacy with that of the economical approach of Lovin' Spoonful's Zal Yanovsky and Stax's Steve Cropper. Each R.E.M. member had their own role to play, and their fusion created an unmistakable and original blend. Sloan has always tried to be the same way.
The band's music influenced a wave of bands that followed in the 1980s, but its business model was perhaps of equal impact. Splitting the songwriting credit four ways and sharing the profits equally kept every member in the same boat and represented perhaps the only truly functioning rock democracy in those days. The members stayed in their small town of Athens, Georgia for years and resisted the temptation to move to New York or Los Angeles. They built a fan base from the grassroots up, and always preferred to bring younger bands that they liked on their own tours as opening acts instead of caving into pressure to bring the latest hot property. All of these decisions filtered their way down to how Sloan operates, and have helped to keep us happy with our accomplishments and, most importantly, have helped us stay together for twenty years.
For me personally, R.E.M. was also a gateway drug into the American underground music scene of the 1980s. Peter Buck played on The Replacements' seminal Let It Be? I'd better check it out. He was wearing a Husker Du Metal Circus t-shirt in a snapshot in Creem magazine? I'll put that album on my shopping list. One of the band's favorite albums of 1986 is Sonic Youth's EVOL? I'd better order it from the SST catalogue. So much of what R.E.M. championed fueled my interest in the D.I.Y. spirit of new music in the 1980s and further stoked my dream of being in a working band from a remote area. The artists Peter Buck mentioned in magazine interviews made for an alternate history of pop music, leading me to records like Radio City by Big Star, Nick Drake's Bryter Layter, and the third LP by The Velvet Underground.
Story continues below.
As with many bands with a long career, I must admit I fell out of pace with R.E.M.'s records during the late 1990s and 2000s. Perhaps it was my own changing musical taste, or maybe it felt like there was an ingredient that was missing upon the departure of Bill Berry in 1997 (further proof that no one was replaceable in the group?). When I heard that the band's members had called it a day after 31 years of musical service, I felt regretful that I hadn't kept up with their live appearances in Toronto and missed a final chance to see them in concert. I suppose that's what lucrative reunion tours are for these days, but until then I'll have to return to my grainy VHS tapes of their glorious old TV appearances.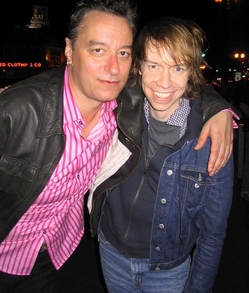 In the summer of 2008, I had the chance to spend some time hanging out with another musical hero, The Smiths' Johnny Marr. At the time he was playing in the group Modest Mouse, the opening act on R.E.M.'s tour supporting Accelerate. We had a met a couple times recently in Canada and we had a mutual friend, so he kindly dropped by Sloan's Bowery Ballroom show in New York on his night off. Knowing I was an R.E.M. fan, he had a story to share. He said Peter Buck asked him about the recent day off in Toronto, and Johnny mentioned that he had had dinner with one of the guys in Sloan. According to Johnny, at that point, Peter fished into his travel bag and pulled out our latest LP, Parallel Play, and said "Great, I have their new one right here!"
Once again, my inner 15 year old self was freaking out.
We want to hear what you think about this article. Submit a letter to the editor or write to letters@theatlantic.com.