How Colleges Exploit Student-Athletes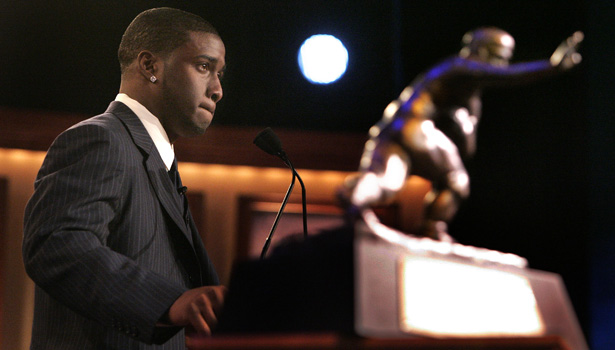 AP Images
In "The Shame of College Sports," Taylor Branch writes that the NCAA has "an unmistakable whiff of the plantation" and that student-athletes are denied their Constitutional right to due process. Agree or disagree?
I would agree with Mr. Branch that the present college sports system replicates patterns of colonialism.
In December of 2009, college coach agent Jack Bechta wrote a column in The Agent's Journal about his visit with Texas Longhorn head football coach, Mack Brown. He wrote, "As an agent who represents coaches, I believe we'll start seeing more $5 million-per-year football coaches in the new few years."
While college coaches get help from seasoned agents who know how to negotiate terms favorable to their clients, the athletes who may have similarly high profiles and serve as the central attraction in college sport spectacle are barred from such representation.
The one-year scholarship makes athletes vulnerable to dismissal if they do not perform at levels satisfactory to their coaches, and they have no safety net if another college team does not pick them up. There is no severance if an athlete is let go after one or two years due to coach-controlled decisions, such as oversigning, or if an athlete suffers an injury and simply cannot perform. Due to transfer rules, athletes who are not getting much playing time or simply clash with coaching staffs are subject to the wishes of their coaches, who may deny them the right to go elsewhere.
Most of the college athlete incidents in recent years that have been characterized as "controversies"—from Reggie Bush to Cam Newton to Terrell Pryor—center on issues related to whether college athletes are given an opportunity to receive fair market value for the contributions they make to the business of college sports. For college athletes to be held to the terms and conditions of a one-year scholarship that have been set by the very authorities who financially benefit the most and render the athletes involved voiceless in the process is a glaring conflict of interest.
The power of the system to hold these athletes out for ridicule and disparagement while presenting them as subjects of moral outrage distorts the real impropriety here. The conditions of the athletic scholarship and transfer rules, prohibitions against agents, limits on due process, failure to deliver on the promise to educate, the unobstructed selling of athlete images, and the like are tools of exploitation that benefit college sport leaders while oppressing those who perform on the field.