From 'The Guild' to 'Husbands,' Web TV Comes Into Its Own
A new sitcom from Buffy writer Jane Espenson is the latest in a long line of online-only shows trying to build network-caliber audiences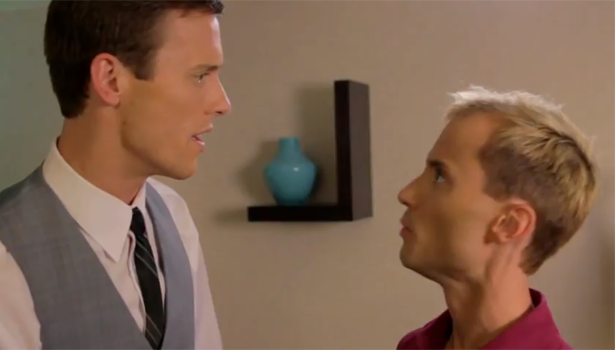 WEYÜME
Today begins a period that's like a secular Christmas for television fans: the time when established favorites return to the air, and channels roll out a cornucopia of new shows. Increasingly, exciting television shows aren't premiering only on actual television networks. Tomorrow Husbands, a new web show about marriage equality from a team that includes veterans of Buffy the Vampire Slayer, Caprica, and Desperate Housewives, premieres online. The Husbands team took to web television in the hopes that they could lay down a marker for a new kind of gay comedy—and to persuade a network to take a chance on the show.
Web television has been around since 1995, though it took a decade for online shows to become an established medium. Felicia Day's web series The Guild, a comedy about a guild in an online role-playing game who become friends in real life, has been running online since 2007. Now in its fifth season, the show's episodes had been watched more than 45 million times on YouTube. Similarly, Joss Whedon's three-part series, Doctor Horrible's Sing-a-Long Blog, created during the Writers Guild of America strike that lasted from 2007 to 2008, sold briskly on iTunes and DVD.
Web shows have increasingly become auditions, testing a concept and building an audience, before making the leap to a television network. Children's Hospital, the darkly satiric medical show created by Daily Show veteran Rob Corddry, began on The WB.com and now airs as part of Cartoon Network's Adult Swim lineup. Friends star Lisa Kudrow started her improv series Web Therapy independent online in 2008, and this summer, it premiered on Showtime.
The creators and staff of Husbands have learned from their predecessors. Jane Espenson, the Husbands creator and writer who's written for shows ranging from Buffy the Vampire Slayer to Game of Thrones and helped create SyFy's show Warehouse 13, funded Husbands herself, just as Whedon did with Doctor Horrible.
"I approached it like someone should approach any kind of game—don't bring more than you can afford to lose," she says. "My plan wasn't really to make my money back on the web, but to make the point that there is an audience for this subject matter."
It helps, Espenson says, that her line producer on the show, M. Elizabeth Hughes, is a veteran of the web TV genre: She's worked on The Guild and other web shows, and knows well the importance of cultivating an audience in a medium where shows don't have advertising budgets or the luxury of hoping people will stumble upon them while channel-surfing.
"Web creators and stars make themselves more accessible than television creators and stars because they know that they need to be active and visible in the medium they've chosen," Hughes says. It creates a community between fans and creators...I think that makes the project sustainable...People will forgive low production values if the story and characters are fresh and engaging."
Fortunately, Husbands has a novel premise and executes it with considerable charm and wit. The season, which follows a gay actor and newly-out gay baseball player who get married on a wild trip to Las Vegas after six weeks of dating, is a step forward in gay marriage stories. It allows a couple to make an irresponsible decision rather than act as role models. Cheeks and Brad, the central couple, may be alternatively flamboyant and buttoned-down, but they're also refreshingly specific, both in their individual presentation and in the way they flirt with and claw at each other as they work through their unexpected newlywed blues.
The Husbands stars and writers have been tweeting and networking aggressively, hoping that on September 13, when the first episode airs, that an audience will show up. But operating without the safety net—and constraints—of a network hasn't only meant a different promotional experience. The veterans of network television who are working on the web for the first time on Husbands are learning to write and act for shorter episodes, and finding out what they truly want to do absent network constraints on content and language.
Cheeks, who also co-created the show, says that starting the series online was the only way to preserve the integrity of their vision for it, and to prove that there was an audience for an irreverent marriage equality comedy that a network would be forced to acknowledge before it had a chance to water the content down.
"The last thing I wanted to do was sell a great script and watch it turn into I Now Pronounce You Chuck and Larry," he says. "This was an idea that needed to be executed correctly, specifically. We had the know how and the means, so we thought, 'Why not?'"
Espenson says that the first season of Husbands functions like the pilot of a network television show. It's split into much shorter twice-weekly episodes, each two or three minutes long, that end where the commercial breaks would fall in a longer program. She credits Cheeks with finding those natural breaks in the story in his first draft of the first season.
"Producers often make pilot presentations to convey tone and style, then take them to the network as a calling card," Cheeks says. "This is how I see Husbands, more a pilot than a web series."
He's not alone in hoping for big things from Husbands.
"Really, I hope that this doesn't open me up to other things," says actress Alessandra Torresani, who plays Cheeks's best friend on the show. "I hope this is the next thing."