Floyd Mayweather Jr.'s Legal Sucker Punch
The world-champion boxer beat Victor Ortiz Saturday night with a controversial knock-out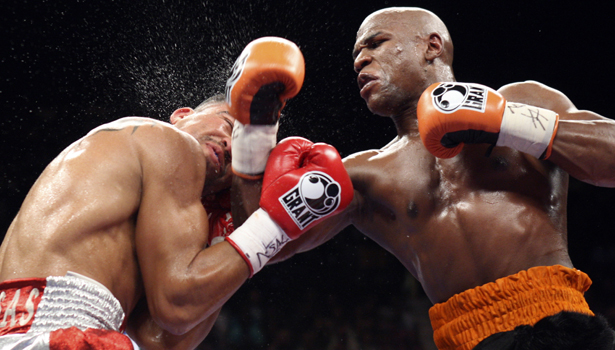 Reuters
Something strange and ugly happened in Las Vegas on Saturday night.
It was a mega fight between boxing great Floyd Mayweather Jr. and 24-year-old rising star Victor Ortiz, whose life story could have been written by Dickens. It was one of the most highly anticipated fights of the year.
Ortiz, who held the WBC welterweight title coming into the bout, was a 5-1 underdog and it was immediately evident why. He started eating punches from the very first gong. His strategy, or so he said after the fight, had been a badly thought out game plan to survive for four rounds and then come on strong in the later rounds. He figured Mayweather, 34, would get tired. Several boxing people had told me that Mayweather might be getting old for the sport, but there was absolutely no evidence that he was slowing down. Mayweather hits people a lot (46 percent of his punches) and rarely gets hit (only 16 percent of his opponents' punches land on him), according to Compubox. Mayweather more than doubles his nearest competitor in these plus/minus ratings, a good indicator for boxing success and longevity. Mayweather, who is often labeled as a defensive fighter, was so superior to Ortiz that he came forward and delivered wicked combinations, jabs, and just about every other punch he wanted to deliver.
Sitting ringside, it was clear that Ortiz wouldn't make it to the later rounds. Mayweather is a brilliant and complex fighter. Ortiz is a good and courageous one, but he didn't know what to do to counter his elder. Mayweather's orange and black gloves were smacking Ortiz's handsome face with increasing force as the rounds wore on.
Then the plot thickened.
In the fourth round, Ortiz, who is known as "Vicious," was able to trap Mayweather into a corner. He was throwing some good volleys at Mayweather's skull, but then--for some inexplicable reason—he cocked his head and leveled an aggressive head-butt that caught Mayweather on the chin. The crowd was in shock. Ortiz said he wasn't a dirty fighter but his actions said otherwise. Joe Cortez, the referee, penalized Ortiz by deducting a point. The Mexican-American from Garden City, Kansas, seemed mortified at his mental lapse and poor sportsmanship. As way of apology, he approached Mayweather and hugged and kissed him. Mayweather's eyes didn't reveal a forgiving mood. (After the fight he said Ortiz had head-butted him twice—he showed a split lip and a cut underneath his lower lip—and a welt on the back of his head from a series of rabbit punches.) Then came some confusing choreography. The referee separated them, but not in a very authoritative way and never put them in a neutral corner after deducting the point. Ortiz was still in an apologetic mood and looked like he wanted to touch gloves one last time. Mayweather had comeuppance on his mind. He made a motion that he was going to touch gloves, but instead he unleashed a powerful left gotcha punch. As he stumbled backwards, Ortiz looked to the referee in desperation, and then Mayweather nailed Ortiz with a crunching straight right, which put Ortiz down.
"Defend yourself at all times." It's a maxim in boxing. Ortiz had paid dearly for not adhering to it.
By the letter of the law, the knockout blows were not illegal, but the crowd of 14,687 jeered Mayweather. The crowd thought the punch was underhanded. It was a (legal) sucker punch that turned into a metaphor for one of the greatest boxers of our era.
Mayweather is a bigger-than-life, blustery character whose best friend is the rapper 50 Cent. He drives Bentleys, flies in private jets, and is incessantly bragging about money, large sports wagers, and his material possessions. He talked with some troops in Afghanistan recently, and tried to inspire them by touring them through his mansion, intimating that his fights were some form of patriotism and that his $59.95 fight on pay-per-view was helping the economy. ("I am in America. The country I represent the red, white and blue. I'm making it rain. It's the recession but I am still making it rain...") In the buildup to the fight, he was filmed burning $100 bills. He stood to make from $20 to $40 million (it depends on how many people bought the fight on pay per view) for his short work on Saturday.
After Ortiz couldn't get up by the count of ten, Mayweather was declared the winner. The HBO boxing analyst Larry Merchant, a white-haired eightysomething, then went to interview Mayweather (42-0) in the ring. Merchant, who can be acerbic, started to ask the boxer a question, but Mayweather wanted none of the senior citizen. Mayweather said HBO should fire Merchant; Merchant said if he was 50 years younger he would kick his ass. The video of the exchange became an instant Youtube classic.
The circus was far from over.
On press row reporters were comparing the strangeness of the bout to the 1997 incident when Mike Tyson bit off Evander Holyfield's ear. It certainly wasn't as egregious, but it fell into the same bizarre category. A debate about boxing ethics started heating up. Ortiz had been wrong, Mayweather had been cold-blooded in his response. Taking advantage of the situation in a way that was ethically shady way, yes, but not illegal.
At the post-fight press conference, Ortiz was still loopy from the KO.
He had just been knocked out in the biggest fight of his life and he was all smiles.
Ortiz, sounding like a surfer dude:
"It was kind of cool, kind of controversial, to some. I fouled Floyd. I apologized. I was looking at Joe Cortez, and boom! I guess it's time for bed! But the bottom line? It was fun....I did my crying in the locker room. I was crying like a baby. The tears were left in the drain...Tomorrow is another day, like Scarlett O'Hara says...My opinion is that it wasn't a fair fight... I made some mistakes tonight, and I apologize to the public...I paid for the mistake..."
He wanted a rematch.
Mayweather came in wearing sunglasses and a brown suit.
When asked if he regretted the ending, Mayweather said, "You have to protect yourself at all times. What goes around comes around."