What This American Life's Ira Glass has to do with atlas antagonism, or what plotting carved pumpkins reveals about place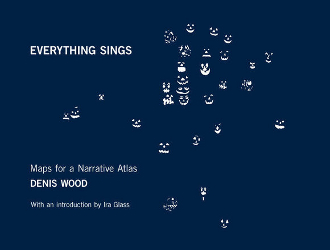 The most intimate infographics of all may be maps, those images that tell of our complicated relationships to place, bounded by time. Or at least, this is just one of the interesting arguments made by the book Everything Sings: Maps for a Narrative Atlas, a beautiful exploration of a small North Carolina neighborhood that also provides a platform for much larger ideas.
We've long believed in the transformative power of maps, which was why we immediately fell in love with Everything Sings and its author, Dennis Wood. A kind of counter-culture cartographer, Wood has for decades sought ways to call the seeming objectivity of maps into question. In his fascinating introduction to the book, Wood wonders why map-making was an artistic discipline that somehow escaped modernism's critical overhaul, its conventions barely changing in the centuries since it was first practiced.
"Admitting that atlases were narrative -- that they were texts -- would force the admission that the individual maps were texts too, that maps constituted a semiological system indistinguishable from other semiological systems, like those of paintings or novels or poems."
His argument for a kind of "poetics of cartography" provides context to the maps that follow, a narrative about how life was in his Boylan Heights neighborhood in the early 1980s.