Emmys 2011: 'Mad Men' and 'Modern Family' Win, Again
How did a melodrama about over-privileged ad executives and a sitcom about an alternative extended family become TV's undisputed critical darlings?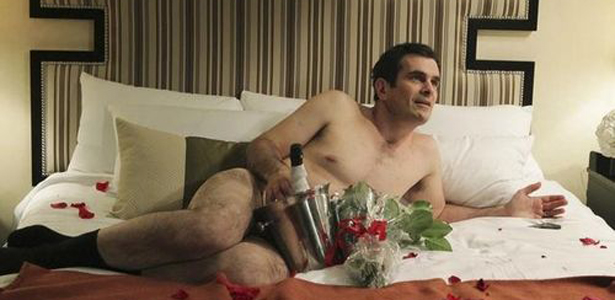 ABC
Mad Men won its fourth consecutive Emmy for outstanding drama series at Sunday night's awards show, while Modern Family won outstanding comedy series for a second year in a row. It was a particularly big night for Modern Family, the ABC sitcom that's about to begin its third season: The show won so many awards at the beginning of the ceremony (best supporting actor and actress, best director and writing) that when the broadcast returned from commercial break, host Jane Lynch quipped, "Welcome back to the Modern Family awards."
How have two shows that are so different—one a melodrama about over-privileged advertising executives in the '60s, the other a sitcom about an alternative extended family in the California of today—managed to gain so much critical success? The two shows don't appear to have much in common, but there's one quality they do share: the ability to flatter their audiences.
Benjamin Schwarz wrote about Mad Men after its second season, examining why the show delights critics so much. He wrote:
Finally, there's another factor, one that cuts both ways and thereby contributes to Mad Men's inner tension: the peculiar emotional chord the show's setting strikes with viewers over 30. Critics invariably discuss how the series echoes John Cheever's stories, Billy Wilder's The Apartment, and Richard Yates's Revolutionary Road (a novel Weiner says he hadn't read when he created the show). But for every audience member familiar with gin-soaked Shady Hill, there are dozens whose notions of the glamour of adult life, of Manhattan, and of "creative" careers were shaped by endless reruns of three sitcoms with concrete ties to Mad Men's particular milieu: The Dick Van Dyke Show, Bewitched, and That Girl. The key to television success, Don Draper tosses off, is to offer "derivative with a twist." Mad Men is those shows grown up, grown hard, and—in ways that flatter its writers' and viewers' images of themselves—grown wise.
Hampton Stevens has a similar theory about Modern Family: Comparing it to the less acclaimed family sitcom The Middle, he writes that Modern Family, like Mad Men, lets its viewers feel good about themselves:
On Modern Family, couples see live concerts or sneak off for a romantic weekend at a luxury hotel. Precocious pre-teen Alex Dunphy plays cello and lacrosse, while even more precocious Manny tries fencing and writes Byronic love poems. People on The Middle spend their time in less photogenic, less expensive, and far more common pursuits. Namely, they watch lots of TV. The Middle, along with The Simpsons, All in Family, and Roseanne, is that relative rarity in family sitcoms—a show that acknowledges the absolutely central role television plays in American family life. Modern Family, in some ways, shows us how we like to see ourselves. The Middle shows us who we are.
Read the full list of Emmys winners here.