Edible Anthropology: Foraging With the Art World's Hunter-Gatherers
Among million-dollar jewels and fancy cars, a writer investigates the culinary habits of a most peculiar tribe
Among million-dollar jewels and fancy cars, a writer investigates the culinary habits of a most peculiar tribe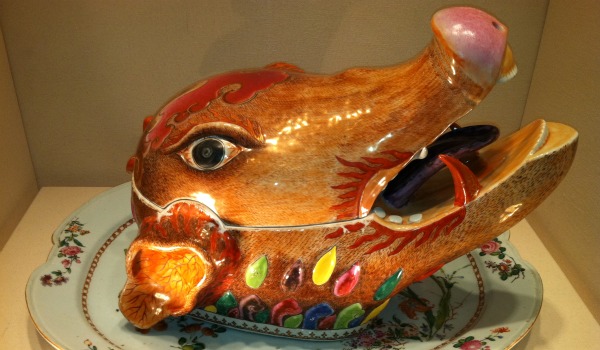 A soup tureen on display at the Masterpiece art fair. Image: Courtesy of Stephanie Pierson.
Is there any place left on earth that remains culinary terra incognita, un-reviewed by Time Out, undiscovered by Anthony Bourdain? Un-Yelped? Stunningly, I recently discovered one nomadic, previously unexamined tribe whose members observe certain rituals: sipping hot drinks in the morning, eating small snacks during the day for sustenance, drinking tonics with native herbs and fruits in the afternoon, feasting in the evening on meat cooked over burning embers. In between, they wander around admiring shiny objects, eyeing monolithic stone sculptures, and gazing at color-splashed wall paintings.
These are today's art lovers and collectors, an elite tribe of hunter-gatherers whose culinary habits at shows and exhibitions have never really been documented. This June, thousands of them attended the popular and prestigious Masterpiece Classic fair in London to view art and antiques that ranged from cutting-edge contemporary to rare antiquities to niche fragrances. (Could I make that last one up?)
I got to observe them wining and dining at posh pop-up outposts of London's Le Caprice Restaurant, Harry's Bar, and Mount Street Deli. My attendance at the show went beyond cultural anthropology. My beau, Eric Silver, is a decorative arts specialist and director at Lillian Nassau LLC, a New York gallery that was exhibiting at Masterpiece London for the first time. When I first met Eric a few years ago, I wondered why no one ever talked about the food or drink at the many shows we went to—shows that went on all day, serving breakfast, lunch, dinner, snacks. Then I realized that even if the crowd was eyeing bronze and tole antheniennes, not vacuum pumps, the food was like any other trade show: a tuna sandwich here, a bag of chips there, Frisbee-sized chocolate chip cookies and over-brewed coffee everywhere—the carbed and the caffeinated brought to you by corporate caterers.
So bravo to the organizers of London's Masterpiece show, who know that a plate of octopus carpaccio and a chilled Bellini go a long way toward soothing the savage collector and easing the pain of writing a check for that £50,000+ Egyptian-style Parure or the £1-million yellow diamond pin circa 1938. And if carpaccio (fittingly, named after a Venetian painter) and steak tartare sound like kind of fancy fare for, well, an art fair, let's discuss the guest list.
HRH Prince Harry visited Masterpiece. So did a group of Saudi Arabian princesses, sporting megawatt jeweled cuffs under their long black sleeves. Dame Vivienne Westwood and Sir Elton John popped in. Princess Alexandra, the designated royal, swanned in one evening at a preview for what is a charity event. A recent Annie Leibovitz portrait of Queen Elizabeth was on exhibition. Oprah Winfrey, our own queen, was there, too. So to say that we all ate royally would not be an overstatement.
(Small but delicious sidebar: what was Princess Alexandra really admiring when she stopped in at an English company that specializes in estate jewelry? Surely not another pearl and diamond tiara! Eric solved this mystery—luckily, Lillian Nassau was directly across the way—when he noticed a large Toblerone bar perched in their gallery's vitrine, smack in front of the aristocratic rings and bling. Eric was dumbstruck as he watched the gallery's elegant owners quietly hand her this Heathrow Airport gift-shop size chocolate bar as a little memento.)
After spending hours walking the cavernous (but lushly carpeted) aisles and building up an appetite, temptation on a grand scale, for me, wasn't the 1733 Stradivari Violin. It was the thick, juicy rib eye steak with crispy chips and a velvet béarnaise sauce for £30 on the menu at Le Caprice, one of the three restaurants operated by Caprice Holdings, the event and catering company that ran the show's food. People did talk about food at this show. And it was delicious. And with a £4-million Ferrari almost directly across from a £15,000 bottle of Louis XIII Cognac, it all just screamed "recession—what recession?". So bring it on, Caprice Holdings!
Le Caprice (mood lighting by magnificent crystal chandeliers) was packed for lunch and usually full for dinner. "Wait 'til you try the Thai-baked sea bass with fragrant rice," murmured a wine merchant to a map dealer as I walked by. Harry's Bar, which also served a nifty non-alcoholic elderflower spritzer, always seemed to be buzzing. And, for the twin Mount Street Delis (Mount Street East and Mount Street West—one on each side of this huge hall) Chef Cameron Knox was spending 15-hour days in the small adjacent kitchen with his staff turning out hundreds of artisanal violet artichoke salads and rare roast beef sirloin and horseradish sandwiches. Mount Street Deux was also serving, to quote the press kit, "the finest coffee from Caravan, the boutique Exmouth Market roastery." Boutique coffee! Of course!
It helped that expectations were high. It also helped that the venue—on the grounds of the Royal Hospital Chelsea—was at least a 15-minute walk from the nearest Pret A Manger on Kings Road, thereby guaranteeing a crowd. Finally, if the show was eclectic, so were the offerings: there was a dealer's lounge, which served up coffee (non-boutique), the occasional Marcona almond, and flat-panel screens showing Wimbledon, which was on at the same time as the show; a casual crew café out back; and a cheerful Gelato Mio stand perched on the small, sunny terrace, where pistachio was the number-one fan favorite.
All in all, a thoroughly delectable event filled with frantic foragers, and no cafeteria cold cuts in sight. If a Monet sells for millions, why shouldn't a Bellini go for £8.50? What a tribe.