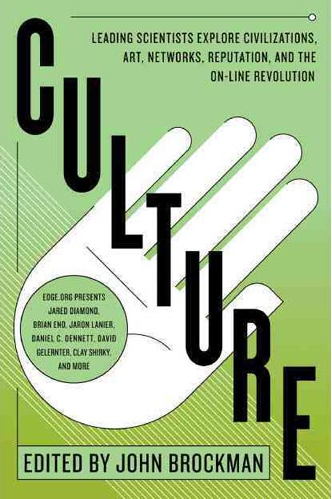 We've already ravished The Mind -- the first in a series of anthologies by Edge.org editor John Brockman, curating 15 years' worth of the most provocative thinking on major facets of science, culture, and intellectual life. On its trails comes Culture: Leading Scientists Explore Societies, Art, Power, and Technology -- a treasure chest of insight true to the promise of its title, featuring essays and interviews by and with (alas, all-male) icons such as Brian Eno, George Dyson, and Douglas Rushkoff, as well as Brain Pickings favorites like Denis Dutton, Stewart Brand, Clay Shirky, and Dan Dennett. From the origin and social purpose of art to how technology shapes civilization to the Internet as a force of democracy and despotism, the 17 pieces exude the kind of intellectual inquiry and cultural curiosity that give progress its wings.
Here's a modest sampling of the lavish cerebral feast you'll find between the book's covers.
In his 1997 meditation "A Big Theory of Culture", music icon and deep-thinker Brian Eno explores what constitutes cultural value and how it comes about:
Nearly all of art history is about trying to identify the source of value in cultural objects. Color theories and dimension theories, golden means, all those sort of ideas, assume that some objects are intrinsically more beautify and meaningful than others. New cultural thinking isn't like that. It says that we confer value on things. We create the value in things. It's the act of conferring that makes things valuable. Now this is very important, because so many, in fact all fundamentalist ideas, rest on the assumption that some things have intrinsic value and resonance and meaning. All pragmatists work from another assumption: No, it's us. It's us who make those meanings.