The Decemberists' lead singer has written an acclaimed children's book about a girl on a quest to rescue her little brother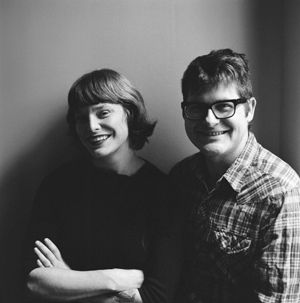 Autumn de Wilde
It makes perfect sense that Colin Meloy, the loquacious and imaginative lead singer of the quirky Portland-based rock band The Decemberists, would write a children's book. It makes even more sense that Wildwood, the first installment in a new fantasy series for young readers, would be illustrated by Carson Ellis, the award-winning children's book artist and long-time designer of Decemberists album covers. Released late last month, Wildwood is already garnering praise, and the Portland animation studio behind Coraline just announced plans to create the film version.
Wildwood (Balzer + Bray) is about a precocious seventh-grader named Prue McKeel, whose ordinary life in Portland is upset when her baby brother is kidnapped by a flock of crows, which carry him deep into the Impassable Wilderness, a secret world across the Willamette River. Together with her classmate Curtis, Prue sets out to recover her brother and inadvertently launches a violent revolution among the animals, mystics, and bandits of Wildwood.
Meloy's storytelling skills, honed on his epic ballads for The Decemberists, translate well to prose. He seems to delight in choosing vocabulary that will enthrall kids—tongue-tripping words like ergot, chintz, and tincture pepper the writing. Adult readers will smile at the copious modern references (Jean Grey and Kurosawa, anyone?) and the flavor of Portland is also heady throughout, from farmers' markets and craft fairs, to a scene in which the heroine threads the front fork dropout of her bicycle.