Coldplay's 'Paradise': The New Single From the Great Guardians of Treacle
The band has changed its clothing and sonic palette, but its wonderfully wimpy sensibility remains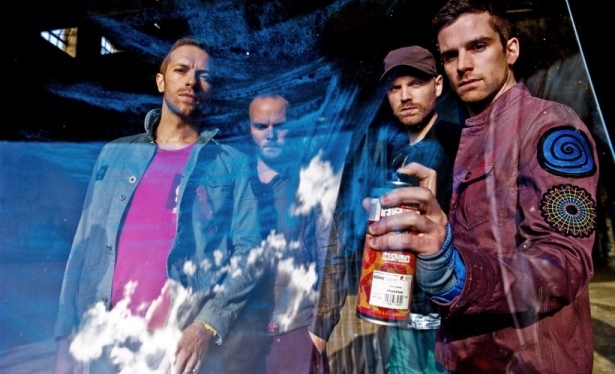 Coldplay/Sarah Lee
The promotional photographs and videos put out by a music group aren't always the best places to go scavenging for clues to a band's new work. But in the case of Coldplay, perhaps the least dangerous and most promotable band in the history of time—a group so lovably devoid of edge they make The Monkees look like Insane Clown Posse—there is in fact no better place to find their soul than in their marketing material.
On 2008's Viva La Vida or Death and All His Friends, the album cover featured white letters slapped on a Delacroix painting of Lady Liberty leading the French Revolution of 1830. The band overhauled their wardrobe for the neo-Revolutionary theme, prancing around with red-white-and-blue arm bands, like members of a high school production of Les Miserables accessorized by Old Navy. It was all very weird for a conscientiously unrebellious band, but somehow the rebel theme paid off. The album's most iconic songs—"Violet Hill," "Viva La Vida," "Death and All of His Friends"—strutted to the beats of marching drums and shouted choruses. It was believable, if you closed your eyes and didn't pay too much attention to the words. (What would it mean for death to have just one friend? How many friends does death have, anyway?)
For their latest effort, Coldplay overhauled their color palette, again. In the video for the first single of 2011, "Every Teardrop Is a Waterfall," front man Chris Martin is dressed in a pink T-shirt, a baby-blue jacket with spiral badges, and a pink watch. He's dancing around an underpass somewhere covered by glow-in-the-dark, spray-paint graffiti. Do you get it? By swapping Tricolour arm bands for pink patches, they're trading militaristic beats for the brash syth-pop of the 1980s. This is a band that wears its heart on its sleeve so literally, you can know their intentions by what they stitch to their jackets.
This brings us to "Paradise," the second single off the band's upcoming album Mylo Xyloto. A pretty flourish of strings lays a bed for a grand display of stomping synthesizers that are practically begging for Kanye West to speed and spice up with an 808. When the chorus comes—complete with a jubilation of far-away, melismatic "ohs"—the melodies have closed their circles, and one thing is unmistakable: This is going to make a great car commercial.
Whether it makes for a great song is more difficult to say. At its heart, "Paradise" is a typical Coldplay tune with the chorus reduced to a word and the orchestration put on polyphonic steroids. The classic C-Am-F-G chord progression is there, somewhere, swimming in the synth swells, waiting to be discovered and remixed with "Fix You." The melodies are still symmetrical, two steps forward, two steps back, nimble enough to stay ahead of a first listen, and disguised enough to surprise a 10th.
Under the stitched spirals and sleeves, Coldplay is really all of a piece. A doleful, melodramatic piece. "All of us are done for," Martin sang on the first song of Coldplay's first LP. Ten years and 20 million albums sold have done nothing to dissuade his downheartedness. Every teardrop is still a waterfall. "Life goes on, it gets so heavy," he sings in a torpid interlude on "Paradise," "the wheel breaks the butterfly, every tear, a waterfall, in the night, the stormy night, she closed her eyes."
This is maudlin crap. And guess what? Chris Martin doesn't give a flying fuck. He's a candy factory of melodies, and his heart is a suspended orb of caramelized goo. His veins run cold with treacle. And he's basically the richest piano player in the world.
Subjecting Coldplay's lyrics to Talmudic exegesis is breaking the butterfly upon a wheel, to borrow a lyric. Some bands use their music to start a polemic. Others prefer make a statement. Some are happy to pose a question. Coldplay, a band that closes every chord and writes lyrics that would embarrass a Girl Scout's diary, might have nothing to say. Well, nothing except: "And here's another pretty one." Are you okay with that? OK, then. Me too.