'Big Hair Alaska': Can Sarah Palin's Beauty Parlor Make For Good TV?
The Wasilla salon where the former vice presidential candidate gets her hair done is the subject of TLC's latest series, premiering tonight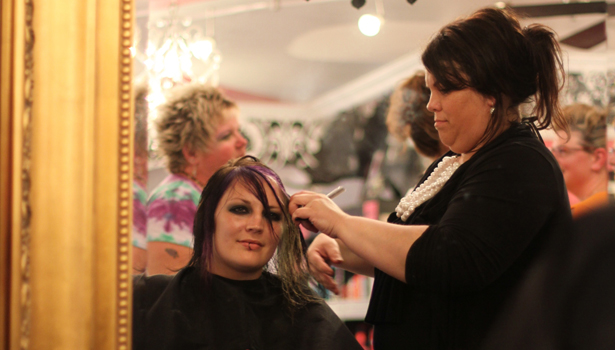 TLC
When John McCain introduced his running-mate in the summer of 2008, Sarah Palin faced the world for the first time. She emerged onstage with her hair pulled back in an updo, her bangs curled over her forehead, looking like a beauty queen—which, as it turned out, she was.
Palin had big hair. But as Melanie Griffith taught us in Working Girl, "If you want to be taken seriously, you need serious hair." Palin had been going to the same beauty salon for years, long before her ascent in politics and tabloids. She and her hair learned a thing or two along the way, and together, tried to be taken seriously. Jessica Steele, the owner of Wasilla's Beehive Beauty Shop, wielded the scissors and comb behind the scenes, sculpting Palin's do as it evolved over the course of her career. Steele will now step out into the spotlight with a reality show to premiere tonight on TLC—the network behind the season-long run of Sarah Palin's Alaska. The title of Steele's program has a familiar ring to it: Big Hair Alaska.
"The client that really put me on the map was Sarah Palin," Steele says in the premiere, explaining that she created the updo "so that those earrings didn't get stuck in her hair when people give her hugs and stuff. And it just kind of evolved into her classic look."
The first episode opens with a series of three shots: a stream rolling over a rocky path, a grizzly bear, and Steele's salon. Out of context, a viewer might think that one of these images is not like the other, and the salon does not belong with the other two. Not so, in Wasilla, Alaska, as we soon learn from a distraught client, Julia, who arrives at the Beehive with news involving her 15-year-old son and an angry bear. This type of storytelling is commonplace in beauty shops everywhere, but the details of the tale are distinctly Alaskan.
"Sheldon said he could still remember the way it felt, feeling that fur go over his face," Julia says as Steele combs back her hair and sighs. Sheldon then drives up to the salon in a four-wheel motor bike for his own haircut, and tells his mom that he plans to go out hunting that evening. Steele explains to the folks at home that, where she's from, danger is everywhere. And when your child goes out hunting, you've just got to pray.
AP Images
The salon has bubblegum pink walls and sundry girly accoutrements—chandeliers, glitter, beauty supplies. Although the Beehive gained recognition for catering to Palin, who has remained a client, the show isn't overtly political. Like any salon, it's an escape, where the cosmetic supersedes one's inner convictions. "Big Hair Alaska" acknowledges Palin as its raison d'être, laughs at it, and moves on.
"So we've got another client coming in," Steele announces at her staff meeting. "She's a ventriloquist, puppeteer, Sarah Palin impersonator."
"What?"
Steele turns to one of the stylists, Mariah, to explain, "I do the real Sarah Palin. That's our home girl. You can do the wannabe."
"The knockoff," Mariah replies.
The client, Hillary Saffran, is an entertainer of many moods—clown, puppeteer, singer, inspirational speaker—whose Sarah Palin impression cannot clearly be placed as either affectionate parody or mean-spirited satire. She requests the same hair coloring as Palin—"Let's Palinize!"—but Steele says, "Nobody gets her formula." Saffran is made into a similar but imperfect reproduction. Nonetheless satisfied with her makeover, she serenades a baffled Mariah with an original song, with the assistance of two hand puppets (a polar bear and a moose). Mariah laughs uncomfortably.
Saffran is pleased: "Thank you, I'm so glad you laughed. Because I'm co-dependent and I really wanted you to like me. No, that's not Sarah, that was Hillary talking."
With that, the show leaves Palin behind and focuses on the inner-workings of the salon. In the next episode, Steele sets out to hire a new stylist, a client pains to part with her long hair, and a crew of roller derby girls get hairdos to suit their team personas. (One of them, a native of Wasilla, has taken on a fitting roller girl name: "Sarah Impale'em.") Throughout, the reality-TV drama unfolds in the standard, formulaic way, tuning up the pre-commercial break panic, which is neatly resolved shortly thereafter.
The most persistent tension for Steele is her difficulty in balancing her responsibilities as a mother and as a boss. The show opens on her first week back at work after having taken time off to help her daughter through a serious spinal injury. Her 13-year-old, Shelby, hit a tree while sledding last March. For the most part, the details of her recovery are left unexamined, except during a scene when Steele leaves a client in her chair for an appointment with her daughter's physical therapist. The cameras capture Steele's distress as it swells throughout the workday. She worries, she cries, she suffers genuine guilt, which would seem to be further complicated by the presence of a watchful television crew. But this is the very voyeurism reality-TV is built on, of course, as viewers tune in for the hair that falls out of place.
If this show is a glimpse into the "Real America" to which Palin has referred, it might have an ethnographic value of sorts. The same has been said of other reality-TV shows--perhaps most notably, MTV's Jersey Shore, which inspired such academic curiosity that a University of Chicago student has organized a three-day conference for deep scholarly analysis of the phenomenon. But if there are two ways of watching reality-TV—for immersion or for criticism—then there can be only one "real" way, the way viewers come back to a show because it draws them in, and speaks to them, without any pretense of meta observation. The test for Big Hair Alaska will be its ability to operate on this level, and meet audiences with the kind of friendly familiarity that, say, Sarah Palin does with her supporters. Whether it succeeds will rest on the help of some serious hair.