At Virgin FreeFest, Rock's New Corporate Coziness on Display
Marketing and music become one at big-business-backed festivals, and nobody seems to mind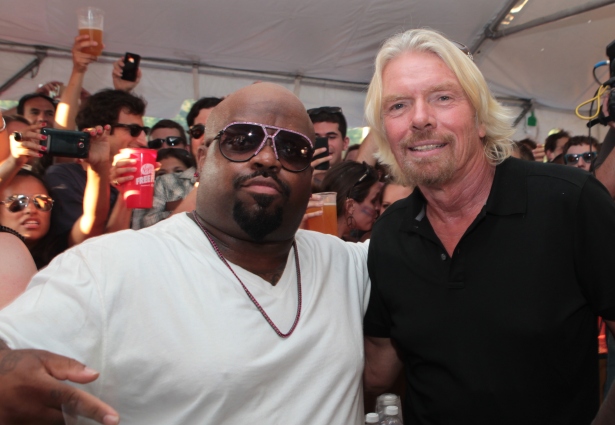 Courtesy Virgin Mobile
If you believe the festival program guide, Saturday's Virgin Mobile FreeFest in Columbia, Maryland, was free "because you deserve it." Of course, the same logic doesn't apply to nearly anything else Virgin, or any other corporation for that matter, sells. So why give away this day-long show—which this year featured high-profile artists including pop star Cee Lo, blues rockers the Black Keys, and DJ Deadmau5—for free?
Corporate sponsorship in the rock world has become inescapable. Lollapalooza this year featured the "Bud Light Stage" and the "Google+ Stage"; landing tunes in car commercials has become a mark of achievement rather than compromise for indie bands; and even snotty punk acts like San Diego's Wavves are now more than happy to release music through Mountain Dew's record label.
Even so, an event like Virgin Mobile Freefest stands out for its unapologetic quid pro quo between art and commerce. Attendees get free concerts; bands get a big audience; and Virgin gets masses of eyeballs gazing on its logo. What's more, everyone involved realizes what's going on. "This is all about brand awareness," said festival goer Rich Schucker, a 39-year-old head hunter, when asked why Virgin Mobile is putting this festival on for free. But did it bother him? "Not one bit."
The six-year-old festival didn't start off free. Originally it was a two-day affair that consumers paid for like any other gig. But when the economy tanked three years ago, the company decided to make a change.
"Three years ago when we made it free, you were either losing your job or getting swine flu. There was so much bad news out there," said Ron Faris, director of brand marketing at Virgin Mobile USA, who gave me a bear hug as a form of greeting. "We wanted to put a good vibe out there with a smile and that's what made us do it."
Faris, however, is upfront about the business benefits.
"Of course, there is an element of brand promotion," Faris said. "Everything about the Virgin brand, if you have been following it for the past 40 years, is about not having enough advertising money like our competitors, so we have to break through with doing unique experiences like this."
"We make something free, and we know people will chatter about it," he added.
"I think Richard Branson's probably got a lot of money and he just likes doing things like this," said Jack Steadman, lead singer and guitarist for Bombay Bicycle Club, one of the festival's performers. "He probably gets a kick out of this."
Bombay Bicycle Club, coincidentally, got its start six years ago by winning a battle of the bands contest sponsored by—whom else?—Virgin Mobile.
While most attendees got in for free, Virgin asked people to donate $10 to RE*Generation, the company's initiative to address youth homelessness. And those that missed out on the free tickets, which disappeared in a matter of minutes, could get in by volunteering time to work at at-risk and youth organizations across the country. Others could pay $49.50 for entrance. Part of that money went to charity.
In the previous two years, the corporation raised nearly $300,000 and generated more than 55,000 hours of volunteer time, a spokeswoman said.
Whether festival goers saw the event as predominantly a vehicle for brand promotion or charity, no one seemed too bothered by the advertising.
"I don't think the advertising takes away from anything, and I don't think it adds anything," said Kim Zimmerman, who attended the event before it became free, and doesn't think anything has changed.
That's not to say that marketing wasn't prominent.
Humongous Virgin Mobile signs flanked the sides of all three stages and garnered various attractions which included a Ferris wheel, a miniature skate boarding park, and a family circus, among other things.
Branson himself made a guest bartending appearance alongside Cee Lo, handing out free beers. He worked the crowd like a pro by blowing kisses, shaking hands, and grinning from ear to ear with his iconic mane bobbing behind the bar. He even vaulted Sarah Carroll, Virgin Mobile's "brand ambassador," into his arms for a photo op, leading her to inadvertently flash the crowd. Fortunately the pint sized brandess, who was wearing a short dress, had on undergarments and avoided a Britney Spears or Lindsay Lohan (take your pick) reveal.
I had the pleasure of meeting Sarah, one half of Sparah, "a celebrity couple manufactured entirely by Virgin Mobile." Virgin created a website to chronicle the "Sparah happenings." To what effect I'm not sure, but I can vouch they are both as good looking in person as in their pictures.
If there was any discontentment, it was among those that paid the $49.50 to get in. "If you are billing it as a free fest, it should be free" said 40-year old Christina Rasche. Others expressed disappointment about having to pay after having tried, and failed, to nab one of the free tickets.
Out of the 50,000 people projected to have attended on Saturday, a spokeswoman for the event could not provide specific figures on how many came for free versus how many volunteered or paid for admittance. A majority came in for free, she noted.
Judging by my own unscientific observation, people who paid—identifiable by a neon-green backpack of goodies they received—made up somewhere between a fifth and fourth of the crowd.
And some grumbled about the concession stand prices—$8 for a bud light, $12 for a margarita, $10 for a wrap—which were consistent with the over-priced food and beverage available at most concerts.
Others gave Virgin credit for simply being clever. If there's any stigma left to corporations latching onto rock music, it wasn't being talked about much at FreeFest.
"It's great for Virgin, it's good for charity," said festival goer Bernie Davis. "It's a give and take."