After a Boom-and-Bust Hype Cycle, The Rapture Get Spiritual
The band was pegged as reviving the "dance punk" movement nearly ten years ago. With their fourth album, though, The Rapture move on.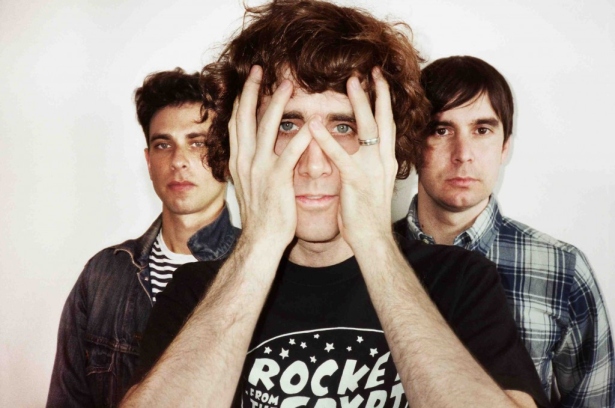 DFA
Timing is everything in the music industry. There are few who understand this better than Brooklyn trio The Rapture, who in 2002 found themselves the unlikely torchbearers of a revival that set fire to the indie-rock world and would later infiltrate the mainstream. Their sound—a hybrid of dissonant, angular punk and throbbing house music—was coined "dance punk" by critics and heralded as an antidote to an era of indie in the late '90s defined by decidedly low-key acts like Belle & Sebastian and Cat Power. Less a rejection of sleepy balladry than an infusion of new blood, The Rapture gave the underground a jolt it didn't know it needed, ushering mopey hipsters and rock kids alike to the dance floor after years spent preening with arms crossed.
"What you're increasingly witnessing at every club, at every show, with every passing night, is the death of the horrible, awkward, uncomfortable tension of devoted music fans pretending not to enjoy music they have paid to see," began Pitchfork founder Ryan Schreiber in his memorable review of Echoes, The Rapture's genre-defining 2003 release. "We have buried irony and pissed on its grave and for the first time we are realizing what rock music, rock shows are all about."
In hindsight, it wasn't just The Rapture-induced change of pace that made the early 2000s an exciting time to be an indie fan. Arguably, it also marked the last period when the formation of a unifying musical movement was feasible, before the Web became the niche-centric labyrinth that it is today. Back then, to be a fan of underground music meant you were almost forced to have an opinion about dance punk, whether you liked the sound or not. The same can't be said today of today's subgenres like witch house, two step, or freak folk. To be sure, the fact that the indie bible Pitchfork continues to garner 30 million views monthly shows there's still some sort of alternative mainstream, but the proliferation of genre-specific blogs and social networking has made it much easier to tune into one scene and tune out the rest. In the early aughts, though, indie was defined by dance punk, like it or not—and The Rapture held court.
"The New York scene had all this heat and every major label—literally every major label in the world—was wanting to sign our band," Rapture drummer Vito Roccoforte said in a recent interview with FADER. He was referring to the reaction in 2002 to "House of Jealous Lovers," a cowbell-inflected barnstormer of a single (eventually released the next year on Echoes) that became the anthem of the new dancing class. Soon after, like-minded bands !!!, Bloc Party, Franz Ferdinand, and Q and Not U were noticed as well, as the culture relished the revival of a sound and fashion sense first brought to prominence in the '80s by Public Image Ltd, Gang of Four, and Primal Scream, among others.
Though centered in New York, house parties and dance-punk nights sprung up in metro areas across the country where there were only rock shows before, the "movement" abetted by P2P networks, message boards, and other vestiges of web 1.0. Dance punk's new-found salience was also aided by the shift in mainstream music back to rock, in the form of bands like The Strokes, The White Stripes, and The Killers. Nightclub DJs cared not which was charting higher: "House of Jealous Lovers" and "Somebody Told Me" worked brilliantly in a mix together. It seemed that everyone wanted to dance, mainstream fan and indie connoisseur alike, a trend solidified when The Rapture joined '80s juggernauts The Cure on the well-attended Curiosa tour in January 2004.
It wasn't just music fans who were adopting a new pose. Success inflicted The Rapture with the archetypical behind-the-scenes drama of a band that's blowing up. Drummer Vito Roccoforte drank a lot and mangled his body on more than one occasion while founder and singer Luke Jenner "… was in this tunnel … trying to be cool," as he recently said. "Every move I made was super-calculated to maximize my coolness— where I went, who I talked to, the bands we toured with, my haircut, my pants."
The inevitable comedown arrived as well. "Oh, what a heavy burden The Rapture must bear," began Pitchfork's Rob Mitchum in his review of Echoes' 2006 follow-up Pieces of the People We Love, before concluding that the album was "a step or three down" from its predecessor. NME was a bit more positive: "More than anyone else, save perhaps friend and past collaborator James Murphy, The Rapture triggered off the post-punk revival that still … shows little sign of abating. So explosive were the shockwaves from their breakthrough single … you can still feel it in any band welding shrill guitars to disco beats from Klaxons to CSS to Kasabian to Shitdisco to, we'd be willing to wager, bits of the new Oasis album. In short, all other bands now sound like The Rapture… except, of course, The Rapture."
The influential UK music magazine was hitting at a subtle but noticeable softening and polishing of the band's sound on Pieces, which had been recorded with the help of high-profile dance producers Ewan Pearson and Paul Epworth. (Danger Mouse also produced two tracks.) Pieces also saw bassist Mattie Safer play a larger role as a songwriter and vocalist, a development that, despite how upbeat the band sounded in the press at the time, spelled trouble for the years ahead. "I started this band as a vehicle for my own songwriting," Jenner recently told Rolling Stone, but on Pieces, "[Mattie] wanted to write songs and … started taking up a lot more space … it became this power struggle between Mattie and Gabe [Andruzzi] and … I lost that one."
Critical reaction to Pieces was uneven, which fed the growing feeling that dance punk was all but dead less than five years after it had become relevant again. Prefix called it a "safe record," Q "a serious let-down" while Uncut demurred, "there's a sense of a moment having passed." Indeed, though bands like LCD Soundsystem—led by James Murphy, who co-produced Echoes—Cut Copy and Justice surged in popularity, The Rapture suddenly seemed far less important.
Compounding this feeling was the appearance in 2008 of "No Sex For Ben," a one-off collaboration with super producer Timbaland and Justin Timberlake for the Grand Theft Auto IV soundtrack. The track wouldn't have sounded out of place on Timberlake's FutureSex/LoveSounds, released that same year. Though a fine song in its own right, "No Sex …" signaled that the members of The Rapture were perhaps struggling to define themselves in the wake of Pieces. "… [It] was the total antithesis of what I felt musically I wanted to do or what we should be doing," Roccoforte said in FADER. "It was a total different direction." The story notes a few lines earlier that Safer felt the exact opposite.
Life outside the band only enhanced the tumult. While on tour in 2008, Jenner's mother took her own life just months after he became a father himself. That, combined with the desire to be more available to his family after years spent on the road, sent him into a sort-of existential tailspin. "I was afraid of losing the band for so long that I forgot to take care of myself and state what was important to me," Jenner recently told Pitchfork. "I was really confused."
The disarray eventually led to Jenner to quit the band briefly—and Safer to quit it for good. Safer's departure wasn't quite amiable, but the band's new album, In the Grace of Your Love, makes it clear that drastic changes were needed if The Rapture were to sustain itself into the new decade. It's not only that they couldn't stay the same band making the same music—they couldn't stay the same people. Cynicism and posturing wouldn't cut it any longer. "The idea of grace, of being attached to something bigger than yourself; that's how you let go and move through pain in a positive way,"said Jenner in Rolling Stone. "… I just got tired of the whole musical legacy I was handed. Not only my family legacy, but if you're a smart kid in indie rock, you're going to be cynical as shit … I'm 36 years old and I'm a father and I just wanted to grow up a bit, you know?" He expanded on this idea in SPIN: "My kid doesn't give a shit if I'm in SPIN Magazine. He's not interested if I'm playing in front of thousands of people. He just wants to know that I love him."
All of this—the early success, the personnel struggles, the emotional demands of life off the stage, and the radically evolved perspectives—explains why In the Grace of Your Love comes off as refreshing for listener and band alike. Far removed from the narcissistic punk rock stances and sounds that characterized their heyday, The Rapture now sound relaxed, exuberant, their music rooted in the highs and lows of real life. In the Grace of Your Love tackles the pain of loss head on, but in a manner completely devoid of cynicism. "Sail Away," the album's opener, is elated and driving, as is "Children," each featuring mounds of synths laid atop disco beats that propel Jenner's love letters to family. "Come Back to Me," "Never Gonna Die Again," "Can You Find a Way?" and "How Deep is Your Love?" will make fans of Echoes and Pieces happy, each a variation on ideas The Rapture have toyed with before, though rendered in a more positive, confident glow.
Centered on forgiveness, spirituality and the desire to be good fathers, In the Grace of Your Love is an outright rejection of the shackles of hype and the self-conscious posturing of the scene they helped popularize. And it's the sound of a band that's actually enjoying the process of making music again—movements be damned. "It's cute to be called the founders of some scene," mused Jenner. "But I just want to be a really good band."