'24 Hours of Reality': Al Gore's Latest Climate Change Project
Will anybody watch the day-long program? Despite Gore's efforts, fewer Americans than ever before believe in climate change.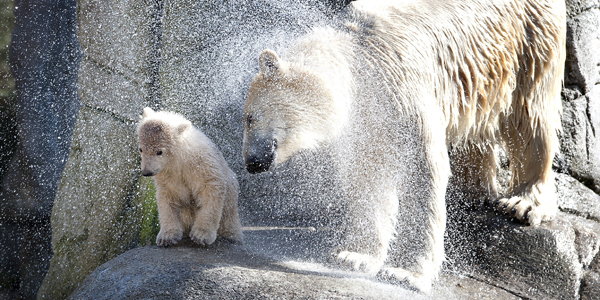 Al Gore's latest climate change project, 24 Hours of Reality, will portray stories from around the world on the impacts of climate change. Twenty-four scientists, businessmen, and activists will begin to live-stream their experiences on the project's website at 7 p.m. local time in Mexico City on September 14. The presentation will be added to every hour, in twenty-four time zones and thirteen different languages, until the former vice president wraps up the multimedia presentation 24 hours after launch in New York City.
The presentation will focus on the connections between extreme weather events and how weather patterns are changing. The project's leaders have issued a statement proclaiming their purpose is to "tell the truth about the climate crisis and reject the misinformation we hear every day," falsities that the project blames on what Gore calls "the well-financed disinformation and denial campaign run by the fossil fuel industries."
Despite Gore's previous efforts, the documentary An Inconvenient Truth, and his Alliance for Climate Protection project, on which Gore spent over $100 million dollars, fewer Americans than ever before believe in anthropomorphic climate change. The percentage of the population who believes that carbon dioxide emissions are warming the climate has dropped almost 30 percent since 2007, according to a recent UPI study.
The Onion published a satirical piece last year proclaiming, "though global warming -- and the worldwide homelessness and drought associated with it -- was a desperate problem ... the midterm elections, and gay marriage" rightfully now take political precedence. In this kind of anti-climate atmosphere (no pun intended), how will Gore's latest project land?
Jim Treacher at the Daily Caller says "Unless Al Gore caps it off by singing 'You'll Never Walk Alone,' why bother?" Treacher holds that Gore's message has been made loud and clear, and that we've already heard way too much from him for anything new to make a difference.
In a scathing article with the headline, "He's Baaack! A Hot New Media Blast From Al Gore," Larry Bell at Forbes calls Gore feverish and makes some of the popular climate denial arguments.
Jon Bershad at Mediaite also suggests that Gore may have too much baggage to be successful. Bershad says if Gore "wants to really stop this thing, he should stop working on his message and start looking for a new messenger."
But a broad spectrum of others, including scientist David Suzuki, the former chief investment officer for Samsung Asset Management, Dong Sik Lee, and professional snowboarder Jeremy Jones, are among those who fervently support the project.
Visit the Climate Reality Project's website to watch for yourself.
Image: REUTERS.