Wolverine vs. Cyclops—Again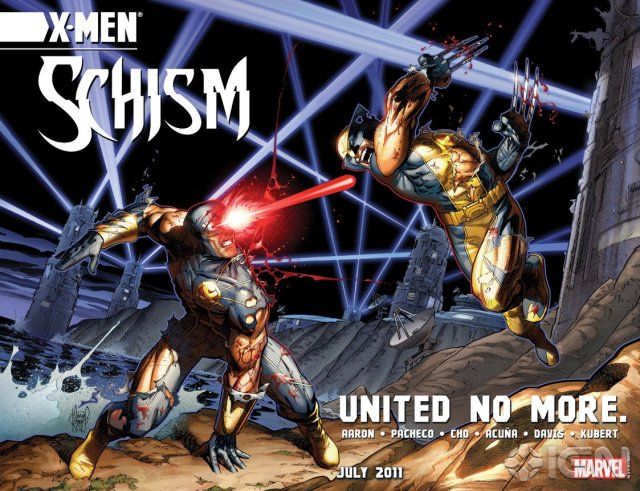 Spencer Ackerman on the new X-event Schism:
The expectation is that it's going to be another integrationist debate. Cyclops has guided mutantkind since M-Day by becoming ruthless. It's been an imperative for survival: leave the Mansion, decamp for mutant-friendly SF, then leave for Utopia thanks to a Norman Osborn gambit; and fend off assaults. Logan, by contrast, is the most visibly integrated mutant there is now. He's an Avenger, even -- I know, I know, it's cheap and does nothing for the character -- so the psychopathic rogue samurai is also the de facto ambassador to humankind, whatever Cyclops' pretentions. 




You see where this is going. Cyclops becomes the new Magneto. Wolverine becomes the new Professor X. 




I hope they don't make it that simple, and not just because simplicity is uninteresting. Wolverine isn't just an Avenger. He's the leader of the X-Men's JSOC, the (Uncanny!) X-Force, a secret team started by Cyclops for preventive strikes on humanist militias. [Long story short: the revamped X-Force series was a classic. Arguably the darkest thing the X-writers have ever published. After the militias lost the battle, Cyclops ordered his quasi-death squad disbanded; Wolverine pretended to comply and relaunched it with a new lineup. It's good, but not as good.] Wolvie has always pushed a survivalist Third Way between Xavierism and Lensherrism, though he uneasily inclines toward Xavier. It's totally out of charcter for Wolverine to be an Avenger, anyway -- we know what's in it for Stark and Rogers, but Logan never addresses the question of what's in it for him or for the X-Men.
I really liked Second Coming. I haven't read much X-Force, but seeing the Wolverine/Cyclops dynamic was pretty interesting. I also enjoyed how Marvel was able to deploy a huge array of X-characters ranging from the New Mutants (so cool to see them back) to Rogue to X-23 (who I should hate; I don't) to Nightcrawler without losing sight of the plot.
I have the first few issues of Schism, and so far I'm underwhelmed. They're taking a while to roll out the main plot conflict and the second issue, in particular, seemed weak. All of that aside, maybe it's just me, but I'm not particularly excited about another half-decade of Wolverine vs. Cyclops fanboy debates.