Will U.S. Soccer Ever Produce a Pele?
The men's national team has a new coach, Juergen Klinsmann. Will he be able to inject some magic into the way Americans play the sport?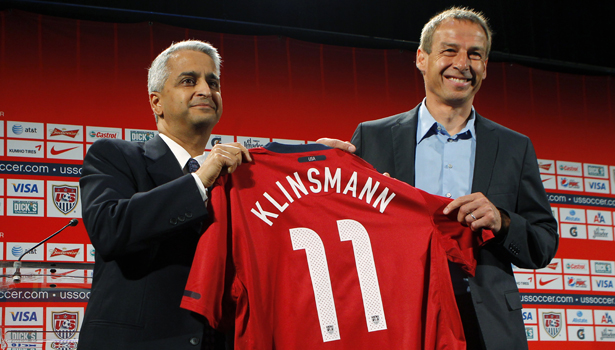 U.S. Soccer president Sunil Gulati poses with Juergen Klinsmann after he was named head coach of the men's national soccer team. (Credit: Reuters)
Every week, our panel of sports fans discusses a topic of the moment. For today's conversation, Patrick Hruby (writer, ESPN and The Atlantic), Emma Carmichael (writer, Deadspin), Jake Simpson (writer, The Atlantic), and Hampton Stevens (writer, ESPN and The Atlantic), talk about the U.S. men's soccer team's new coach, Juergen Klinsmann.
---
Hey, guys
Following a series of uninspiring matches capped by a come-from-ahead loss to Mexico in the Gold Cup final, the United States' men's national soccer team clearly needed a coaching change. Buh-bye, Bob Bradley. Hello, Juergen Klinsmann. Question is, will the charismatic German—a longtime object of hardcore American soccer fan ardor—cure the numbing, nice-try middlingness that long has defined Team USA's play?
I'm skeptical.
Granted, Klinsmann's credentials are impressive. He won a World Cup as a player for Germany; in 2006, he coached his home nation to a third place finish in the tournament. And don't expect a culture clash: Klinsmann lives in California, speaks fluent English, and has an American wife and two soccer-playing children whom he says consider themselves more Fourth of July than Oktoberfest.
Better still, Klinsmann's diagnosis of what ails U.S. soccer strikes me as both accurate and insightful. He isn't focused on playing a particular formation; on finding and imposing a distinct national style; on blaming the second-class world citizen status of MLS and college soccer; on the imbecilic, casual fan fever-dream belief that America would totally kick butt on the pitch if only our best athletes didn't play in the NBA and NFL instead.
No, Klinsmann understands that the problem with American soccer is simple. We don't play enough pickup . From orange slice leagues on, our talent development is programmatic and over-coached. The U.S. national team is plenty athletic—physical fitness and toughness are our calling cards—but woefully devoid of magic. Of vision and creativity. Of the things that can't be taught. Our nation produces great, gritty goalkeepers. We never have produced a Pele.
Klinsmann says this needs to change. He says he wants to be involved with youth soccer. Sounds good. Only here's the thing: American players remain top-down creations. In sports—as in life—genius is serendipitous, unexpectedly bubbling from the bottom up.
Emma, am I off-base here? Are the U.S. men about to catch up to their female counterparts?
–Patrick
I'd like to offer some optimism for the men's side, because I would love to see them succeed—but I also think that the kind of institutional and foundational change that needs to (and, I think, eventually will) come about in American soccer has nothing to do with the coach of the men's national team. That's not Juergen Klinsmann's fault. Steve Sampson, Bruce Arena, and Bob Bradley didn't have had any better luck at the particular puzzle that is the Great American Soccer Crusade, but that shouldn't have been a part of their symbolic job description to begin with.
I love what you said, Patrick, about the American player being a "top-down creation," and I think that extends to the U.S. soccer structure. Klinsmann is, by all accounts, great, and he may take the men's team to new heights. But it's naive to say that real national change will come about simply because he's patrolling the sideline. That doesn't mean he's not on the right track: At his first press conference last week, he was asked about the Latin American population in the U.S. and how it might influence the American game: "We want to dig into the Latin community and we want to get those kids," he said. "And we don't want them to go back to their home countries. We want them to become real American players."
Heady as it is, that's a hopeful statement for U.S. soccer fans to read. Everyone knows by now where Clint Dempsey got his start . But it also implicitly highlights a real issue: the suburban, club soccer culture perpetuates both top-down players and a pay-to-play culture that doesn't necessarily reward serendipity—or those who have a "home country" that might better reward the "magic" Patrick referenced, for that matter. Klinsmann might do some good, but from where he'll stand, he really can't do everything.
–Emma
Klinsmann may not be a savior, Emma, if only because the Peles and Maradonas of America are spending their days trying to be LeBron James or Adrian Peterson. But he has the one thing U.S. soccer has always lacked: star power.
Don't get me wrong—I'm sure Bob Bradley was a celebrity at his hometown diner. But his playing career ended at Princeton, the equivalent of an MLB manager who was a platoon player at Vanderbilt before being drafted in the 37th round and pursuing a career in sports management. Meanwhile, Klinsmann is one of the most decorated footballers in history. His 11 goals in World Cup play is tied for sixth all-time, just one behind Pele, and he was the first player ever to have at least three goals in three different World Cups. He was the captain of the German team at the '98 Cup, for God's sake! Has there ever been a U.S. player with even a tenth of Klinsmann's international success?
I say no, unless you count Alexi Lalas's hair . And on a team with several very good players but no superstars, Klinsmann immediately becomes the face of U.S. soccer. We young people love famous faces, and if Klinsmann's goal is truly to "play more pickup" and develop talent from the bottom up, he should have a far easier time getting people on board than a guy who got his professional start at Proctor & Gamble.
Hampton? Are you as riveted by this as we all seem to be?
–Jake
Let me get back to you on that, Jake. When I'm done prepping for my fantasy football draft.
Sure. If American kids played sandlot soccer as much as they play basketball, we'd produce more footie stars. But why don't they? All of these ideas about how to make soccer more popular in the US miss the larger question of why the game isn't much beloved in the first place. The larger, if-it-were-a-snake-it-would-have-bit-you problem is that the game is subtly but simply unsuited to American mind, as unsuited as coffee and doughnuts would be to an Englishman, or as bathing is to the French.
The most uniquely American games, baseball and football, are often pilloried for lacking action. Untrue. They just have a distinctly American kind of action—what Fitzgerald called "the formless grace of our nervous, sporadic games." Both stop and start. Both feature huge exertions of sudden force, then a pause for reflection and planning, and another burst of force. Think of football's huddle, then clash at the line of scrimmage, or how the pitcher fidgets on the mound before putting every ounce of power into heaving the ball home.
Soccer, however, is nonstop. It flows. Endurance is a huge part of success, and endurance sports just aren't our thing. That's why a high school cross-country runner doesn't get as many dates as the quarterback, and it's also why Lance Armstrong—for all his star power—didn't inspire millions of American kids to hop on the ten-speed.
True story: A friend in the Israeli consulate once asked my opinion on why soccer isn't that big here. When I shared this theory—that Americans prefer games with quick, decisive bursts of action over those of finesse and endurance—he laughed, "Just like your foreign policy!"
Ouch. Good point.
Particularly odd is the idea that soccer can be grafted onto our sports' culture via Latin American immigrant communities. That's not how this wondrous country of ours works. All those waves of European immigrants in the 20th century? They knew about footie in the old country. But once in this one, quite naturally, they and their children adopted the games most suited to, and best reflective of, our values and way of life.
Please know that I'm not hating on soccer. Not at all. Love the game. My city just built a ridiculously sweet soccer-only complex, Livestrong Sporting Park. Seeing games there is world-class fun, be it the MLS or Gold Cup. But the sport isn't my favorite, and it never will be, no more than this Kansas City boy will ever like listening to Beethoven and Bach more than Big Joe Turner and the Bird. Is there a great American soccer star waiting to be born? Yup. Will this nation ever win a World Cup? Sure. So what? America may produce better opera singers than Italy, too. We're just that good. But that doesn't mean that opera here will ever be as beloved as our native rock and roll.
–Hampton