Ultimate Fighting Championship Is Coming to Network TV: Why It Matters
Fox just secured the rights to air mixed martial arts fights, marking the sport's official entry into the mainstream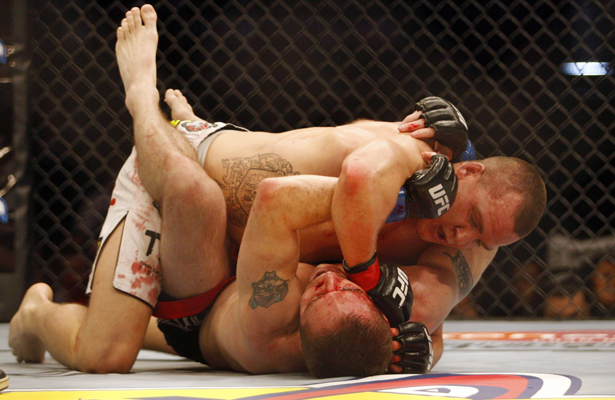 Reuters
Ultimate Fighting Championship is coming to network television. Calling it the "world's fastest growing sport," which creates the "heroes of a new generation," Fox Sports and the UFC announced a seven-year deal Thursday which, starting in November, will put four live UFC fights a year on Fox and 32 live fights on FX, including 24 in conjunction with two seasons of the UFC's reality show The Ultimate Fighter. Before the Fox deal, UFC fights had been aired on basic cable channel Spike.
Why is this deal so significant to American sports?
First of all, it shows that the sport Senator John McCain once called "human cockfighting" has replaced boxing as young America's fighting sport of choice.
"Through greed, boxing has become an afterthought," David Hill, Fox Sports Chairman, told me after the press conference. "UFC is relevant. Boxing is one-dimensional, and the UFC is three-dimensional."
It is difficult to argue with him. Other than Floyd Mayweather Jr. and Manny Pacquiao, boxers are becoming less recognizable, and talk with males ages 18-34 and UFC fighters have become their favored gladiators: outsized figures because of their athleticism, but also slick marketing, recognizable weight classes, and the "Ultimate Fighter," which tells the fighters back stories, creating interest in young fighters' careers. Young men also identify with the fighters who are often educated (many fighters have been collegiate wrestlers), and reject the cartoonish nature now associated with top boxers. UFC fighters are also required to fight anyone. The biggest possible fight in boxing—Floyd Mayweather vs. Manny Pacquiao—has been in hopeless negotiations for more than a year, and looks like it may never happen.
"We want to go back to the times when fights were big events," said Lorenzo Fertitta, UFC Chairman and CEO, referring to fights three decades ago, which were popular among the American public. "We are going to create that era in our sport."
But the Fox-UFC deal goes beyond boxing's endemic issues, which are deep and intractable, and puts mixed martial arts on the same footing as the National Football League and Major League Baseball. Crazy? Of course, mixed martial arts are not as popular as football or baseball but the UFC has succeeded in creating something profound. The UFC's creativity and drive has helped make a major sports league, and it is quickly becoming popular worldwide. Go to a military base, in Afghanistan or in Germany or anywhere in the United States, and the off-duty escapist chatter often revolves around UFC fighters. The UFC is covered with rigor in Sports Illustrated, on ESPN and other media outlets. Dodge, Harley Davidson, and other brands use the UFC to promote products. With Fox's involvement, it will only become more a part of mainstream conversation.
By the way, Fox wasn't the only network which realized the value of the UFC. Attracting men ages 18 to 34 is a marketer's drama. The UFC's Lorenzo Fertitta said other networks were also in hot pursuit of the UFC for its television rights, which were estimated to be worth $90 million. (Fox and UFC executives refused to disclose how much the deal actually cost.)
Whatever you think of mixed martial arts (and it is actually, in the opinion of many including me, safer than boxing), blood sports have always done well in poor economic times, and the UFC seems to be the sport for our downtrodden era.
"This is the very, very beginning," says Fox's Hill. "We are going to grow this sport. The sport is a decade old and it already has a worldwide, mainstream fanbase. This is like getting the rights to the NFL ten years after it was started."