'True Blood': Bad Times in Bon Temps
Conflicts abound in this week's episode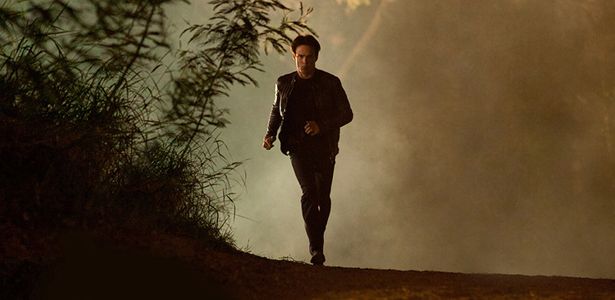 HBO
Conflict resolution is the theme of the week in Bon Temps. There are the bad breakup dust-ups—Hoyt calling Jessica a monster, werewolves and shifters fighting because alpha Marcus doesn't understand the concept of moving on—but the most interesting examples of successful and failed conflict resolution are with the two unhappy ghosts come back to get revenge/justice/babies. While one restless spirit is busy executing a massacre at a Living-Dead Tolerance meeting (shouldn't it be the Living-Dead Alliance?), another is finding a peaceful conclusion to her sorrows.
Antonia is practically becoming a vampire herself, hitting almost every point on the checklist of vampire crimes she listed off in her debut: She is walking around despite being long dead, has supernatural powers, is holding innocents captive, is controlling the actions of others, has killed, and intends to kill more. Her thirst is for revenge rather than blood, but the distinction is probably not very soothing to her victims, and the people she has sworn to protect are meanwhile burning their hands into giant lumps of blisters trying to escape her Moon Goddess Emporium prison.
Mavis's story makes the impressive transformation from incredibly creepy to sweet and beautiful (it's amazing what music and lighting can do). Jason's heroic efforts to keep a drugged-out Andy in line and Jesus's knowledge of magic keeps the borrowed baby situation from dissolving into the bloodbath it threatens to become, and instead the whole unlikely group bands together to dig up Mavis's child's body so that she can find closure. Whereas Arlene's living baby has managed to give countless True Blood fans nightmares over the past few episodes, the sight of Lafayette/Mavis cradling the long-dead corpse of a baby has a sweetness to it, avoiding the tinge of nightmare.
The real nightmare is happening across town, where Antonia is wielding a bunch of vampires as her own deadly weapons. Compromise has already failed. Whatever solution this has is unlikely to involve sweetly singing golden-glowing ghosts and people whispering about miracles.
Even if Antonia can be subdued quickly and the vampires are able to convince the public they acted under a spell, it's hard to imagine this not being a worse PR disaster than Russell Edgington. In a situation this desperate, who can the people of Bon Temps call?