It's as if the novel's theme of history repeating itself manifests in the controversies the Kurt Vonnegut book has caused over the years
AP Images
Inside the pages of Slaughterhouse-Five, a master of ceremonies asks people to explain the function of the novel in modern society. It's a scene that the school board of Republic High School in southwestern Missouri may have glazed over, or didn't appreciate, or simply didn't read, when they recently voted 4-0 to ban Kurt Vonnegut's 1969 novel from their curriculum and pull it from the library's shelves.
A novel's purpose, according to the passage:
"One critic said, 'To provide touches of color in rooms with all-white walls.' Another one said, 'To describe blow-jobs artistically.' Another one said, 'To teach wives of junior executives what to buy next and how to act in a French restaurant.'"
The function of Slaughterhouse-Five has long been as a teaching tool in American classrooms. The book's protagonist, Billy Pilgrim, is based on a real American soldier who was held as a prisoner during World War II. During this traumatic period, Pilgrim becomes "unstuck in time" as a result of shell-shock. He is doomed to relive moments of his life over and over again.
As a literary device, this was a way for Vonnegut to "impress upon readers that we keep making the same mistake and it doesn't have to be that way," says Julia Whitehead, the executive director of the Kurt Vonnegut Memorial Library.
Somehow, though, we find ourselves repeatedly in the same predicaments. Since it was published, Slaughterhouse-Five has been banned or challenged on at least 18 occasions. And the rhetoric around each case appears to be, like Billy Pilgrim, "unstuck in time." When the book was stricken from the public schools of Oakland County, Michigan in 1972, the circuit judge called it "depraved, immoral, psychotic, vulgar, and anti-Christian." In 1973 the Drake Public School Board in North Dakota set 32 copies aflame in the high school's coal burner. A few years later, the Island Trees school district of Levittown, New York—in an area once known as Jerusalem—removed Slaughterhouse-Five and 8 other books from its high school and junior high libraries. Board members called the books "anti-American, anti-Christian, anti-Semitic, and just plain filthy." In the 1982 Board of Education v. Pico trial, the U.S. Supreme court ruled 5-4 against the board's restriction, citing a violation of the First Amendment. But even as that case was being decided, more districts continued to face challenges to the novel's place in schools.
So there was a familiar ring to things when a man named Wesley Scroggins in Republic, Missouri offered his views in the Springfield News-Leader last fall. An associate professor at Missouri State University who home-schools his own children, Scroggins warned against certain books taught in the district. "It is time parents and taxpayers in this school district are informed about this material," he wrote. But not the 1,164 students of Republic High.
"This is a book that contains so much profane language, it would make a sailor blush with shame," he wrote of Slaughterhouse-Five. "The 'f word' is plastered on almost every other page. The content ranges from naked men and women in cages together so that others can watch them having sex to God telling people that they better not mess with his loser, bum of a son, named Jesus Christ."
A reader might be excused surprise that the subject of book-banning is raised at all these days, let alone for a novel so well-worn. Whitehead was among the bewildered. But Slaughterhouse-Five ranks No. 29 on the American Library Association's list of banned or challenged classics. Last year, the ALA tallied 348 challenges to books, which is a fraction of the cases left unreported, says Barbara Jones , director of the ALA's Office for Intellectual Freedom. Topping the full list over the past decade is the Harry Potter series. Toni Morrison and Judy Blume make multiple appearances. For those looking to commemorate these statistics, the annual Banned Books Week is coming up September 24 through October 1.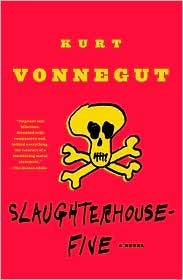 "People want something they can control when times are changing," Jones says. "When times are hard, people get anxious about traditional values. And books are one thing people can look at, people can pick up, and say, 'Maybe books are the reason.'"
Over the course of her 25-year career, Jones has heard a steady refrain of complaints—"I keep thinking, 'Oh, this will go away'"—but it never does. "Really, sex is the big thing," she says, along with violence, foul language, religion.
The best precedent for a case against the ban in Republic, Missouri is the 1982 Pico ruling, says Doug Bonney, the ACLU lawyer helping to develop a legal challenge. He is also looking into another court battle handled by the ACLU in 1993, when a school board in Olathe, Kansas banished Nancy Garden's Annie on My Mind from its libraries because the book addresses homosexuality. The ACLU won that case in a district court, which determined that the book had been banned because of the board's ideological disagreement with the ideas it expressed.
In 2009, though, the 11th U.S. Circuit Court of Appeals sided with the Miami-Dade County School Board against the ACLU, allowing the removal of Vamos a Cuba from the district's libraries. Forty-nine copies of the book were carted off because they painted too rosy a portrait of the Cuban government for their target audience of 5 to 8 year-old children.
No book is immune, it seems. Last year, the Culpeper County, Virginia school system announced it would ban the 50th Anniversary "Definitive Edition" of Anne Frank: The Diary of a Young Girl after receiving complaints about its sexual content and homosexual themes.
"Maybe people are scared of the power of good literature," Jones says. Time and again, those who are most offended by books are, as Scroggins is, people unaffiliated with public education or libraries. "I call them 'True Believers.' I guess people could accuse me of that too," Jones chuckles, "Because I do have pretty strong feelings about freedom of expression."
Vonnegut had similarly strong feelings, which is why the Memorial Library is offering free copies of Slaughter-House Five to the students of Republic High School. Only ten have claimed their spoils so far, says Whitehead. But it's summertime, and she expects to receive more requests once children return from vacation and they start to think about books again.

---
Read More
Slaughterhouse Five was No. 29 on the American Library Association's list of challenged or banned classics, but what about more modern works? Here's the ALA's top 10 most-challenged books of 2010:
We want to hear what you think about this article. Submit a letter to the editor or write to letters@theatlantic.com.