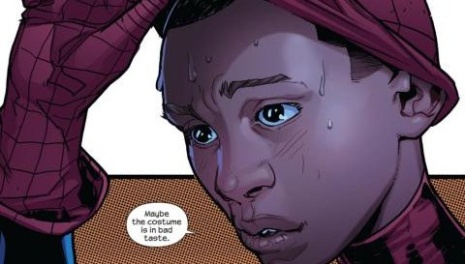 Here comes tomorrow:
Revealed in Marvel Comics' Ultimate Fallout Issue 4, out Wednesday, the new Spider-Man in the Ultimate universe is a half-black, half-Hispanic teen named Miles Morales. He takes over the gig held by Peter Parker, who was killed in Ultimate Spider-Man Issue 160 in June.




In his first appearance, he simply breaks up a fight. But readers will learn the true origin of Morales and how he became the new Spider-Man when Ultimate Spider-Man relaunches in September with a new No. 1 issue.
I've always thought that Spiderman, being a working class kid from New York, should have had some sort of ethnic identity. Of course I was more thinking Jewish or Italian. Given the particulars of how blacks and Latinos (and really Puerto-Ricans) interact in New York, this feels pretty right. I expect this will also be temporary, and Parker will be back eventually.
In the meantime, you can thank
Donald Glover
for the injection of diversity. Now can we get a Maria Concepcion who can cope with Mary Jane?