The Joyless Sex of The Weeknd
The year's most hyped new act makes music about the dark side of seduction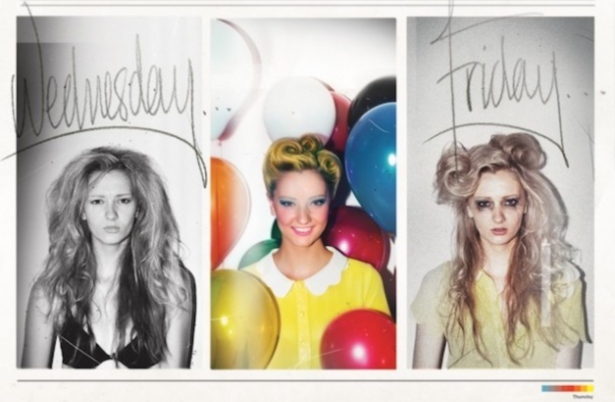 The cover for The Weeknd's Thursday
The problem with cautionary tales about the power-drunk is that we all, in our own ways, crave power.
Scarface
posters dot the nation's dorm rooms, and it's not out of pity for how Tony Montana ended up.
The Social Network
entertained, in part, out of the appeal of its geek-to-mogul transformation tale—even if that tale was mottled by betrayal and loneliness. And
Liar's Poker
, Michael Lewis's 1989 non-fiction masterpiece about Wall Street's corrupting recklessness, backfired. "Six months after
Liar's Poker
was published, I was knee-deep in letters from students at Ohio State who wanted to know if I had any other secrets to share about Wall Street," Lewis
wrote in 2008
. "They'd read my book as a how-to manual."
The songs of Toronto's
The Weeknd
(that's not a typo) would, at first blush, seem to fall in this category. The most hype-catching new act of 2011—
Rolling Stone
,
The Guardian
, and
TIME
have taken notice, and the Toronto act's first release was nominated for the
prestigious Polaris Music Prize
—makes nominal R&B music that's nearly entirely about having sex and taking drugs. Singer Abel Tesfay, we quickly come to understand when listening to the brand-new mixtape
Thursday
, is drunk with a specific kind of power: the power to seduce, sweet-talk, and ply girls with pills. He's a lothario, and by his own admission, not a great person. "Don't make me make you fall in love with a nigga like me," he sings, noting both his own depravity and ability to control.
It's dark stuff. Leering echoes, bass burbles, hissing percussion, and disembodied voices accompany Tesfay's croon, implying that the cost of manipulating others is to be haunted. Tesfay embodies someone who's dead inside and knows it: "I'll be making love to her through you, so let me keep my eyes closed / And I won't see a damn thing, I can't feel a damn thing," he whimpers on "
The Zone
." But, again, it's music about sex. Tesfay's problem is that he has too much of it. Sounds like a humblebrag, right? And yet somehow, Tesfay's persona is so subtly monstrous that you can't imagine being jealous of him.
Thursday
, crackles with generous detail cribbed from rock, hip-hop, and industrial. Opener "
Lonely Star
" shoves off with washes of white noise and waterlogged pianos, holds its momentum over a thrumming low-end growl for the verses, and then revs back up for the chorus. "
The Zone
," easily the most masterful thing here, plays like a color-drained, finely textured take on
Sade's "No Ordinary Love,"
with the percussion rotating between submerged, synthetic heartbeat and cold, syncopated snap.
The Weeknd's achievement, then, is aesthetic: The music's perfectly moody, elevated by a coherent, if repulsive, point of view. Even so, there's a hollowness to the band's allure. Part of the problem is pure song; the melodies often just don't stick. The group (or just Tesfay; the biographical details have remained scant) also over-indulges itself, with nearly all the songs on Thursday topping four minutes (the heart of darkness here, "Gone," reaches eight). But the real complication is with what Tesfay's singing about. He's constantly caught in the moment of seduction, slinging come-ons and promising glorious abandon if whatever "you" being addressed in the song just gives in. But we never hear about what's to like about that abandon. The only debauchery documented on Thursday comes with an equally debauched sound: "Life of the Party" grinds like a sea-sick Nine Inch Nails outtake (in a good, viscerally satisfying way), while "Heaven or Las Vegas" sees Tesfay quantifying his love for some girl in terms of serotonin levels, enslaved to junkie terminology.
Perhaps it's a virtue that the takeaway from Thursday is so bleak. After all, The Weeknd has avoided the problem of power-drunk art by steadfastly refusing to actually glorify the upside of power. But this means that the music, while fascinating, feels disconnected from how the world actually is, or else reflects a world that most people won't recognize. We can envision the emotional desolation that Tesfay tries to escape from in clubs and on couches; what we can't envision is where, exactly, he's escaping to.
Download The Weeknd's Thursday for free from the band's website here.