'The Help': Softening Segregation for a Feel-Good Flick
Even more than in the book, the film downplays the ugliness of Jim Crow and fixates on the goodness of its white protagonist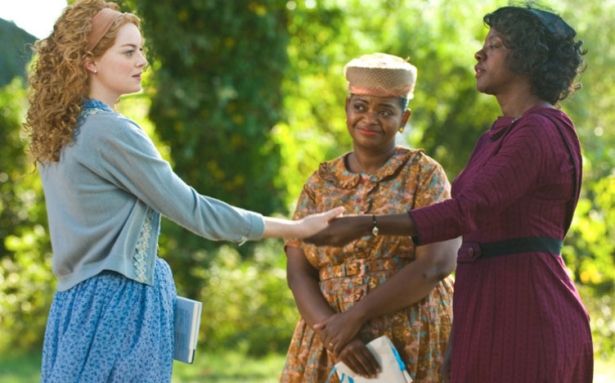 Dreamworks
"How do you try to feel like a good country when you've done shitty things as an entire nation?"
That question came from comedian Louis C.K. at the end of a recent episode of his sitcom Louie. He'd been contemplating how to explain to his daughters the many uses of "nigger" in Mark Twain's Tom Sawyer. But he could have asked the same question when thinking about The Help, Kathryn Stockett's wildly popular novel about black domestic workers and the women who employed them in 1960s Mississippi, the movie adaptation of which arrives in theaters today.
Stockett's novel presented a vision of segregation in service of a feel-good story, but the film version of The Help is even more distant from the virulence of American racism. Its villains, Junior League bigots who wear smart little suits to cover their scales, are so cartoonish that viewers won't risk recognizing themselves or echoes of their behavior in them. The heroines—a privileged, liberal, white Mississippi woman named Skeeter Phelan (Emma Stone) and two black domestic workers, Aibileen Clark (Viola Davis) and Minny Jackson (a particularly good Octavia Spencer)—are much easier to identify with. The project that brings them together, a secret oral history of maids' lives in Jackson, may spotlight the domestic side of racism. But other than a mention of unenforced minimum-wage laws and a scene of the aftermath of Medgar Evers' murder, the movie is disengaged with the public legal framework that let white women treat their white servants dreadfully in private. In The Help, whether you're black or white, liberation's just a matter of improving your self-esteem.
From its initial publication, The Help was met with criticism from writers like the New York Times' Janet Maslin, although also with upbeat reviews and a rapturous commercial reception (it has sold more than five million copies). The black characters in the novel speak in fairly heavy, sentimentalized dialect. The local civil rights movement originates from a naive white girl, not an organized, black-led movement. Worse, earlier this year, a woman named Ablene Cooper who has worked for Kathryn Stockett for more than a decade sued Stockett, claiming that she had lifted Cooper's life story in a way that was damaging to her. Whether or not the complaint has merit, it resonated with critics of the novel who see The Help as yet another appropriation of black struggles to heap laurels on a white character.
The problem isn't that white people weren't involved in the Civil Rights movement. Stanley Nelson's marvelous documentary Freedom Riders follows both the black riders who started the historic anti-segregation journey and the white riders who joined them—and who, on some stops, were beaten worse than their counterparts for being supposed race traitors. Janie Forsyth McKinney, who was just 12 at the time, gave water and medical care to the Freedom Riders after the men of her community attacked the activists' Greyhound bus outside her father's convenience store. Stories like hers should indeed be told.
But there's danger in treating racial discrimination as if it's equivalent to other forms of hardship, which other recent civil rights movies have repeatedly done. John Waters' original 1988 dance-competition movie Hairspray was quite pointed in its depictions of racial anxiety: Two anti-integrationists plot to bomb a dance competition, and there's a very funny scene where several characters talk themselves out of jail by exploiting white fears of miscegenation. But on Broadway and in the 2007 Hollywood musical update, stories about white overweight characters and their self-confidence were elevated to the point where prejudice towards certain body weights appeared nearly as important and deeply entrenched as racism. 2009's Invictus, far and away the most commercially successful movie about the struggle to overcome apartheid in South Africa (if one doesn't count Lethal Weapon 2), is concerned less with the people who fought, like activist Steve Biko, than with white South Africans who needed to find a way to demonstrate that they could represent their entire country.
The Help is not the worst offender in this class of well-intentioned but perhaps inevitably flawed movies. While Skeeter conceives of the oral history project, Aibileen and Minny become its real authors. In the novel, though unfortunately not in the movie, Skeeter also comes clean to her editor about the role that Aibileen played in writing her housekeeping columns and gets Aibileen hired as her replacement, quietly bringing down another racial barrier. Similarly, while the novel treats Minny's decision to leave her abusive husband Leroy as complex and directly related to the financial security she doesn't have until the end of the book, the movie frames that decision as a simple act of self-determination. And at the screening I attended, the audience actually laughed when Leroy (who is never seen on-screen) began throwing things at Minny as a precursor to her beating (though perhaps that's because Octavia Spencer is such a strong comedic actress).
Indeed, the movie, which necessarily sacrifices some character development in the name of space and speed, also conspicuously cuts out powerful illustrations of racial violence. While we get soft-hued flashbacks to Skeeter's memories of Constantine, the black woman who raised her, there are no such flashbacks to the violent, unnecessary death of Aibileen's son. In another scene, Yule May, one of Minny and Aibileen's friends, is arrested for stealing a ring from her employer. The shot shows white police manhandling and cuffing her, but when they swing at her head with a baton, the impact of the weapon against her skull is cut out of the frame. An incident of racial violence that illustrates the cost of the main villain's quest for separate bathrooms for African-American servants is left out of the movie entirely. Even a notably gory miscarriage scene from the book is reduced to a blood-soaked nightgown and an artfully smeared bathroom floor visible only for a moment.
One way to deal with the "shitty things" in our past that Louis C.K. refers to is to downplay their existence and persistence; to cover them up in candy-colored dresses and the memorable sight of Allison Janney, as Skeeter's mother, in a turban; to tell us that Medgar Evers was murdered but to show us John F. Kennedy's funeral instead. The film's timidity shows that we're not even close to eliminating racism in America. While Skeeter may have Richard Wright's Native Son and Harper Lee's To Kill a Mockingbird in her bedroom in Mississippi, The Help is a pastel ghost of those predecessors.