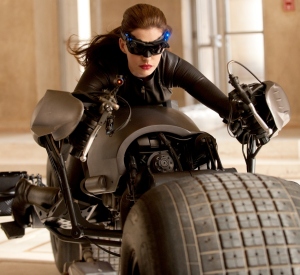 Recently released photos of Anne Hathaway as Catwoman in Warner Bros. upcoming The Dark Knight Rises have kicked up a nerd rage storm, with critics picking on everything from her riding of Batman's motorcycle, to the impractical length of her hair, to the glaring omission of cat ears. Her response:
"What I am happy to say is, if you didn't like the photo, you only see about a 10th of what that suit can do. And if you did like the photo, you have excellent taste."
"Taste" being the operative word. As renowned and popular as comic book heroes have become, their fashion choices remain an object of ridicule, and apparently, a problem for movie makers trying to sell their premise to adult audiences. As the comic book movie genre progresses, we've seen a shedding of traditional superhero garb, with its bright colors and unwieldy appendages for sleeker, darker, almost urban-inspired battle gear. Spandex is out. Kevlar is in.
Some movie makers have left their hero's costume completely untouched. Others, perhaps uncomfortable with the bare look of skin-tight spandex, have tried to populate that space with additional armor and materials, or just stripped it all together. The results of these experiments have been truly mixed. See for yourself:
Read More
We want to hear what you think about this article. Submit a letter to the editor or write to letters@theatlantic.com.