Randy Moss, the NFL's Video-Game Athlete
As the wide receiver prepares to retire, a reflection on what made him so memorable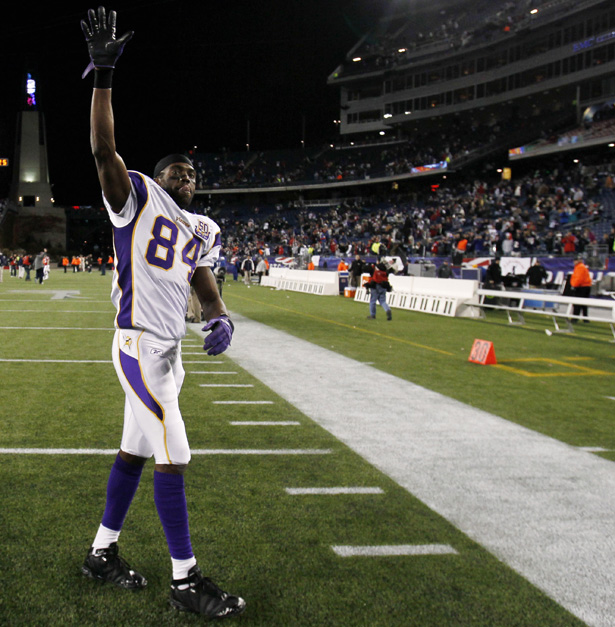 Reuters
He was a playmaker. A game-breaker. A diva in Minnesota, a dog in Oakland, a controversy-courting scourge to meter maids and local caterers alike. He was the twangy-talkin' accidental humorist who added "straight cash, Homey" to the American lexicon.
He was never, ever dull.
The most Whitmanian of contemporary professional football players, Randy Moss seemingly contained multitudes, a peerless pass-catcher who inspired adoration and disdain in equal measure—well, perhaps more of the latter for Joe Buck. To me, at least, there was something else about Moss that made him unique, and in turn, memorable.
He was the quintessential video game athlete.
I don't mean to say that Moss was an all-time digital great along the lines of Bo Jackson from Tecmo Bowl or Jeremy Roenick from NHL 94. I mean that the real-life Moss came closer than any athlete before or since to making the hard, imperfect work of his profession resemble the idealized, hyperreal stuff of control pads and waggle wands.
Scheme, defender, situation, the quarterback throwing the ball: So often with Moss, none of the preceding seemed to matter. He ran down the field and caught the ball, deep, open or otherwise. He was the typical Madden NFL player's default strategy incarnate, Four Verticals in three dimensions. When Moss came down with wildly improbable touchdown grabs, I imagined opposing defensive coordinators throwing their controllers at the screen in frustration, then emailing the league office with complaints that the NFL's pass defense is "broken."
In computer graphics and simulation, there's a concept called the "Uncanny Valley," which, in a nutshell, occurs when the digital doppelgänger of something becomes sufficiently lifelike that observers begin to notice all the small ways in which it falls short. We react with disappointment and revulsion. For me, Moss was the same phenomenon in reverse: Watching him at his best, I was reminded of all the ways pro football falls short of the fantasy on the screen, all the ways the rough, ragged business of sport falls short of what we imagine it to be.