Quote of the Day: Qaddafi's Fall vs. 'A Visit From the Goon Squad'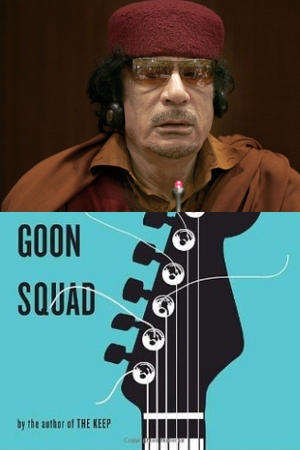 The arc of Jennifer Egan's Pulitzer-Prize-winning 2010 novel A Visit From the Good Squad spans decades, even portraying New York City around the year 2020. One chapter, though, is set in roughly the present day, and features a hard-on-her-luck publicist being enlisted by an unnamed third-world dictator to soften his image in the West. With this week's events in Libya, though, one line suddenly feels... obsolete:
The general wanted an exclusive retainer. He wanted rehabilitation, American sympathy, and end to the CIA's assassination attempts. If Qaddafi could do it, why not he?
The Weekly World News, of all places, has picked up on this connection as well. To be clear, Muammar Qaddafi is not canoodling with Jennifer Aniston, though maybe his album of Condoleezza Rice photos was part of early planning for a PR campaign.
Image credit: Reuters/Deckle Edge