The Israeli illustrator's images of everyone from Einstein and Stalin to Bill Murray crackle with humor, smarts, and wit
Israeli illustrator Noma Bar, he of Negative Space fame, is a longtime Brain Pickings favorite. Turns out, my friends at Mark Batty (previously) have had a soft spot for him for a while as well. In 2007, they released a fantastic volume of Bar's most iconic negative space portraits of cultural icons. Guess Who?: The Many Faces of Noma Bar features over 50 minimalist vector illustrations that encapsulate, with brilliant subtlety and visual eloquence, the essence of famous politicians, philosophers, and pop culture legends—a masterpiece of capturing character and sentiment with uncanny precision.
The book is divided into five parts—Cultural Icons, Hollywood Heads, Political Figures, Britpop Stars, and The Musicians—with an introduction by Steven Heller. (Previously: I II III.) Though the captions for each image leave much to be desired in tone and style, they do give an appropriate context of allusions and symbolism, making Bar's creative feats all the more palpable.
CULTURAL ICONS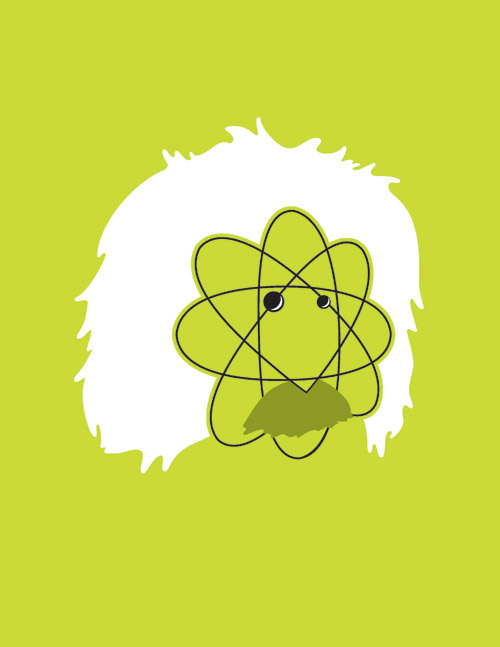 Albert Einstein
Commissioned by The Economist for a cover story about 100 years of Einstein. Though the illustration was never printed, Bar considers this a perfect example of combining two icons, which results in something that is 'almost like a logo.' Einstein's famously unkempt hair and the atomic symbol, with the molecules as eyes, for this famous face.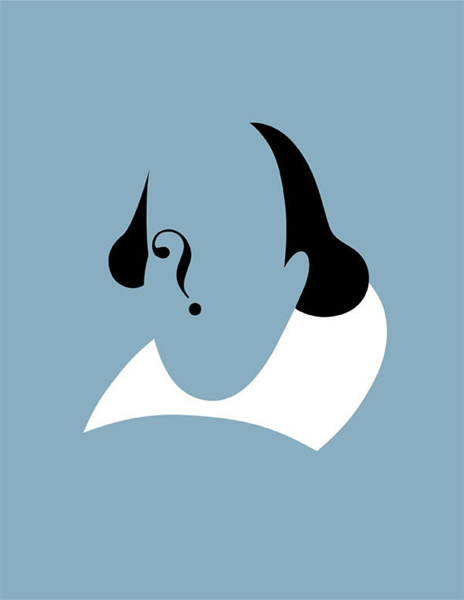 William Shakespeare
The first face Bar ever published, a full page for Time Out London related to a feature article about a BBC program called The Search for Shakespeare.
"[The Search for Shakespeare] revolved around new biographical discoveries and all the questions these raised. I received this commission about 5 hours before a flight to Italy. All of a sudden the question mark idea linked the theme of the program to one of the most significant philosophical questions of all time: To be or not to be? I chose 'to be' and sent the final portrait off about two hours after receiving the assignment." - Noma Bar
Harry Potter
We've all been exposed to the Harry Potter hype. The success of this image is how it speaks directly to the fictional Harry Potter story, as well as the reality of this multi-million dollar industry. The centerpiece of the illustration is the wand, which evokes fanciful magic, as well as the almighty dollar.
HOLLYWOOD HEADS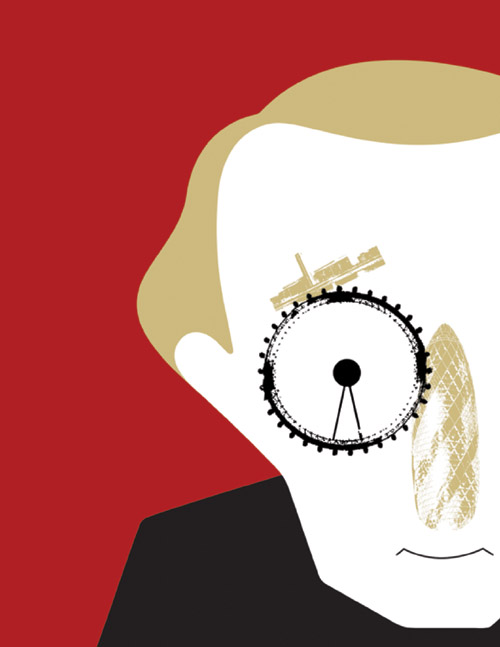 Woody Allen
This illustration was done for an article about Woody Allen's film Match Point, which was shot in London. Bar's use of London architectural landmarks for the legend's already iconic face is a unique and effective touch. Nicknamed the gherkin, for its resemblance to a pickle, this noticeable Norman Foster building replaces Allen's nose, the Tate Modern forms an eyebrow over one of the skyline's newest structural icons, the London Eye.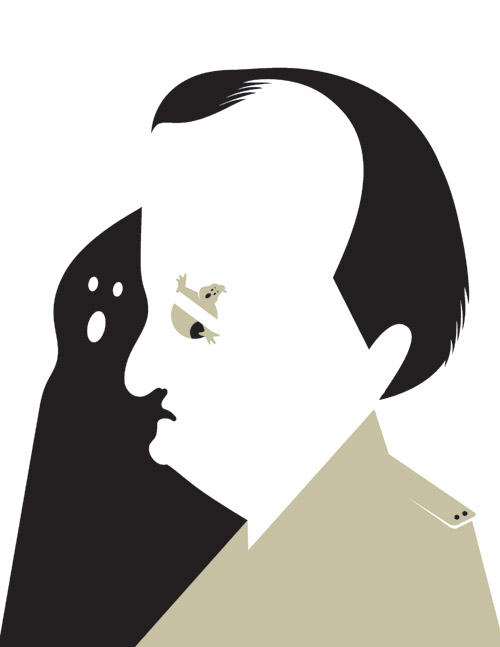 Bill Murray
As Bar started work on Bill Murray, he was pleased to discover that in profile, Murray's face created a ghoulish figure in the negative space. The Ghostbusters icon for an eye is a rather obvious, but effective choice.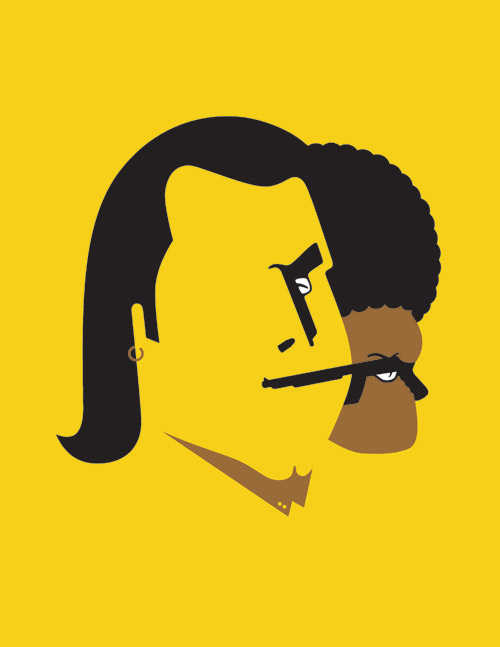 John Travolta + Samuel L. Jackson
Two faces may not be better than one, but they are harder to draw. Illustrating a duo like these two Pulp Fiction characters is a challenge for Barr because he still needs to render them as a single connected unit. Clearly, in this example, Bar conjoins the two with the gun. Travolta's mouth, Jackson's eyebrow and nose.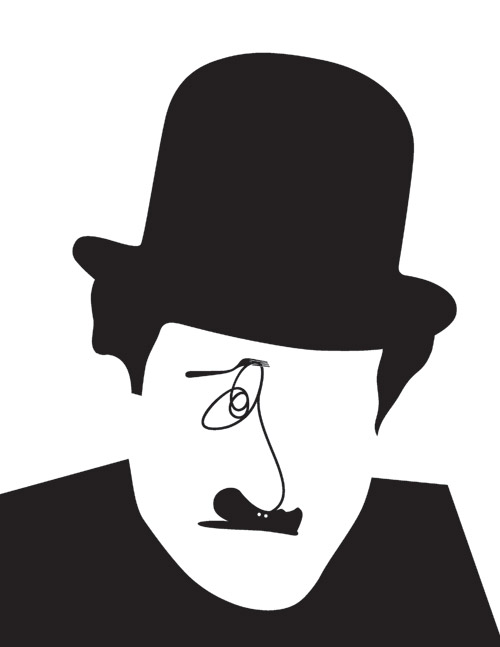 Charlie Chaplin
When Bar works with black and white, he relies on negative space to 'create forms that allow elements to float.' Here, Bar uses one of Charlie Chaplin's most famous on-screen moments to define his face, though there are few actual lines. Inspired by Chaplin's shoe-eating scene in The Gold Rush, Bar turns a shoelace sum spaghetti strand into Chaplin's eye and nose; the shoe works double duty as both moustache and mouth.
POLITICAL FIGURES