Noma Bar's Minimalist Vector Portraits of Cultural Icons
The Israeli illustrator's images of everyone from Einstein and Stalin to Bill Murray crackle with humor, smarts, and wit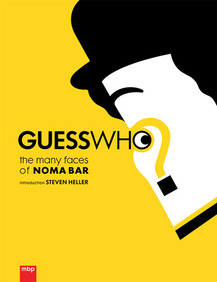 Israeli illustrator Noma Bar, he of
Negative Space
fame, is a longtime
Brain Pickings
favorite. Turns out, my friends at
Mark Batty
(
previously
) have had a soft spot for him for a while as well. In 2007, they released a fantastic volume of Bar's most iconic negative space portraits of cultural icons.
Guess Who?: The Many Faces of Noma Bar
features over 50 minimalist vector illustrations that encapsulate, with brilliant subtlety and visual eloquence, the essence of famous politicians, philosophers, and pop culture legends—a masterpiece of capturing character and sentiment with uncanny precision.
The book is divided into five parts—Cultural Icons, Hollywood Heads, Political Figures, Britpop Stars, and The Musicians—with an introduction by Steven Heller. (Previously: I II III.) Though the captions for each image leave much to be desired in tone and style, they do give an appropriate context of allusions and symbolism, making Bar's creative feats all the more palpable.
CULTURAL ICONS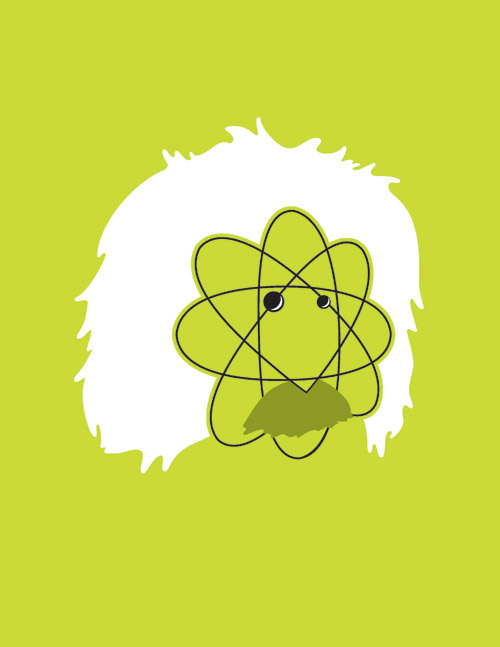 Albert Einstein
Commissioned by The Economist for a cover story about 100 years of Einstein. Though the illustration was never printed, Bar considers this a perfect example of combining two icons, which results in something that is 'almost like a logo.' Einstein's famously unkempt hair and the atomic symbol, with the molecules as eyes, for this famous face.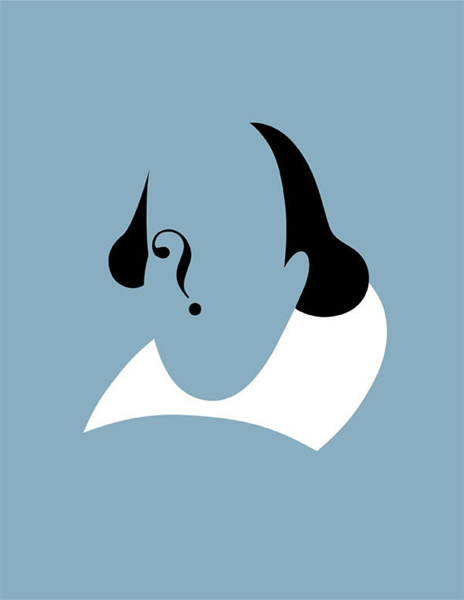 William Shakespeare
The first face Bar ever published, a full page for Time Out London related to a feature article about a BBC program called The Search for Shakespeare.
"[The Search for Shakespeare] revolved around new biographical discoveries and all the questions these raised. I received this commission about 5 hours before a flight to Italy. All of a sudden the question mark idea linked the theme of the program to one of the most significant philosophical questions of all time: To be or not to be? I chose 'to be' and sent the final portrait off about two hours after receiving the assignment." - Noma Bar
Harry Potter
We've all been exposed to the Harry Potter hype. The success of this image is how it speaks directly to the fictional Harry Potter story, as well as the reality of this multi-million dollar industry. The centerpiece of the illustration is the wand, which evokes fanciful magic, as well as the almighty dollar.
HOLLYWOOD HEADS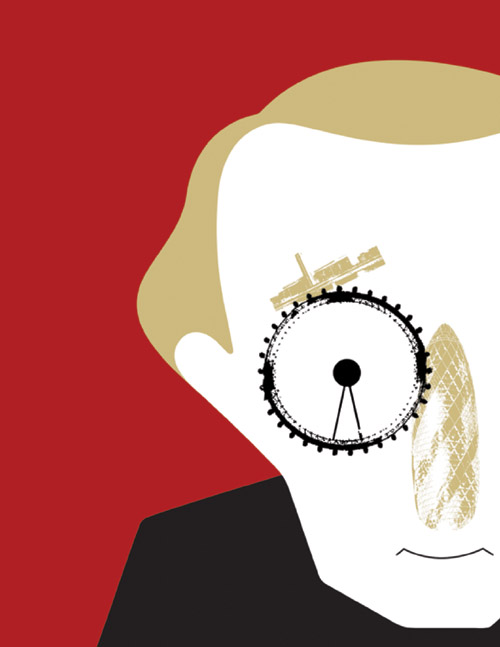 Woody Allen
This illustration was done for an article about Woody Allen's film Match Point, which was shot in London. Bar's use of London architectural landmarks for the legend's already iconic face is a unique and effective touch. Nicknamed the gherkin, for its resemblance to a pickle, this noticeable Norman Foster building replaces Allen's nose, the Tate Modern forms an eyebrow over one of the skyline's newest structural icons, the London Eye.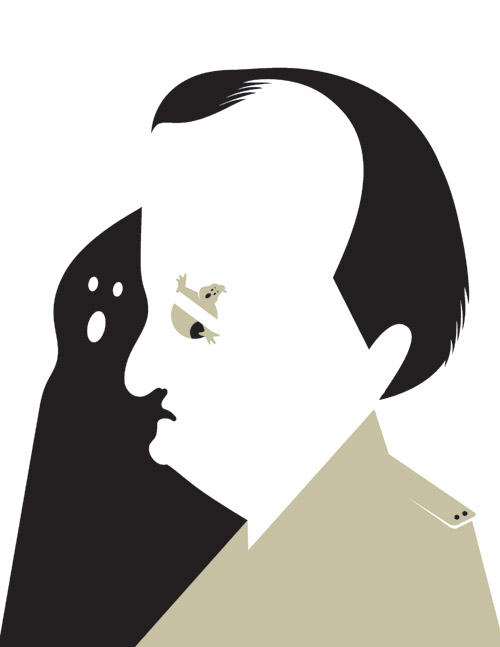 Bill Murray
As Bar started work on Bill Murray, he was pleased to discover that in profile, Murray's face created a ghoulish figure in the negative space. The Ghostbusters icon for an eye is a rather obvious, but effective choice.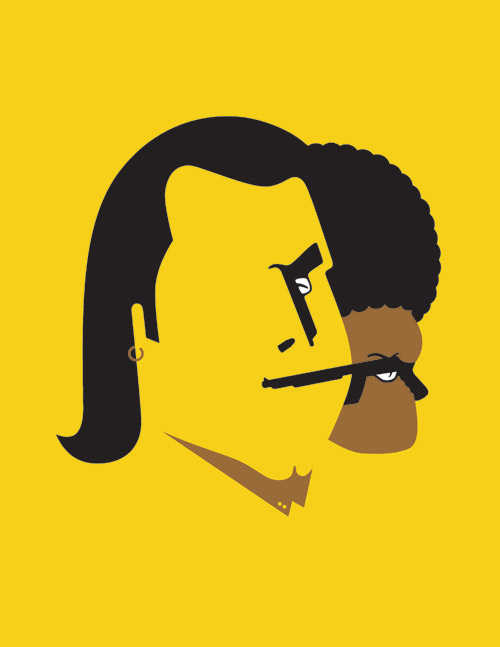 John Travolta + Samuel L. Jackson
Two faces may not be better than one, but they are harder to draw. Illustrating a duo like these two Pulp Fiction characters is a challenge for Barr because he still needs to render them as a single connected unit. Clearly, in this example, Bar conjoins the two with the gun. Travolta's mouth, Jackson's eyebrow and nose.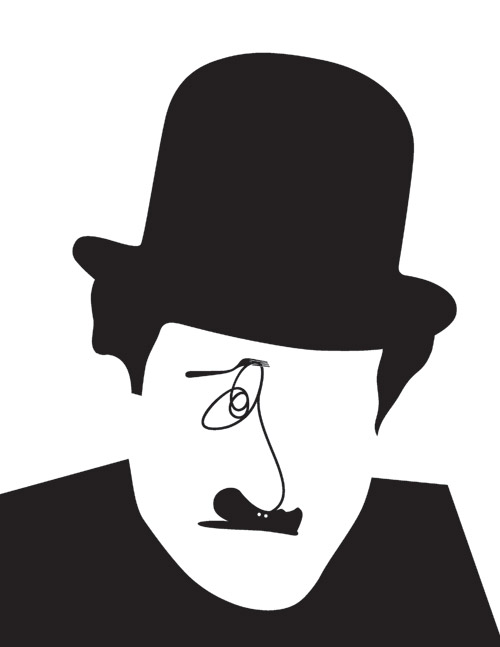 Charlie Chaplin
When Bar works with black and white, he relies on negative space to 'create forms that allow elements to float.' Here, Bar uses one of Charlie Chaplin's most famous on-screen moments to define his face, though there are few actual lines. Inspired by Chaplin's shoe-eating scene in The Gold Rush, Bar turns a shoelace sum spaghetti strand into Chaplin's eye and nose; the shoe works double duty as both moustache and mouth.
POLITICAL FIGURES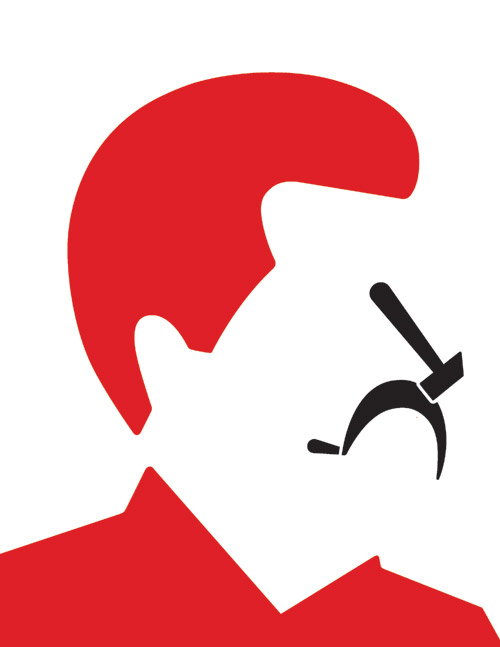 Joseph Stalin
The hammer and sickle get rearranged into Joseph Stalin's nose and mouth. That these two icons can be taken out of context, but remain in context in that they possess such associative power that the viewer will know who this feature face is, bolsters the effectiveness of Bar's approach to illustration.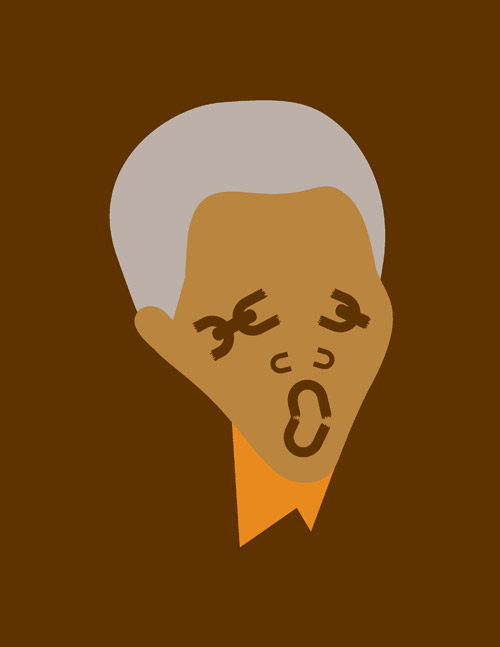 Nelson Mandela
Many of Bar's subjects become his subjects because of dubious behavior. Nelson Mandela's anti-apartheid activism, however, i s a story of incredible strength in the ace of imprisonment and injustice that concluded with triumph. Mandela was South Africa's first president to be voted into office in a representative democratic election. Mandela figuratively broke the shackles that imprisoned him for 27 years, and it is this strength that Bar celebrates with this illustration.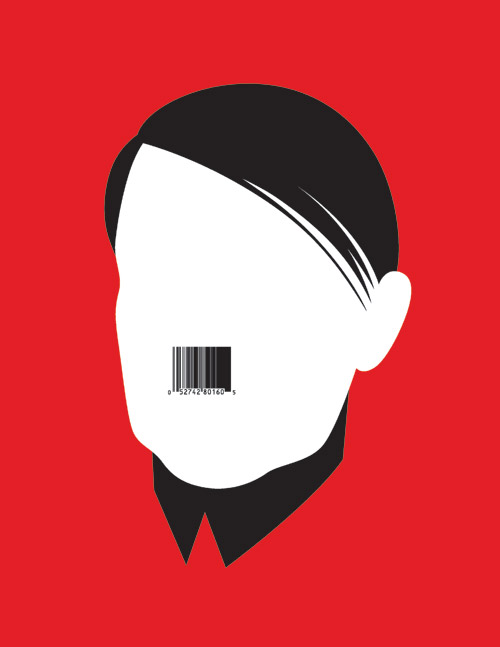 Adolf Hitler
This portrait of Hitler accompanied James Delingpole's article 'Mein Kash: Milking the Third Reich,' written for Esquire UK. The piece examined the publishing trend to release books about Hitler (which number close to 1,000 on Amazon). For such an article, Bar's choice to convert the moustache into a barcode was spot-on.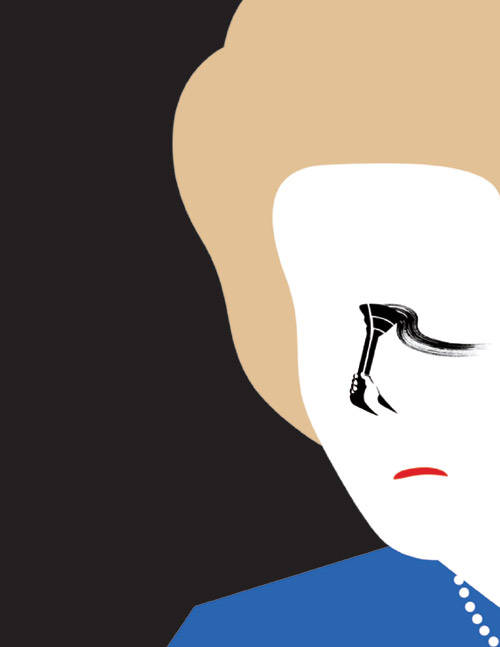 Margaret Thatcher
The smoking torch that defines Margaret Thatcher's face in this illustration remarks on the fading political power of her Conservative Party, descended from the Tory Party. Equally adored and maligned as England's Prime Minister from `975 to 1990, the end of her tenure was spurred by internal struggle within the party. In assessing her legacy, Bar appropriated the old Tory logo to give a visual representation of flagging power. The old Tory logo was a flaming torch, while Bar's interpretation smolders.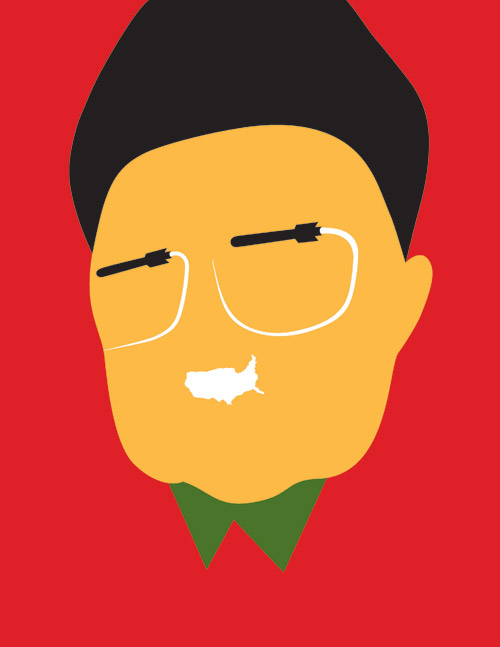 Kim Jong-Il
Known the world over for his cavalier rhetoric about North Korea's nuclear capability, missile contrails make for the glasses of Kim Jong-Il. Commissioned by the Guardian, Bar was under a deadline, and to this day when he looks at this illustration, he wishes he had had the time to use only one missile. Be that as it may, the illustration works, as it looks like Kim and also incorporates what he is known for, weaponry and antagonizing the United States.
BRITPOP STARS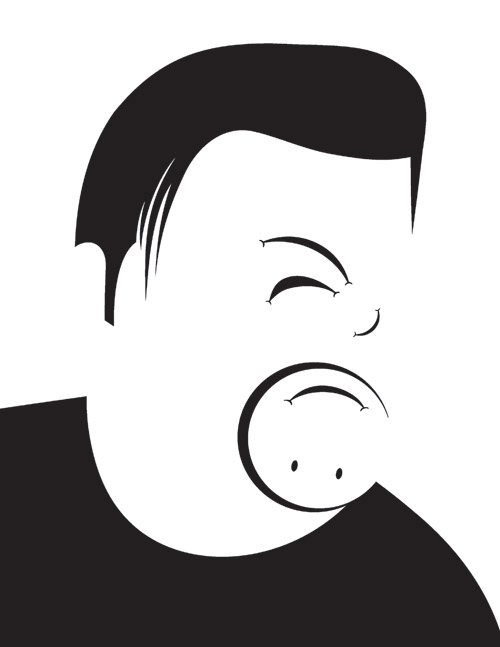 Ricky Gervais
Through his roles in shows like The Office and Extras, Ricky Gervais, for Bar, embodies the black humor of 'loser culture.' Using smiley faces in a truly ironic fashion, Bar provides a portrait of a 'contemporary, classic sad clown.'
Jamie Oliver
Celebrity chef Jamie Oliver has probably spent as much time on TV and book tours as in the kitchen. An advocate of simple, healthy home cooking, a mortar for a mouth and a pestle for a nose make this face recognizable.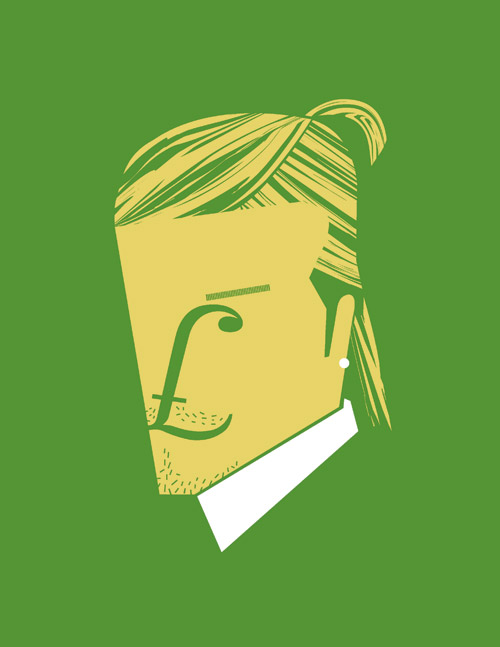 David Beckham
These days, the dollar sign would be just as appropriate for David Beckham's face as the British pound symbol. The soccer star and money -making machine that is Beckham now spans across the Atlantic Ocean, all the way to Los Angeles. We'll see if one man can make Americans soccer fans, but even if he can't, he'll still be rich.
THE MUSICIANS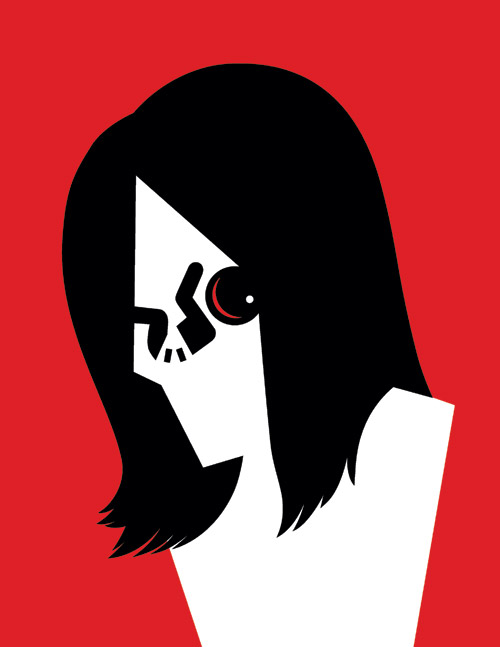 Michael Jackson
Over the years, Michael Jackson has made headlines for an array of reasons, from number one hits to run-ins with the law. Here, Bar riffs on Jackson's purported pedophilic tendencies, by placing an image of a young child in the pop star's face. Jackson has never been found guilty of these accusations in a court of law, though the media frenzy that surrounded the case seems to have made the eccentric icon that much more reclusive.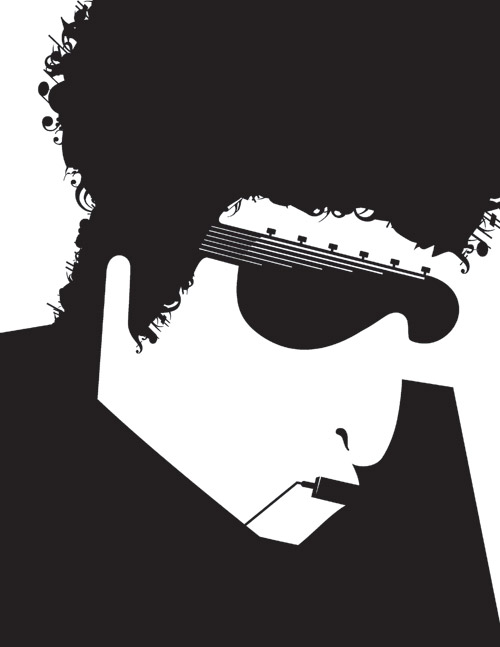 Bob Dylan
A true cultural icon, Bob Dylan is no stranger to being interpreted. Bar keeps this one simple, using three of Dylan's tools of the trade: musical notations, guitar, harmonica. That Bar can invest such age and mystery into a face that is primarily white negative space is yet another example of his ability to see subjects as more than just people—they are their careers.
Delightful and timeless, Guess Who? captures some of modernity's most famous and infamous characters through the eyes of one of the most original artists of our time.
---
This post also appears on Brain Pickings.
Images: Mark Batty Publisher