More Than One Way to Trade Identities on 'True Blood'
On episode 44, 'Spellbound,' we find out what happens when the residents of Bon Temps impersonate one another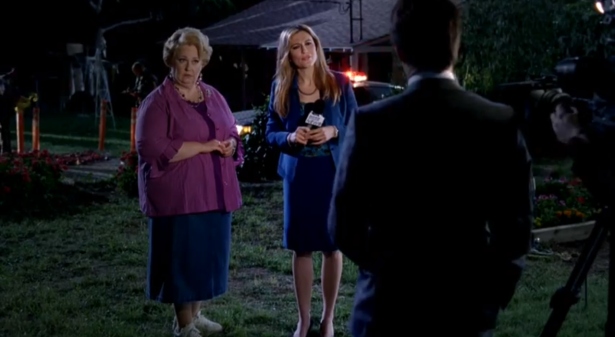 HBO
This season, True Blood has been using (to good effect) the kind of character switcheroo that one would normally expect to find in acting classes—an actor playing one character playing another character (very Shakespearean or, if you prefer, Freaky Friday-esque). The actor playing Sam Merlotte (Sam Trammell) has to play little heathen Tommy trying to act like older brother Sam—he did a great job with accent and body language in the previous episode. Dale Raoul (Mrs. Fortenberry) had a somewhat harder time of it this week, but got the point across by having very badly done hair and swearing a lot while selling away her land rights—really, it seems like Tommy isn't even trying with his identity theft this time.
Nelsan Ellis (Lafayette) performs a spin-off of this acting exercise: Instead of being Character A acting like Character B, he has to suddenly just play Character B with no reservations, but still in the clothes and with the props of Character A. He does a great job of letting the ghost Creole lady sink into him, tweak his shirt primly, and walk out of his house humming, and continue on with whatever she's up to. Why is the nice creepy sad singing lady taking a gun, and where did she hide it on Lafayette? Will holding the baby briefly be sufficient, so she can then replace Mikey and go to whatever afterlife awaits, or is this plot line going to get even creepier?
Around this point it seems pretty clear that mediums should have seeing eye dogs or some sort of mechanism in place to keep them from, for example, stealing small babies and wandering off into the night.
In additional to the character swapping, the actors also seem to get a bit more time to play around in dreams/visions/hallucinations than they would in other shows. Jessica has dreamt and starred in a number of great dreams lately, and the contrast between her dreamed breakup and her real one was sad and hilarious. Scene No. 1 (dream): Hoyt crumples to the floor sobbing and inspires Jessica to murder. Compare that with scene No. 2 (reality): He sits stiffly on the couch and then rants around the house breaking crockery. It's a pretty daring way to deal with a breakup from a vampire, but I imagine Jessica will feel better about the second version in the long run.
With all the angry, scorned lovers wandering around the edges of the Bon Temps battlefield, it seems like a lot of trouble could be avoided if some of them pair up and start to enjoy life again. My money is on Marcus and Debbie (and therefore also on Alcide and Debbie soon becoming exes). Based on the way Eric went animal in the cemetery, I suspect he is about to become an ex as well ... and Bill has been looking pretty handsome lately, in his tight leather jacket ... But with all the spells, drugs, possession and teenage angst, it's tough to predict what any character is going to act like from one week to the next.