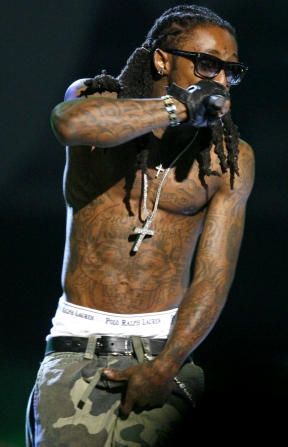 Lil Wayne shocked the music world this morning by announcing that his new album would be released Sunday at midnight, online, right after the MTV Video Music Awards. Or at least he thought he shocked the music world: "I am extremely excited to be the first artist to utilize such an amazing idea. I hope that I can open the door for others," he said in a statement.
Wayne's a funny guy, so maybe he was joshing with his claim of being the "first artist" to try and ambush the universe with online-only album announced a week ahead of its release. The truth is, it would have been more surprising if Wayne hadn't opted for some sort of sneak-attack, digital-before-physical unveiling of Tha Carter IV. The story of the last decade or so in music has been a story of artists and record companies looking for ways to sidestep the traditional distribution model, with the hopes of preempting or combating leaks, boosting album sales, and building buzz. Pre-release streams at sites like NPR.org are now commonplace, and seemingly every few months, a new album from a major artist gets hyped as providing a new sales model for the music industry. The last time someone big tried something like this? Just two weeks ago. The first time? It's in our concise history of supposedly game-changing record debuts:
Lil Wayne image credit: Reuters
We want to hear what you think about this article. Submit a letter to the editor or write to letters@theatlantic.com.