Lady Gaga and Britney Spears Share a Surreal Moment at the MTV VMAs
When a drag-king artiste steals the spotlight from an icon of conventional prettiness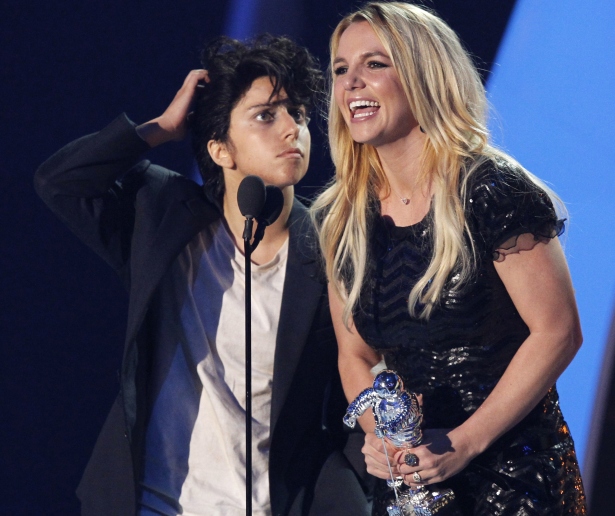 Reuters
Lady Gaga is a terrible actor. At last night's MTV Video Music Awards, she opened the show with a dramatic monologue, delivered in character as her male alter-ego Jo Calderone. And as if her rumpled white t-shirt, greaser jelly-roll hairdo, and lip-dangling cigarette didn't speak loudly enough, Gaga mugged, sneered, uhhed, and rubbed her belly with all the restraint of the lead in a seventh-grade production of The Outsiders. Gaga's never been one for subtlety, but you got the sense that she actually thought she was successfully pulling off her character. She wasn't.
That's fine, though. Gaga nevertheless took part in the most exquisitely bizarre moment of the night, although it wasn't during her opening number. Rather, the show's strange highlight came when she presented the "Video Vanguard Award" to Britney Spears.
You can imagine how the show's producers envisioned it going down: The new-generation pop princess handing a lifetime-achievement trophy to the last generation's pop princess. Of course, Gaga wasn't going to let things happen that simply. She remained in her drag character—as she did for the entire show and, reportedly, the back-stage interviews. "I used to hang posters of her on my wall and touch myself when I was laying in bed," Gaga/Calderone said, and the camera cut to Britney in the audience, who emitted an uncomfortable giggle. After a needlessly turbulent medley of Britney's greatest hits—the music piped in from above, accompanied by anonymous Britney-lookalikes dancing on stage—Britney came up to accept the trophy from Gaga. But Gaga wouldn't get out of the way:
This, of course, was scripted. The two almost kissed, and then broke off at the last moment. But Gaga kept leering, standing uncomfortably close to Britney as she attempted to give a barely felt acceptance speech. What's more, Britney had to simultaneously thank the world and introduce the next performer, Beyonce Knowles. It was a moment of weird indignity for Spears: a younger star awkwardly hogging the spotlight, a roughly contemporary diva waiting in the wings to take the stage.
But the optics of the things were the most striking. Britney, at 29, remains sturdily, conventionally beautiful. Outfitted in boots and a short but glamorous black dress, she appeared the modern-pop definition of "statuesque." And then there was Gaga as Calderone: blonde hair replaced by dark mop, her features elfin and unspectacular, her get-up shapeless and drab, her stature tiny. By pairing the two for a kind of lifetime achievement award, MTV was necessarily asking us to contrast the women. Gaga, it seemed, had picked out her shtick for the night in part to play up that contrast. And why not? With her endless parade of costume changes and her guilt-free lyrical message, Gaga's obsessed with remaking standards of beauty and achievement so that they're set by individuals, not establishments. She's the incredible, cross-dressing, anti-Britney.
As Kevin Fallon noted on this site last week, the planned tribute to Amy Winehouse showed a different kind of contrast with Britney: that of the in-born talent who offers more to MTV than MTV offers to it. Gaga isn't quite in that category. The network loves the spectacle she provides, and Gaga wants a platform to provide it. She's not afraid to use that platform to critique the others on stage—even as she's handing them a trophy. Now, if only she could act.