Jay-Z and Kanye West's Calculatedly Carefree 'Otis' Video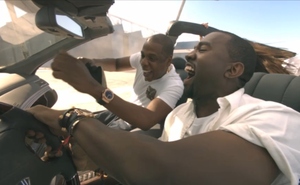 The Root
has a nice line
about Kanye West and Jay-Z's new, collaborative album
Watch The Throne
: It's "
Avatar
for your speakers." The first wave of criticism about the record—both in
positive and lukewarm reviews
—has focused on both the album's sonic opulence and the two rappers' incredible fixation on their own wealth. Seriously, you'll learn a
lot
about the names of luxury watch brands listening to this thing.
So yeah: It's a Trying Very Hard album. Which is why the music video for "Otis" is so refreshing. Basically, it's Jay and Kanye bro-ing out, trading lines and noogies, blow-torching cars, and performing donuts and figure-8s at some scrapyard-looking venue. Sure, those cars are Maybachs—which ranks second to Rolexes & co. as Throne lyrical memes—and by casually trashing them, the two superstars are once again telegraphing their own stratospheric fortunes. And yes, with Spike Jonze directing and Kanye/Jay involved, there's little doubt that the shooting-the-shit vibe of the proceedings was storyboarded and calibrated for maximum relatability. But still. Fun stuff.