First Drafts: Architect Ricardo Porro on His Project for Fidel Castro
In 1961 Fidel Castro and Che Guevara commissioned three young architects to build Cuba's National Arts School on the grounds of a country club in Havana. In the minds of its creators, it was to be the most modern and innovative academy of its kind. But before its completion, the ideals of the revolution changed, halting the project and sending the architects into exile. Forty years later, Castro invited them back to oversee the completion of the school they left behind—a story chronicled in Alysa Nahmias and Ben Murray's forthcoming documentary, Unfinished Spaces. Here one of the architects, Ricardo Porro, shares an early sketch for the academy's School of Modern Dance, his vision for the building, and the story of what went wrong.
---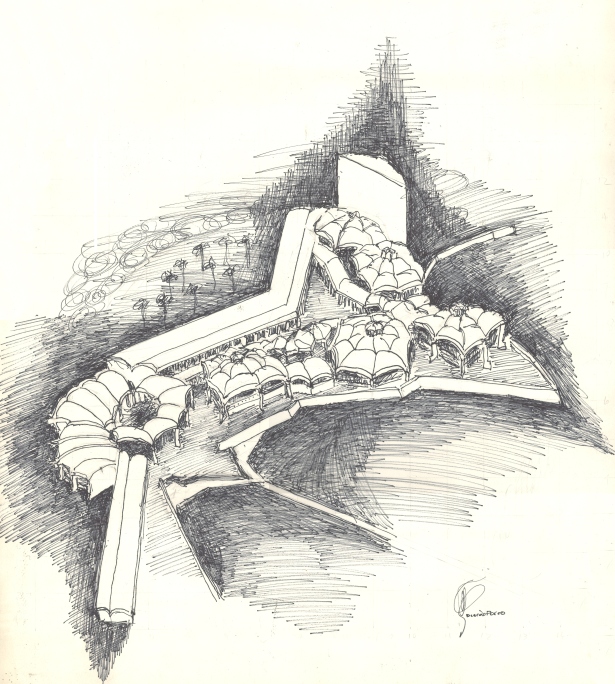 IN A REVOLUTION EVERYTHING GOES FAST. Castro gave me two months [to design] before we began construction. It was almost impossible, but I accepted. The school was to be built on the old country club of Havana, in the most expensive quarter of the city. The construction began and the students began also, taking classes and working in the houses. It was crazy. But you know, that's a revolution.
When I make a building, I ask myself, what poetical image best expresses the building's function? There is a definition of art I like by Hölderlin, the German poet: the sensible expression of an idea. And that's what I try to put in my buildings. An artist is like a thermometer you put in the air to measure the temperature. Our century has been the century of revolutions—it is even now—but when I received this commission, I thought there had not been a good expression of revolution in architecture. I am not an abstract artist. I am a figurative artist. I wanted to create in that school the expression of revolution. What I felt at that moment was an emotional explosion.
At one end of the piazza there is a theater. You could go upstairs, and from the top you could see the whole image: It looked as if you'd taken a glass and smashed it with your fist. It represented the way we were breaking a whole world. Not exactly Batista. I tried to go higher. At the center of the piazza, there are pillars with angles in all directions, expressing an anguish and a danger, something in the air I didn't understand but tried to evoke. I had the inspiration in the paintings of Greco. In the faces of his bishops there are small angles going in all directions, to give you a sense of anguish. And that I tried to do in the Modern Dance school. A good artist takes nine parts from his influences and adds one of his own, and makes a masterpiece.
At first my work was very well accepted. Then, suddenly, something changed. In Kafka there is a moment in which the man who is accused begins to understand that something is happening around him, and suddenly he feels that they are talking bad of him. He knows they are judging him, but he doesn't know who or where, and at the end he is condemned, and he doesn't know of what or why. That is the sensation I felt when I was forbidden in Cuba. Much later I went back to oversee the renovations, which are good and bad. Things have been added which are awful, purely ornamental. It's been best for the exteriors, and the School of Plastic Arts was better done.
I can tell you a sentence from one of your poets, which I like very much: "The greatest poet is not he who has done the best; it is he who suggests the most; he, not all of whose meaning is at fist obvious, who leaves you much to desire, to explain, to study, much to complete in your turn." When I was finishing my art school, there was a workman on the grounds, and I asked him, listen, when you see the space of this piazza, what does it resemble? And he says, I do not tell you what the fountain is because it's a dirty word. But the whole thing, it's the armpits of a crocodile. I'd never thought of it. But if a building can make a person see such poetry, this is magnificent.
—Ricardo Porro, as told to Alex Hoyt
Unfinished Spaces - official trailer from Alysa Nahmias on Vimeo.